Recipes
How to Cook Asparagus on the Stove
A skillet and a little butter are all you need for Edna Lewis' foolproof recipe.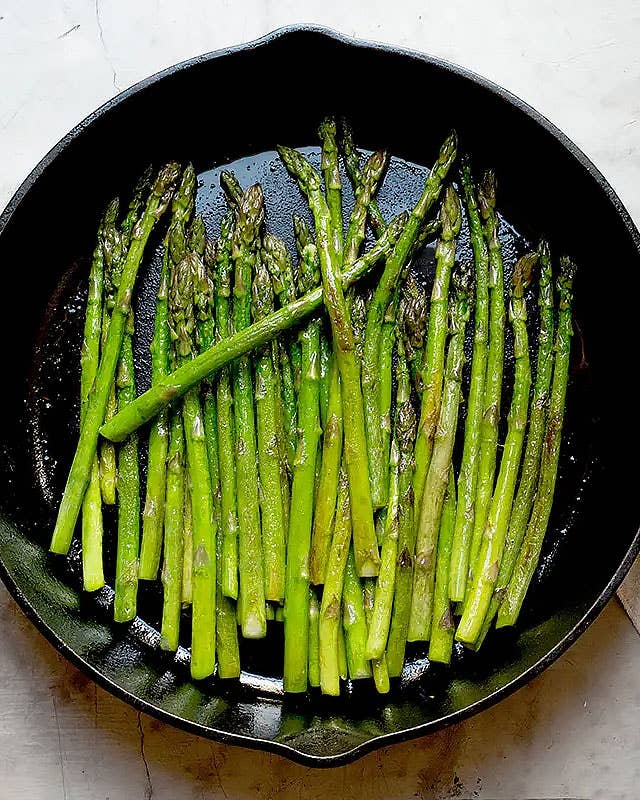 Wondering how to cook asparagus on the stove? Renowned Southern chef Edna Lewis knew that cooking the stalky vegetable in a skillet concentrates its flavor rather than diluting it, as steaming or boiling can. This recipe, adapted from her iconic Taste of Country Cooking, requires little seasoning, making it a quick and easy side dish. This stovetop asparagus recipe requires very few ingredients and seasonings, making it a quick and easy side dish to cook and enjoy within minutes.
Ingredients
2 tbsp. unsalted butter
2 lb. asparagus, fibrous bottoms snapped off
Kosher salt and freshly ground black pepper
Instructions
Step 1
In a large skillet set over medium heat, melt the butter. When the foam subsides, add the asparagus and shake the pan to coat the spears. Cover and cook, shaking occasionally, until bright green but still crisp, about 3 minutes. Uncover and continue cooking until the asparagus is tender when pierced with the tip of a knife, 5–10 minutes more (the thicker the spears, the longer the cook time). Season to taste with salt and black pepper.