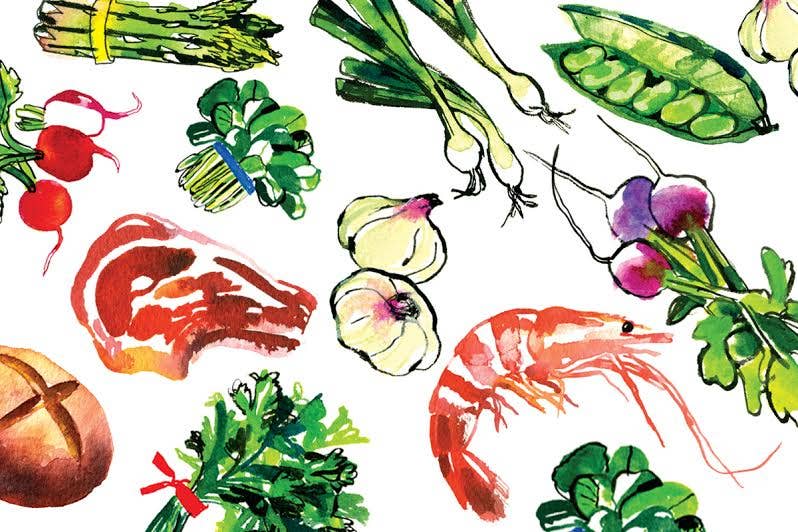 There's a joke implied in the name of this Scottish classic: a skink is a beef shin or ham shank used for soup—but in the fishing village of Cullen, smoked haddock took its place.
1 lb. smoked haddock
2 cups milk
2 cups plus
1 tbsp. double Devon cream
1 small russet potato, peeled
2 tsp. butter
2 tbsp. vegetable oil
1 large yellow onion, peeled and finely chopped
Freshly ground black pepper
2 scallions, greens only, finely chopped;
or leaves of 1/2 bunch parsley, finely chopped
1. Remove skin and any bones from fish and set aside. Trim off ragged edges of fish, adding them to skin and bones. Cut enough of the meatiest part of the fi sh into 1/4" cubes to yield 21/2 cups and set aside. Add remaining pieces of fish to pile of skin and bones.
2. Scald milk and 2 cups of the cream together in a medium pot over medium-high heat. Remove pot from heat, add fish skin, any bones, scraps of fish, and trimmings, and let steep until cream mixture is cool, about 30 minutes.
3. Meanwhile, put potato into a pot, cover with cold water, and boil over medium-high heat until soft when pierced, about 15 minutes. Drain potato, put it into a medium bowl, and mash until smooth. Mix in butter and remaining cream. Put potatoes into a pastry bag fitted with a star tip for piping, if you like, and set aside; or cover potatoes and set aside.
4. Preheat broiler. Heat a wide medium pot over medium-low heat. Add oil, onions, and reserved cubes of fish and cook, stirring occasionally, until onions are soft and translucent, about 10 minutes. Strain cooled cream mixture into pot, discarding solids, and simmer soup over medium heat for 5-10 minutes. Season to taste with pepper.
5. If potatoes are in the pastry bag, pipe 4 mashed potato rosettes onto a small baking sheet; otherwise, spoon 4 mounds onto a baking sheet. Broil potatoes until tops are golden.
6. Divide soup between 4 wide soup bowls, place 1 potato rosette or mound in center of each bowl, and sprinkle soup with the chopped parsley or scallions.