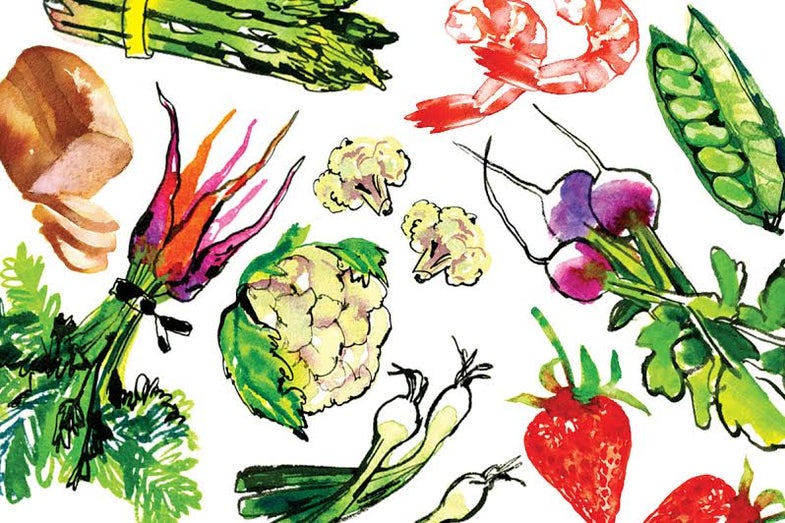 For a richer soup, whisk together three egg yolks, temper with hot stock, and whisk into soup in step 2. (Do not allow soup to boil; yolks will curdle.)
Sorrel Soup
This rich soup is flavored with the leafy-green acidic herb native to both New England and Europe.
Ingredients
2 Tbsp. butter
2 medium yellow onions, peeled and chopped
2 small potatoes, peeled and chopped
6 cups chicken stock
5 cups sorrel leaves, washed, stemmed, and cut into strips
1 cup heavy cream
Salt and freshly ground black pepper
Instructions
Melt butter in a heavy medium pot over medium heat. (Avoid using aluminum or cast iron.) Add onions and potatoes and cook, stirring often, until they are heated through, about 5 minutes. Add stock and 4 cups of the sorrel leaves. Increase heat to medium- high and bring stock to a boil. Reduce heat to medium-low and continue to simmer stock gently until onions and potatoes are very tender, about 30 minutes.
Working in batches, transfer soup to the bowl of a blender. Pulse the soup to a chunky but well-blended consistency. (Do not purée the mixture.) Return soup to the pot over medium-low heat. Add cream (at this point, gradually whisk in tempered egg yolks, if using). Add remaining strips of sorrel and season soup to taste with salt and pepper. Continue to heat soup until sorrel is just wilted, about 2 minutes. Serve soup warm, or chill and serve cold.