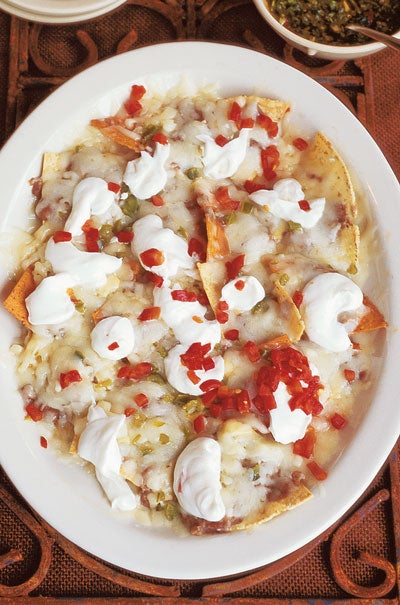 We found these indulgent nachos at San Antonio eatery Los Barrios, where, with no false modesty, the menu called them "the most outstanding appetizer there is."
Sour Cream Nachos
Here is a simple but tasty snack of melted cheese, beans, and tortilla chips.
Ingredients
2 1⁄2 cups refried beans
5-6 oz. homemade or top-quality store-bought Tortilla Chips
1 cup grated swiss cheese
1 cup grated provolone
1 jalapeño, stemmed, seeded, and diced
1⁄2 cup sour cream
1 tbsp. chopped, drained, jarred pimientos
Instructions
Preheat oven to 300°. Heat refried beans in a pan over medium heat until hot.
Spread chips out evenly on a large oval ovenproof dish. Spread beans on top of chips, sprinkle cheeses evenly over beans, and scatter jalapeños over cheese. Bake until cheese is completely melted, about 5 minutes. Garnish with dollops of sour cream, then scatter pimientos over nachos. Serve immediately.