Recipes
Spinach, Red Onion, and Coolea Cheese Tartlets with Parsley–Walnut Pesto and Olive-Crushed Potatoes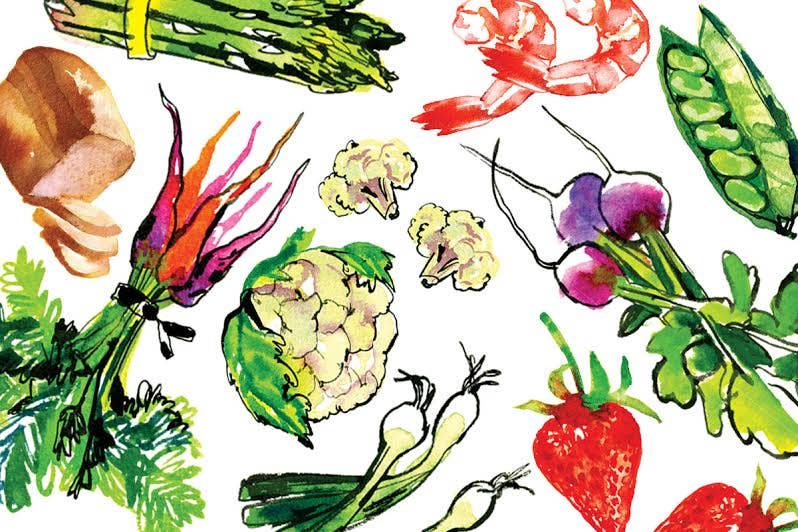 On a visit to Ireland in 2005, former SAVEUR editor-in-chief Colman Andrews came across this dish at Cafe Paradiso in Cork, and liked it so much he got the recipe.
Ingredients
For the Tartlets
7 tbsp. cold butter
1 2⁄3 cups flour
Salt and freshly ground black pepper
5 tbsp. olive oil
6 medium red onions, peeled and thinly sliced
1⁄4 cup light brown sugar
2 tbsp. balsamic vinegar
10 oz. spinach, trimmed (8 cups)
1⁄4 lb. Coolea or young gouda, thinly sliced
For the Potatoes and Serving
1 1⁄2 lb. large red potatoes, peeled and quartered
1⁄4 cup olive oil
2 Tbsp. chopped black olives
Salt and freshly ground black pepper
Instructions
Step 1
For the tartlets: Preheat oven to 375°. Put butter, flour, and 1⁄4 tsp. salt into a food processor and process until mixture resembles fine bread crumbs, about 30 seconds. Transfer to a medium bowl, add 1⁄4 cup ice water, and stir gently to combine. Shape dough into a disk, wrap in plastic wrap, and let chill for 30 minutes.
Step 2
Roll out the dough into a 12" × 15" rectangle. Cut out six 4 1⁄2" circles and press each into a 3 1⁄2" tartlet pan. Prick crusts with a fork a few times, cover with plastic, and return to refrigerator to let chill for 1 hour.
Step 3
Place tart pans on a sheet tray and bake until lightly golden, about 20 minutes, then set aside. While crusts are baking, heat 3 tbsp. of the oil in a large skillet over medium heat. Add onions and cook, stirring often, until soft and beginning to caramelize, about 20 minutes. Stir in sugar and vinegar and continue to cook until onions are very soft and the liquid is syrupy, 8-10 minutes. Season to taste with salt and pepper, transfer to a bowl, and set aside.
Step 4
Bring a large pot of salted water to a boil over high heat. Blanch spinach for 30 seconds, then transfer spinach to an ice bath. Drain well. Squeeze remaining water from spinach with your hands, then coarsely chop. Transfer spinach to a medium bowl, toss with remaining oil, and season to taste with salt and pepper. Divide spinach evenly among tartlet shells, then divide onions evenly over the spinach. Top each tartlet with cheese and bake until cheese melts slightly and begins to brown, 15-20 minutes. Keep in a warm spot.
Step 5
For the potatoes: Meanwhile, cook potatoes, covered, in a steamer basket set over a large pot of boiling water over medium heat until tender, 25-30 minutes. Let potatoes cool slightly, then coarsely chop. Heat oil in a medium skillet over medium-high heat, add potatoes, and cook, crushing potatoes with the back of a wooden spoon, until golden. Transfer potatoes to a medium bowl, stir in olives, and season to taste with salt and pepper.
Step 6
Spoon two crossing lines of Parsley-Walnut Pesto into the center of a warm plate; arrange a tartlet in one section and a spoonful of potato mixture (shape into a cube, if you like) in another. Repeat process with remaining pesto, tartlets, and potatoes.