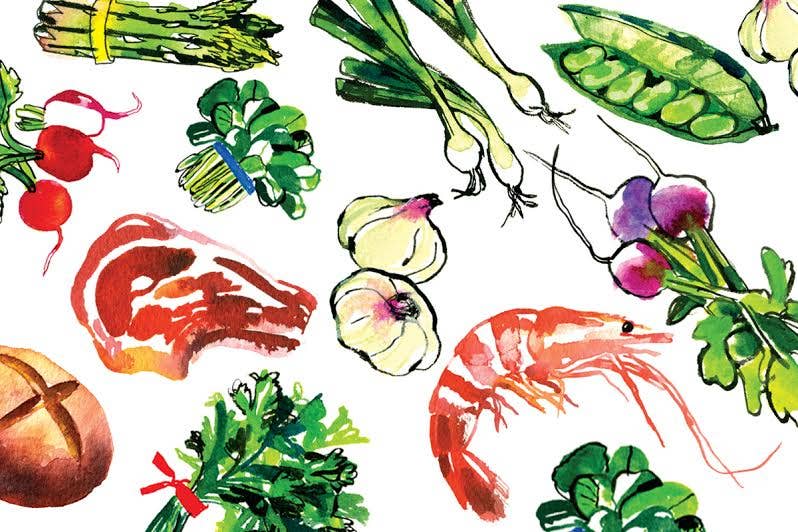 In her book The Cook and the Gardener: A Year of Recipes and Notes from the French Countryside, Amanda Hesser writes of the time she spent at the Chateau du Fey in Burgundy as a cook for Anne Willan, cookbook author and owner of La Varenne École de Cuisine. This is most assuredly a cookbook, with a collection of 250 seasonal recipes. But Hesser devotes the majority of her exceptional prose to the yearlong blossoming of her friendship with (and informal apprenticeship to) Monsieur Milbert, the august 79-year-old tender of the chateau's two-acre vegetable garden.
Hesser, now a reporter for the _New York Times _food section, starts with an account of her walks in the garden. She goes there in the evenings, partly for refreshment and partly because she knows that M. Milbert, ''a coarse and unpleasant old man'', will be inside his cottage eating dinner. But the walks provoke her. She realizes that she must discover much more about this garden to be the best cook she can be: ''I needed to know what was going on within those walls in order to better understand my ingredients in the kitchen. I wanted to know why thyme's intensity fluctuated, why the leeks sweetened with age, when the raspberries would be at their peak.'' What else could she do but seek out the aloof Monsieur Milbert?
Thus begins a yearlong dance between the young American cook and the wary, older, wiser French gardener. The two partners begin awkwardly, but after several months, they are waltzing. Arms on shoulders, perhaps, but waltzing: By September, they are harvesting together.
The book is structured simply, progressing season by season, month by month. Each new season starts off with a ''Basics'' section on ingredients and master recipes, and chapters on individual months follow, with prefaces that record Hesser's ongoing enlightenment in M. Milbert's garden. She learns, perhaps above all, to respect ''the flight of each vegetable and fruit, seizing and exploiting their moments of greatness...with pure flavors and simple cooking''.
A garden can bring forth a Shakespearean gamut of feelings—pride, fury, elation, despair—and Hesser records them all. We feel the excitement of spring when she describes currant bushes that ''grew like adolescent boys on their way to manhood—sprouting and expanding overnight''. In August, the fading garden prompts M. Milbert to ponder his own mortality: ''It seemed he had seen another round of abundance stripped away, another year chipped off his slab of life.''
The recipes are refreshingly simple. I have rarely been so beguiled by titles alone: toasts with fresh tomato and brandy, for example, or red beets with shallots and sage. The confit of onions and red wine from the March chapter (see recipe) has a Burgundian heft, and carrot and bay leaf salad, from April, takes a vegetable with a limited solo career and puts it center stage.
Like the lunar cycles by which M. Milbert gardens, the emotions in this book wax and wane during the year, and melancholy is one of them: The author makes it plain that with M. Milbert's departure, we will be closer to losing his kind of knowledge altogether. ''Old ways make so much sense,'' she writes. Yes, but who will teach them to us?
If I have a misgiving about this highly polished work, it is in the form of a question: Do we need to be told that the Milberts' son-in-law is ''a saggy-eyed drunk'' or that M. Milbert's wife wears a ''ratty cardigan sweater draped over her pot belly''? A writer's words echo loudly in a small community, particularly for a couple as reticent and proud as the Milberts.