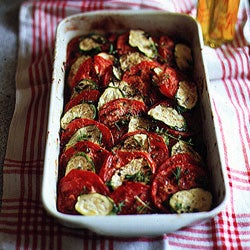 This beautiful dish "speaks" summer, using vegetables just plucked from the garden. Fresh herbs enhance its simplicity.
Tomato–Zucchini Tian
This is a wonderful dish for the summer dinner table or a family gathering.
Ingredients
1 medium eggplant, peeled
Salt
2 medium onions, peeled and chopped
3 cloves garlic, peeled and minced
1⁄2 cup extra-virgin olive oil
Freshly ground black pepper
2 medium zucchini, sliced diagonally
6 ripe medium tomatoes, sliced
3-4 sprigs fresh herbs, such as thyme, rosemary, basil or oregano
1⁄2 cup grated parmigiano-reggiano (optional)
Instructions
Cut eggplant in 1″ cubes, sprinkle with salt, and place in a colander. Drain for 30 minutes, then pat dry.
Cook onions and garlic in 3 tbsp. of the olive oil in a medium skillet over medium heat until slightly browned, about 10 minutes. Transfer to a medium baking dish. In the same skillet, cook eggplant in 2–3 tbsp. of the olive oil until tender and slightly browned, about 10 minutes. Season with salt and pepper, and stir into onion mixture.
Preheat oven to 400°. Arrange zucchini and tomatoes in layers over eggplant. Top with herbs, drizzle with remaining oil, season with salt and pepper, and bake 30–40 minutes. Sprinkle with cheese, if using, and serve.