Recipes
Twice-Fried Green Plantains with Garlic Dipping Sauce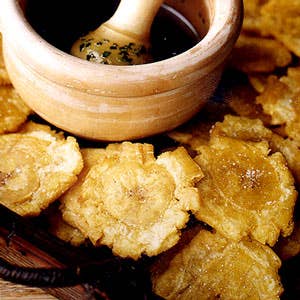 You can flatten the tostones between two pieces of plantain skin, but the bottom of a small pan or a flat pot lid will work, too.
Ingredients
For the Mojo
3-4 cloves garlic, crushed and peeled
Salt
3-6 cilantro sprigs, leaves chopped
2-3 culantro leaves, trimmed and chopped (optional)
1⁄2 cup extra-virgin olive oil
For the Tostones
3 green plantains
Vegetable oil
Salt
Instructions
Step 1
For the mojo: Put garlic and a generous pinch of salt into a mortar. Crush to a rough paste with the pestle, then add cilantro and culantro (if using) and crush until bruised and fragrant. Add oil while grinding in a circular motion. Adjust seasoning. Set aside.
Step 2
For the tostones: To remove tough green skin from plantains, trim off both ends with a sharp knife, then make a few slits through skin the length of each plantain. Push your thumb between skin and flesh; pry skin away from flesh. It will come off in pieces, like bark from a tree. Trim off any woody fiber stuck to plantains. Cut plantains into 1"-thick rounds.
Step 3
Pour oil into a large heavy skillet to a depth of 1", then heat to 325° on a candy thermometer over medium heat. Fry plantains in two batches until lightly golden and hollow-sounding when tapped, about 3 minutes. Transfer plantains with a slotted spatula to paper towels to drain. Working quickly, press warm tostones with the clean bottom of a small pan or a flat pot lid, flattening them to about half their original thickness.
Step 4
Return flattened tostones to oil and fry in batches until crisp around edges and deeply golden, about 2 minutes more. Transfer tostones to paper towels to drain and season to taste with salt while still hot. Serve tostones hot with mojo as a dipping sauce.