Recipes
Warm Salad with Jerusalem Artichokes, Bacon, and Radicchio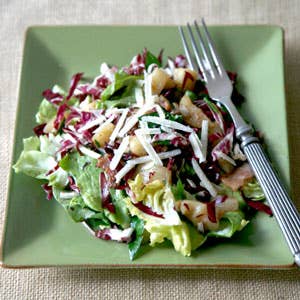 This hearty winter salad was adapted from Jamie Oliver's cookbook Cook With Jamie: My Guide to Making You a Better Cook (2007, Hyperion).
Ingredients
6-8 Jerusalem artichokes, scrubbed
5 slices thick-cut bacon, cut into 1/2-inch slices
1 small red onion, thinly sliced
1 small head radicchio, halved and thinly sliced
1 large head butter lettuce
1 small handful flat leaf parsley, roughly chopped
4 tablespoons balsamic vinegar
Extra virgin olive oil to taste (optional)
Shaved Parmesan
Instructions
Step 1
Boil the artichokes in salty water until just soft, but nowhere near mushy. Slightly cool and cut into chunks.
Step 2
Meanwhile, saute the bacon in a large skillet until beginning to brown, then add the artichokes. Add onions and cook over high heat, stirring only occasionally, until everything is crispy.
Step 3
Transfer the contents of the skillet into a large bowl, and season with salt and pepper. Add the balsamic vinegar, and, depending on the fat content of your bacon, a little olive oil to moisten. Add the radicchio and lettuce, and toss well. Transfer to serving plates and top with shaved Parmesan.