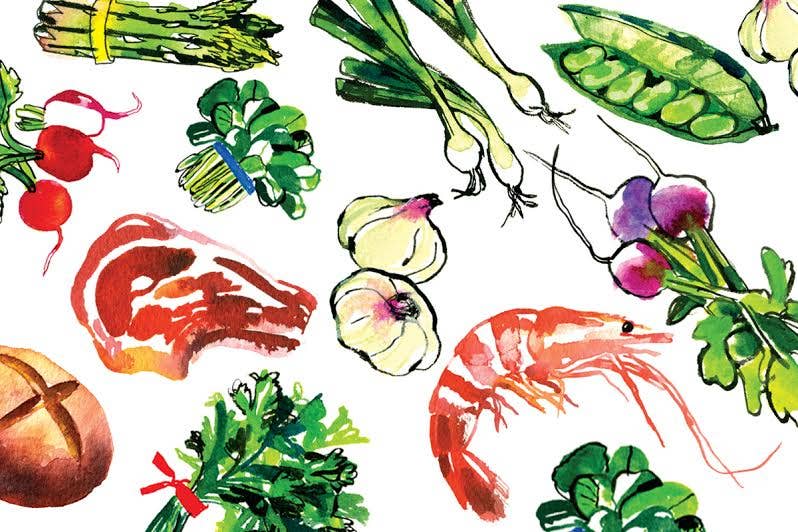 These are also called porcupine balls, for their prickly appearance. Our recipe is adapted from one in The Cooking of China by Emily Hahn (Time-Life Books, 1968).
** **3/4 cup sticky rice
4 dried Chinese black mushrooms
1 lb. finely ground pork
1 egg, lightly beaten
1 tbsp. soy sauce
1 tbsp. salt
1/2 tsp. sugar
1" piece ginger, peeled and minced
6 canned water chestnuts, drained
and chopped
1 scallion, trimmed and finely chopped
12 large napa cabbage leaves, blanched ** **
1. Soak rice in 1 1/2 cups cold water for 2 hours. Meanwhile, put mushrooms into a bowl, cover with hot water, and weight them down with a plate to keep them submerged. Soak mushrooms for 30-60 minutes. Drain; trim off stems. Finely chop caps; set aside. Drain rice and spread out on a clean dish towel.
2. Put pork, egg, soy sauce, salt, and sugar into a bowl and stir together with a pair of chopsticks, stirring in one direction. Add mushrooms, ginger, chestnuts, and scallions and mix well.
3. Line 3 large bamboo steamer baskets with 4 cabbage leaves each and set aside. Moisten hands with water and shape pork mixture into 32 meatballs (about 1 tbsp. each). Put rice into a wide dish. Roll meatballs in rice, pressing rice onto balls to coat them well. Transfer balls to prepared steamer baskets as done.
4. Stack steamer baskets on top of one another, cover top basket, and set them over a wok or a pot of boiling water over medium-high heat. Steam balls until pork and rice are cooked, 8-10 minutes. Set baskets on large plates and serve balls immediately, with bowls of white rice, if you like.