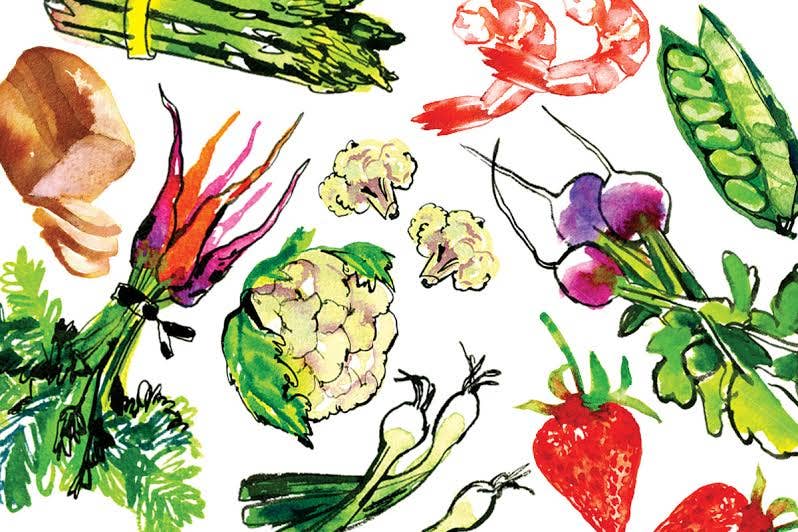 Techniques
A Glossary of Olives
All olives are green when young and darken as they mature, and each variety has its own optimal stage of harvesting for oil. There are hundreds of varieties of olives grown around the world; here are ten that are prized for their oil.
This medium-size, oval olive is the main variety in a typical Tuscan blended oil. Frantoio oil is peppery with hints of freshly cut grass, and balanced by notes of bitterness and pungency; it's great for both drizzling and cooking.
A Tuscan original, this ellipsoid olive is now widespread throughout Italy. Notable for its ability to withstand cold temperatures and for its quick ripening, it makes mildly pungent, fruity, sweet oils.
These small, plump olives form the basis of most oils from Italy's Umbria region. Ample fruit flavors are balanced by an exceptionally high level of polyphenols, the compounds in olive oil that yield pleasing pungency and bitterness. Moraiolo oils are excellent drizzled over bean soups and bruschetta.
These tapered orbs grow all over Liguria, on the northwest coast of Italy. They produce a fruity, nuanced oil and are harvested late, which means they're low in polyphenols (and thus largely free of bitterness). Oils made from this variety are best used as a garnish, particularly with delicate seafood dishes or salads.
This tiny round fruit hails from Catalonia, Spain, and is now widely planted in the country's Andalusia region as well. It's a favorite of California growers, too. Fresh, fruity, and often possessed of a distinct almond flavor, the oil of the arbequina is low in polyphenols, a fact that causes its flavors to diminish with time. Use this olive's oil to dress salads and to drizzle into soups and sauces.
This distinctively shaped, medium-size Spanish variety accounts for much of the world's olive oil and for nearly all of the oil made in Andalusia, Spain's top-producing region. The picual is exceptionally high in polyphenols, and its oil has a peppery astringency and a ripe (some say overripe) flavor. A great all-purpose oil, it stands up to cooking and even frying.
One of Greece's most common olives, the small koroneiki produces big, fruity oils with hints of green apple and herbs. They're especially good in cooked vegetable dishes and long-simmered stews.
These small, chubby olives are commonly used in Tunisian and Moroccan oils. Because they're harvested late, the olives produce oil that's sweet and soft, with a faint almond flavor.
These elongated fruits—popular table olives in France—translate into mild oils that are balanced but without the characteristic bitterness and pungency imparted by high levels of polyphenols. Their oil is best used for fresh salads or to dress cooked vegetables.
This hardy olive was developed by Israeli agronomists and produces a smooth oil with very little bitterness and pungency. Barnea oil is popular in Israel, Australia, and New Zealand.