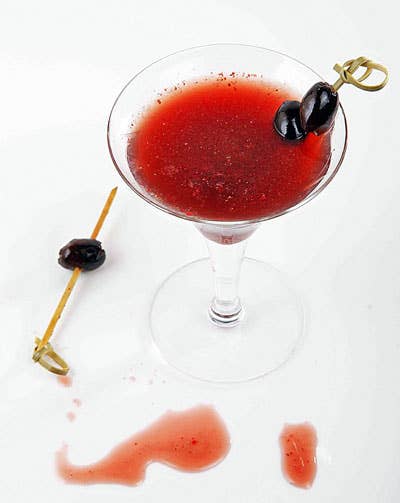 Drinks
Friday Cocktails: I Love a Parade
A cocktail of pomp and circumstance
The French sure know how to throw a party. I went to one the other night that was hosted by Grey Goose Vodka at Alain Ducasse's Manhattan restaurant, Adour. I am a fan of the soft, sweet French style of spirit making, and Grey Goose is no exception. Vodka has often gotten a bad rap, particularly from gin drinkers like me. But as brand ambassador Nick Mautone demonstrated that evening, even a mass-marketed vodka can take on multiple, fascinating personalities. He served each of the guests five little martinis, mixed in proportions that varied by 10%: one 50/50 vodka and dry vermouth, the next 60/40, then 70/30, 80/20, and finally, 90/10. The trick made me feel like Goldilocks. Depending on one's palate, mood, and the food on one's plate, this mix was too sweet, that mix too astringent, and a third tasted just right.
But it was a drink that I didn't even taste that night that made the biggest impression on me. Grey Goose's global brand ambassador, Dimi Lezinska, told me about a cocktail he created recently in the Philippines. It called for the juice of fresh pomegranates, which he sent someone to Singapore to fetch. I was floored, not only by the fossil-fueled audacity of Lezinska's sourcing, but also by the crazy quilt of ingredients he listed for the drink. On top of the pomegranate juice, there were pink peppercorns, pink grapefruit juice, Grey Goose L'Orange, Noilly Prat Rouge, and aged balsamic vinegar, and it was garnished with Niçoise olives. I love a drink that's like a fevered trip to the salad bar, so I pressed him for the recipe, which I ended up tweaking, adding nearly twice as much vodka as he does. I found it helped with the drink's balance, evening out the sweetness of some of the other ingredients.
It also helped my, ahem, editing—we're, once again, working late closing another issue of SAVEUR. Under circumstances like these, a little clarity—the kind one gets from a well-made vodka—does wonders for the editorial vision.
The interesting thing about this cocktail is that it delivers a distinctly berry flavor though there are none in the recipe. I believe it's a trick that the pomegranate and citrus play with the pink peppercorns, which are, after all, dried berries; they bring out the pepper's fruitiness. And if you're game enough to eat the garnish, you'll find that the trick works on the Niçoise olives as well.
Lezinska calls this drink the La Grande Parade de Paris, after the procession that kicks off the Parisian new year with great pomp, which is the way we like to close our issues around here. As its name implies, the recipe is a bit of a production, but the payoff is delicious.