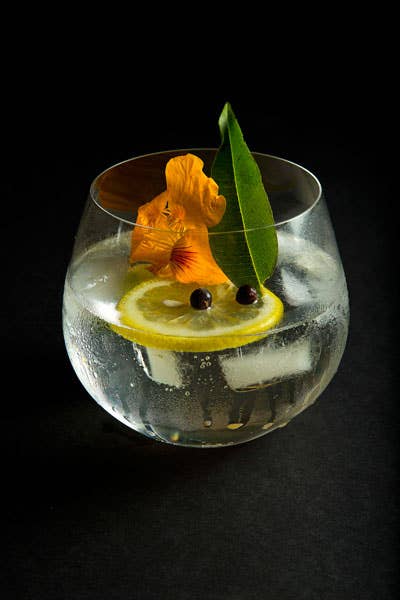 Drinks
Friday Cocktails: The Ultimate Gin & Tonic
Asheville, North Carolina, sure has its charms: great beer, awesome farmers markets and farm tours, a thriving local arts scene, and now, an exemplary tapas bar, Curate, helmed by elBulli alumni. Chef Katie Button's canelones de carne, meat-stuffed, rolled pasta dressed decadently in bechamel sauce, and her bocadillos, little sandwiches stuffed with Catalan sausage and piquillo peppers, or fried squid and arbequina olive oil mayonnaise, are pretty darned addictive. But one of the most extraordinary things I consumed at this Spanish restaurant was actually an English colonial drink: a gin and tonic.
Button's partner, Felix Meana, mixes perfumey Hendrick's gin and elegant Fever Tree tonic with lime and lemon wheels, juniper berries, one slender, aromatic verbena leaf, and a bright yellow nasturtium. All dressed up in flowers and colors and fragrances, it turns the classic gin & tonic's dry, masculine vibe on its head, evoking the sensory beauty of the place where British Army officers actually invented the drink: India.
It's the prettiest, most seductive G&T ever—and makes an awesome, last-of-the-season dinner party aperitif. Mixing one just now, slightly in advance of the weekend's first cocktail hour, I felt summer reach out its limbs and stretch just a little bit longer.