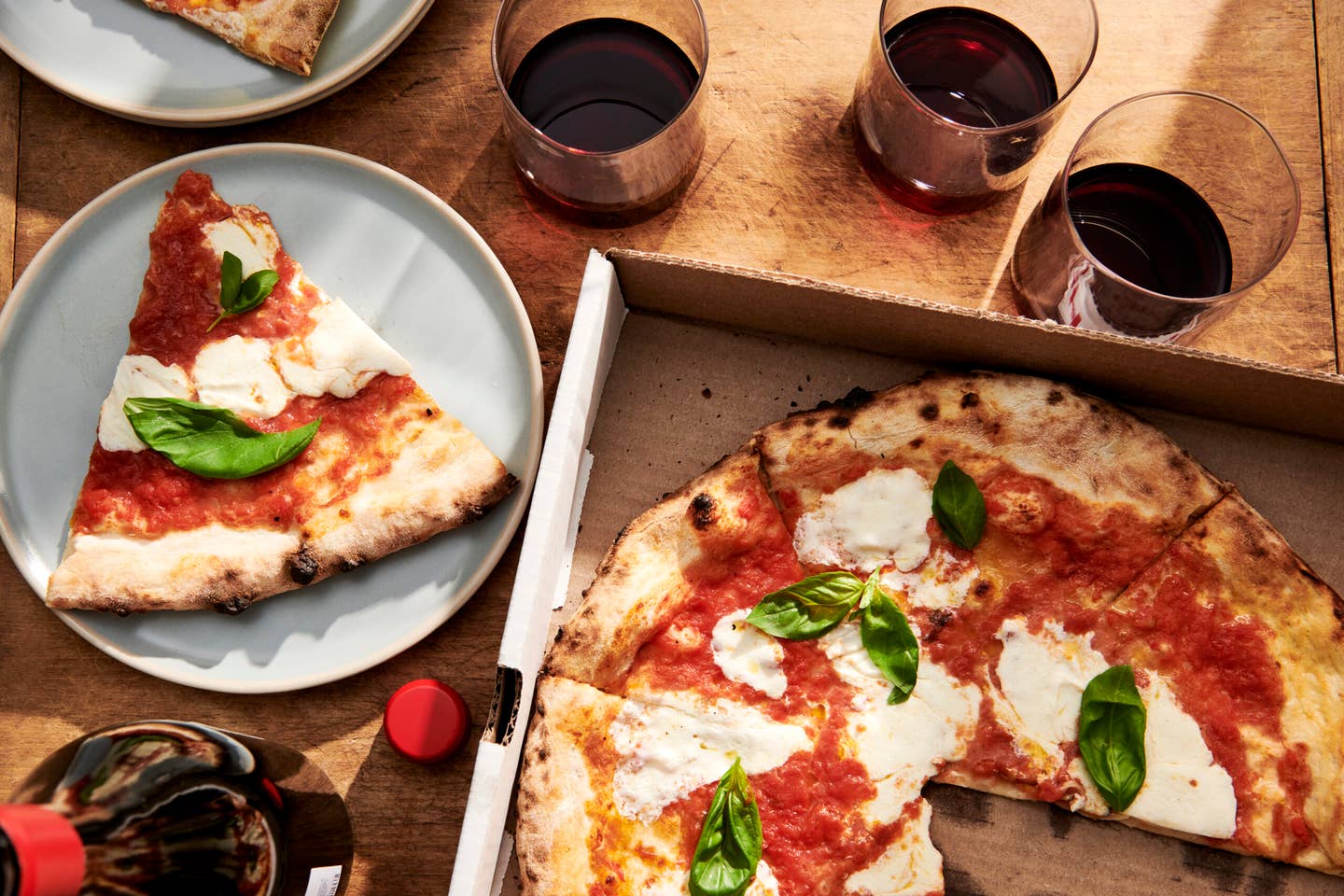 Drinks
The 9 Best Drinks to Pair with Pizza
Most pizzerias are content to serve their pies with industrial beer and soda—but that doesn't mean you have to.
Perusing the beverage menus of most pizzerias in Italy, you might assume that the omnipresent Coca-Cola and industrial lagers are the perfect pizza companions. Sure, you'll find some vino in the mix, but most places are content to pour Peroni, Moretti, or Nastro Azzurro. I love beer with my pizza as much as the next Rome dweller, but to me, wine is often the better bet by a long shot, with its palate-cleansing effervescence and acidity. Plus, with as many wine varieties as there are villages in Italy, vino makes for infinite pairing possibilities that enhance the pizza-eating experience.
But before grabbing any old bottle, first consider your toppings. Are we working with acidic tomato sauce? Sweetly lactic (or hard, savory) cheeses? Whether you opt for cooked vegetables or cured meats or neither of the above, you'll want to think about how each component will react with the wine.
The old saying goes, "If it grows together, it goes together," referring to the natural affinity between local produce and local wine. Considering Campania is the ancestral Italian homeland of pizza as we know it (the Neapolitans were the first to deploy tomato sauce and melted mozzarella), it's logical that the wines of that region are natural pizza partners. But there are plenty of other Italian vini, as well as beers and sodas, that will elevate your next pizza night.
Here are some pairing suggestions to amp up your next pizza party.
You can practically taste the sea air with each sip of this bright, acidic, and briny white wine, made from vines that cling to the Amalfi Coast. Cuomo's Ravello Bianco complements Margherita pizzas, as well as pies made with smoked mozzarella or provolone. Its briny acidity cleanses the palate between bites of creamy, gooey cheese.
Le Marche, the Italian region 250 miles north of Campania, may not have much of a pizza culture of its own, but its Verdicchio-based white wines that deliver balanced acidity are a perfect partner for a range of pizzas. Collestefano's Verdicchio di Matelica pairs well with a wide variety of toppings, but I especially love sipping it alongside white pizzas with vegetables and pizza capricciosa (mozzarella, tomato, prosciutto, mushrooms, marinated artichoke, olives, and hard-boiled eggs).
Greco di Tufo, a white grape purportedly of Greek origin as its name implies, has been producing sought-after white wines from Campania's Irpinia subregion since pre-Roman times. Vadiaperti's entry level greco has bracing acidity and mineral notes that cut through rich, cheese-topped pies, while the wine's smoky finish (perhaps a reflection of Irpinia's volcanic terrain) enhances pizzas made with smoked mozzarella or provolone.
This traditionally made Lambrusco (we're talking bottle fermented, not the usual force carbonation) blends indigenous grapes like Lambrusco Grasparossa, Malbo Gentile, and Marzemino, which lend this particular Lambrusco an inky purple color, as well as red-fruit and floral notes. I like to kick back a few glasses of this bubbly when I'm having a meat-heavy pie, since the bubbles and tannin are a nice foil to fatty sausage, meatballs, or salami.
Schiava and Lagrein, two Northern Italian grapes transformed into light-bodied, fruity reds in their Austria-adjacent zone, team up in this "light red" by Pranzegg. The wine is true to its billing and is best served slightly chilled to accentuate its lightness, while the acidity cuts the fat of pizzas oozing with gooey cheese or topped with spiced or spicy cold cuts.
This Champagne-style sparkling wine from Lombardy is as structured and refreshing as your favorite champagne, and its minerality and fine bubbles go wonderfully with subtler pizzas—think ones with aromatic prosciutto and ethereal ricotta.
If you prefer beer to vino, this Belgian-inspired Italian wheat beer from Piedmont has citrus and herb notes, which deliver fresh, food-friendly, and thirst-quenching sips. Pair it with hefty creations like a pistachio e mortadella pie.
Italian Grape Ale, or "IGA," a play on IPA, is an intriguing marriage of wine and beer. This Piemontese beer is influenced by Belgium, specifically that country's sour ales, and uses barbera grapes for their fruity acidity. The resulting tang and fine fizziness will carry you through everything from pungent cheeses to fatty cured meats.
Coca-Cola won't be disappearing from Italian pizzerias anytime soon (let alone American ones!), but artisanal Italian colas like Mole Cola are an intriguing alternative. This bubbly beverage—flavored with a proprietary blend of ingredients including kola nut extract and natural aromas, and about as much sugar as a standard Coke—has a lingering sweetness and bitter finish that round out everything from pizza Margherita to a pizza noci e zucchine (walnut pesto and zucchini).