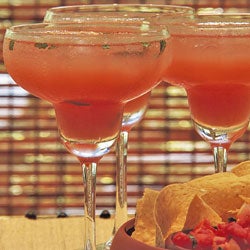 The mixologist at Bar Americain who gave us this recipe had one thing in mind when creating this cocktail: to come up with something tropical, refreshing, and—most importantly—loaded with tequila.
Yield: makes 1 Cocktail
Ingredients
5 pieces fresh basil, torn into small pieces
1 1⁄2 oz. guava nectar
3 oz. Don Julio Reposada tequila
1⁄4 oz. fresh lime juice
Instructions
In a shaker, mix basil, guava nectar, tequila, and lime juice—taking care not to muddle the basil—then shake and serve, over ice, in a rocks glass.