Recipes
Tangcu Muli Rouwan (Sweet and Sour Pork and Oyster Meatballs)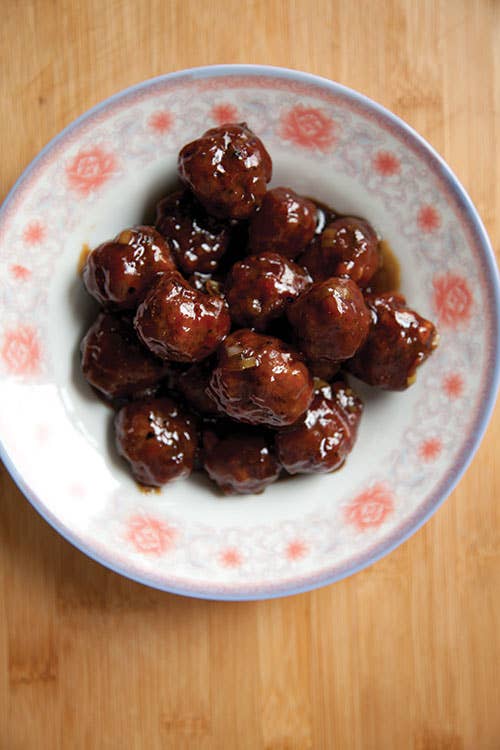 These succulent Sichuan meatballs are fried until crisp, then coated with a sweet and sour sauce. See Matt Gross's article Flavors of Sichuan for information on hard-to-find ingredients.
Ingredients
3 cups canola oil
10 oz. ground pork
4 oz. oysters, finely chopped (about 10 shucked oysters)
6 cloves garlic, minced
2 suan miao (Chinese chives, blossoms discarded) or scallions, minced
1 (1 1/2") piece ginger, peeled and minced
1 egg white, beaten
1⁄4 cup cornstarch
1⁄4 cup douban jiang (Chinese red chile bean paste)
2 tbsp. dark soy sauce
2 tbsp. dry sherry
2 tbsp. sugar
1 tbsp. Chinkiang black vinegar
Steamed rice, for serving
Instructions
Step 1
Heat oil in a 14" flat-bottomed wok to 350°. Mix pork, oysters, half the garlic, along with chives, ginger, and egg white in a bowl. Form the mixture into thirteen 1 1⁄2" balls; set aside. Mix cornstarch and 1⁄4 cup water in a bowl. Working in 2 batches, dip meatballs in cornstarch mixture and add to oil; cook, turning as needed, until browned, 4–6 minutes. Using a slotted spoon, transfer meatballs to paper towels to drain; set aside.
Step 2
Discard all but 3 tbsp. oil; return wok to medium-high heat. Add remaining garlic; cook until fragrant. Add paste, soy, sherry, sugar, and vinegar; bring to a boil and cook until sauce is thick, 5–7 minutes. Add meatballs; cook until hot, 2–3 minutes more. Serve with rice.