Recipes
Borůvkový Koláč (Blueberry-Poppy Seed Squares)
This rustic Czech dessert layers sweet berry filling between a buttery shortcrust and crumbly streusel.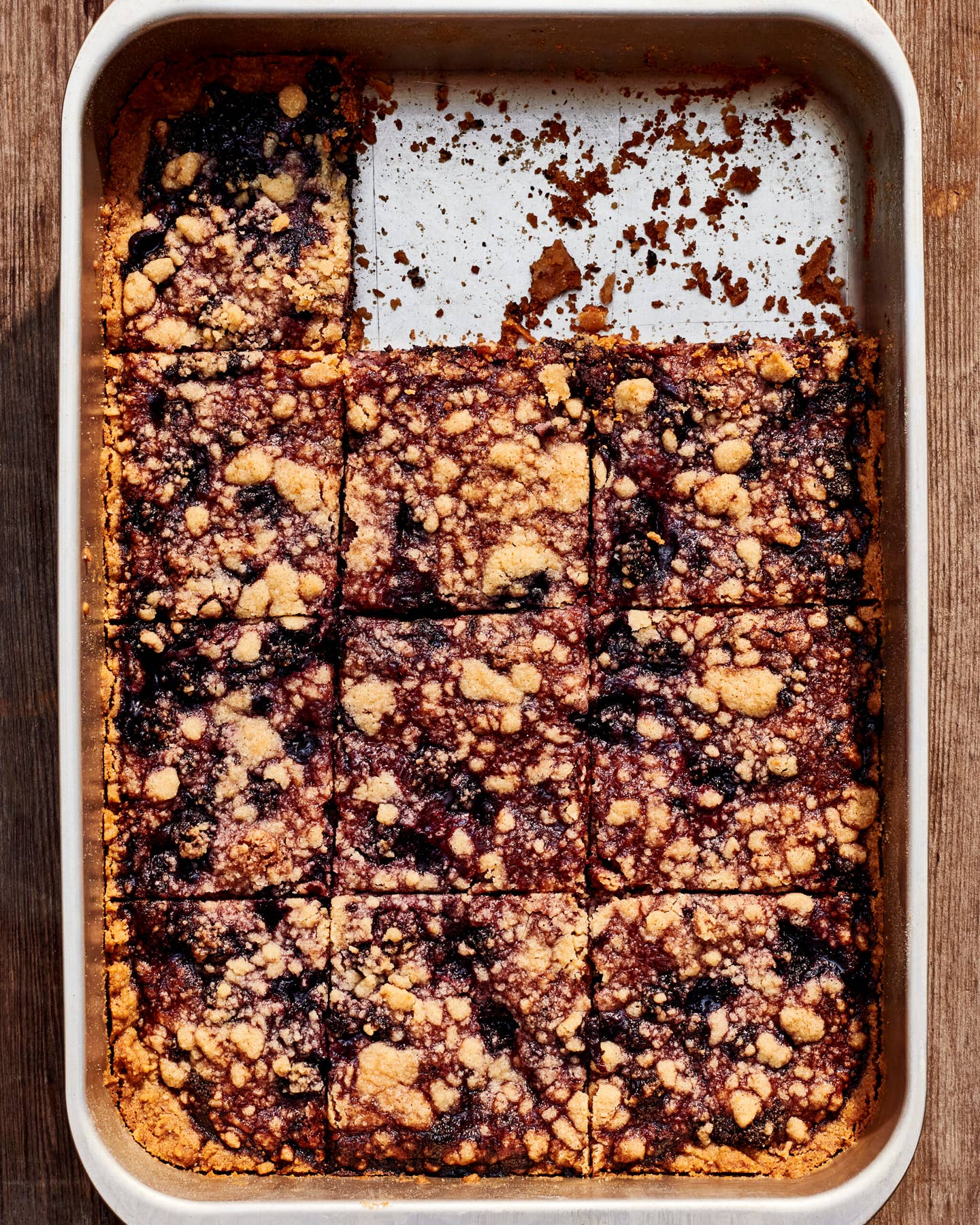 Floral poppy seeds perfume tart fresh blueberries in the filling for borůvkový koláč, a traditional Czech dessert. The seeds must be ground to release their flavor; buy them pre-ground from Kalustyan's, or grind whole seeds as finely as possible using a spice grinder, blender, meat grinder, or mortar and pestle. Poppy seeds turn rancid quickly, so buy them from a source with reliable turnover, then store whatever's left in the freezer. When lining the pan with dough in step 1, it may be helpful to use the bottom of a water glass to press it into an even layer.
Ingredients
20 Tbsp. softened unsalted butter, divided, plus more for greasing
1½ cups sugar, divided
3 cups all-purpose flour, divided, plus more for dusting
¾ tsp. kosher salt, divided
¼ tsp. vanilla extract
4 cups blueberries, fresh or frozen, divided
2 Tbsp. fresh lemon juice
½ tsp. ground cinnamon
1½ cups ground poppy seeds (see headnote)
½ cup heavy cream
Instructions
Step 1
Position a rack in the center of the oven and preheat to 350°F. Butter and flour a 9-by-13-inch metal baking pan. Using a stand or handheld mixer on medium-high speed, beat 16 tablespoons of the butter and ½ cup of the sugar until pale and fluffy, about 2 minutes. Add 2½ cups of the flour and ½ teaspoon of the salt and beat until just combined. Press the dough (see headnote) evenly into the bottom and halfway up the sides of the prepared pan. Chill for 20 minutes, then bake until lightly browned, about 20 minutes. Set aside to cool completely. 
Step 2
Meanwhile, make the streusel: In a small bowl, use a fork to combine ¼ cup of the sugar; the vanilla; and remaining butter, flour, and salt until coarse crumbs form.
Step 3
In a medium pot set over medium-high heat, stir together 3 cups of the berries, the lemon juice, cinnamon, and remaining ¾ cup of sugar. Cook, stirring occasionally, until the berries burst, about 20 minutes. Remove from the heat and stir in the remaining berries. Set aside.
Step 4
In a small bowl, stir together the poppy seeds and cream, then use a silicone spatula to spread evenly over the crust. Top with the blueberry mixture, spreading it to the edges, then sprinkle with the streusel. Bake until bubbly and lightly browned, about 40 minutes. Allow to cool completely before cutting into squares.