Recipes
Creamed Swiss Chard with Gorgonzola, Rye Bread Crumbs, and Walnuts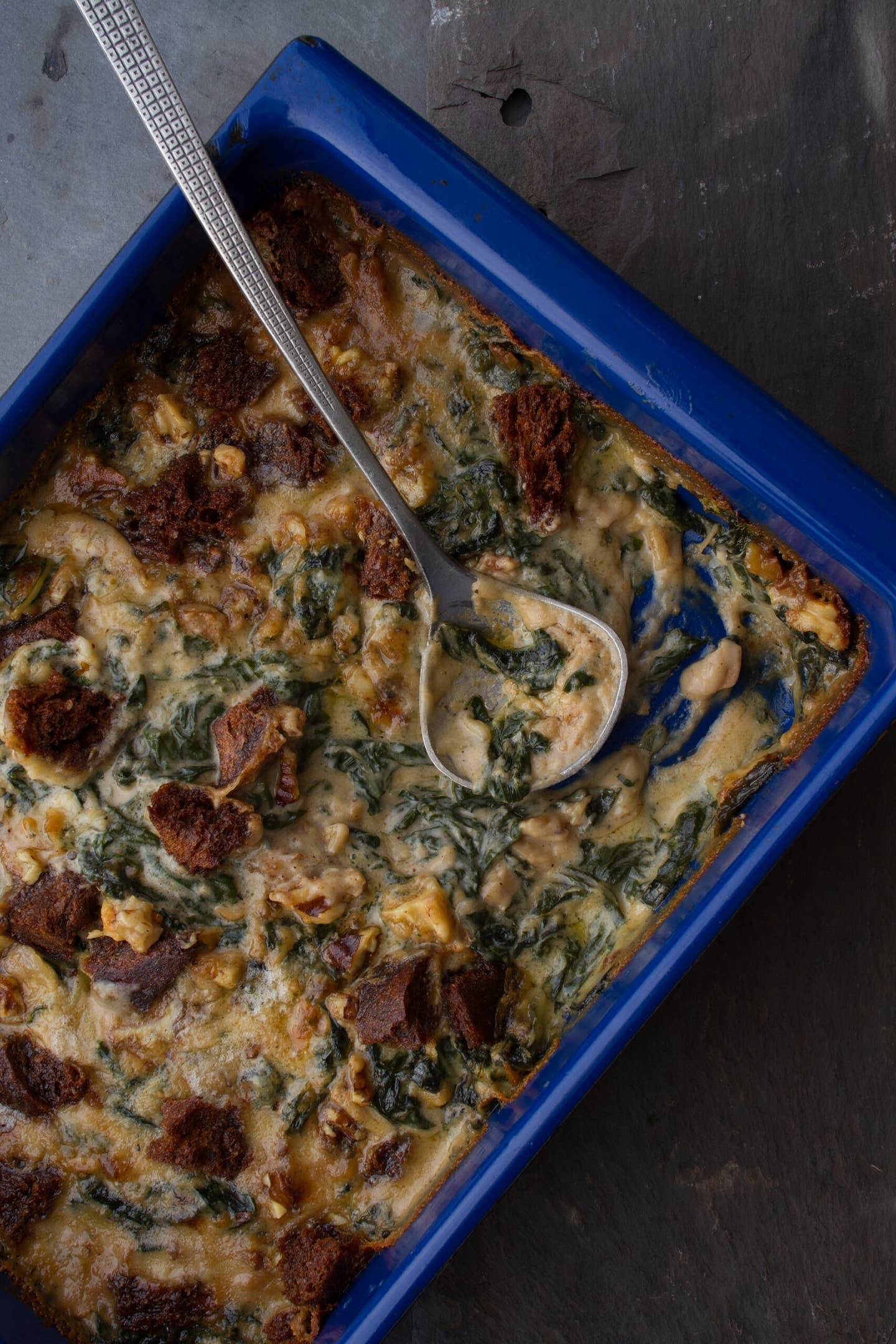 In this bulked-up version of the classic side dish, chard replaces spinach, and Gorgonzola adds depth and a creamier texture.
Ingredients
3 bunches Swiss chard, trimmed, leaves halved lengthwise, and cut into 2" pieces
Kosher salt and freshly ground black pepper, to taste
8 tbsp. unsalted butter, melted, plus more for greasing
2 cloves garlic, thinly sliced
1 small yellow onion, thinly sliced
6 tbsp. flour
2 cups whole milk
1 cup heavy cream
1 (8-oz.) piece Gorgonzola cheese, rind removed
1 tsp. freshly grated nutmeg
1 1⁄2 oz. (about 3 slices) pumpernickel bread, torn into 1/4" pieces
1⁄2 cup roughly chopped walnuts
Instructions
Step 1
Cook chard in salted boiling water until wilted, 1–2 minutes. Using a slotted spoon, transfer chard to a bowl of ice water until cold; drain and squeeze completely dry; set aside.
Step 2
Heat oven to 400°. Grease a 9" x 13" baking dish with butter; set aside. Heat 6 tbsp. butter in a 6-qt. saucepan over medium-high; cook garlic and onion until golden, 6–8 minutes. Stir in flour; cook for 2 minutes. Whisk in milk and cream; cook until sauce is thickened, 4–6 minutes. Remove from heat; crumble half the Gorgonzola into pan. Stir in reserved chard, the nutmeg, salt, and pepper; pour mixture into prepared baking dish. Toss remaining butter, the pumpernickel, and walnuts in a bowl; sprinkle mixture over chard. Crumble remaining Gorgonzola over top; bake until chard mixture is bubbly and pumpernickel is crisp, about 30 minutes.