Creamy Mushroom and Mussel Tart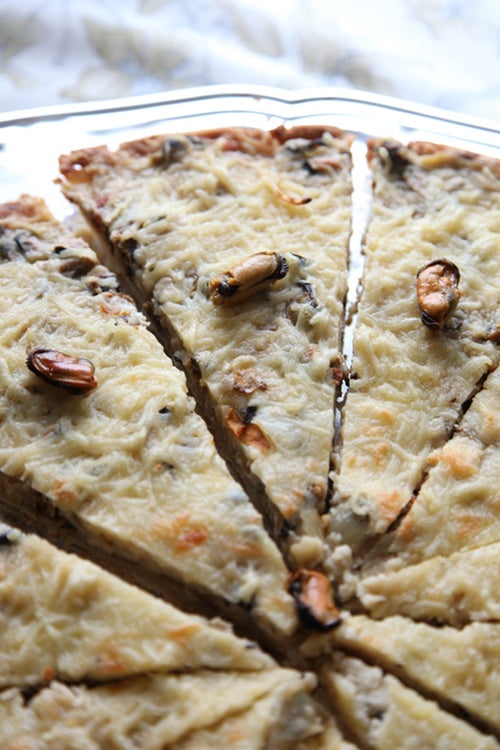 Mussels are blanketed under a thick cheese-and-cream mornay sauce in this savory tart recipe from Miquelon home cook Paulette Boissel. This recipe first appeared in our April 2014 issue with Adam Leith Gollner's story At the Ends of the Earth
Creamy Mushroom and Mussel Tart
Mussels are blanketed under a thick cheese-and-cream mornay sauce in this savory tart recipe from Miquelon home cook Paulette Boissel.
For the Crust
1 1⁄2 cups flour, plus more
9 tbsp. unsalted butter
1⁄4 tsp. kosher salt
5 tbsp. ice-cold water
For the Filling
2 cups dry white wine
3 dozen mussels, scrubbed
4 tbsp. unsalted butter
3 cloves garlic, minced
1 small yellow onion, minced
2 tsp. minced thyme
1 tsp. dried savory
1⁄2 tsp. fennel seeds
10 white button mushrooms, roughly chopped
1⁄3 cup flour
1⁄2 cup heavy cream
1⁄2 cup milk
2 1⁄2 cups grated Gruyère
2 tbsp. minced parsley, plus leaves for garnish
1⁄4 tsp. freshly grated nutmeg
Zest and juice of 1 lemon
Kosher salt and freshly ground black pepper, to taste
Instructions
Make the crust: Pulse flour, butter, and salt in a food processor until pea-size crumbles form. With motor running, add water; pulse until dough forms. Flatten dough into a disk and wrap in plastic wrap; chill 1 hour.
Make the filling: Bring wine to a simmer in a 6-qt. saucepan over medium-high heat. Add mussels; cook, covered, until shells open, 2–3 minutes. Transfer mussels to a bowl and discard shells; reserve ½ cup cooking liquid in another bowl. Add butter to pan; melt over medium-high heat. Cook garlic and onion until golden, 5–7 minutes. Add thyme, savory, fennel, and mushrooms; cook until soft, 4–5 minutes. Stir in flour; cook 2 minutes. Stir in reserved cooking liquid, the cream, and milk; bring to a boil. Cook until sauce is thick, 2–3 minutes. Stir in reserved mussels, 1½ cups Gruyère, the parsley, nutmeg, zest and juice, salt, and pepper.
Assemble and bake the tart: Heat oven to 375°. On a lightly floured surface, roll dough into a 13″ round about ½″ thick. Transfer to a 13″ pizza pan. Using a fork, prick dough all over. Line dough with parchment paper and fill with pie weights or dried beans; bake until golden, 35–40 minutes. Remove paper and weights; let cool. Spread filling over crust, leaving a ½″ border; sprinkle with remaining cheese. Bake until filling is golden and bubbly, about 35 minutes; garnish with parsley leaves.