Recipes
Garlicky Skillet Greens with Ham
Aromatic aliums and sorghum syrup are a Southern secret.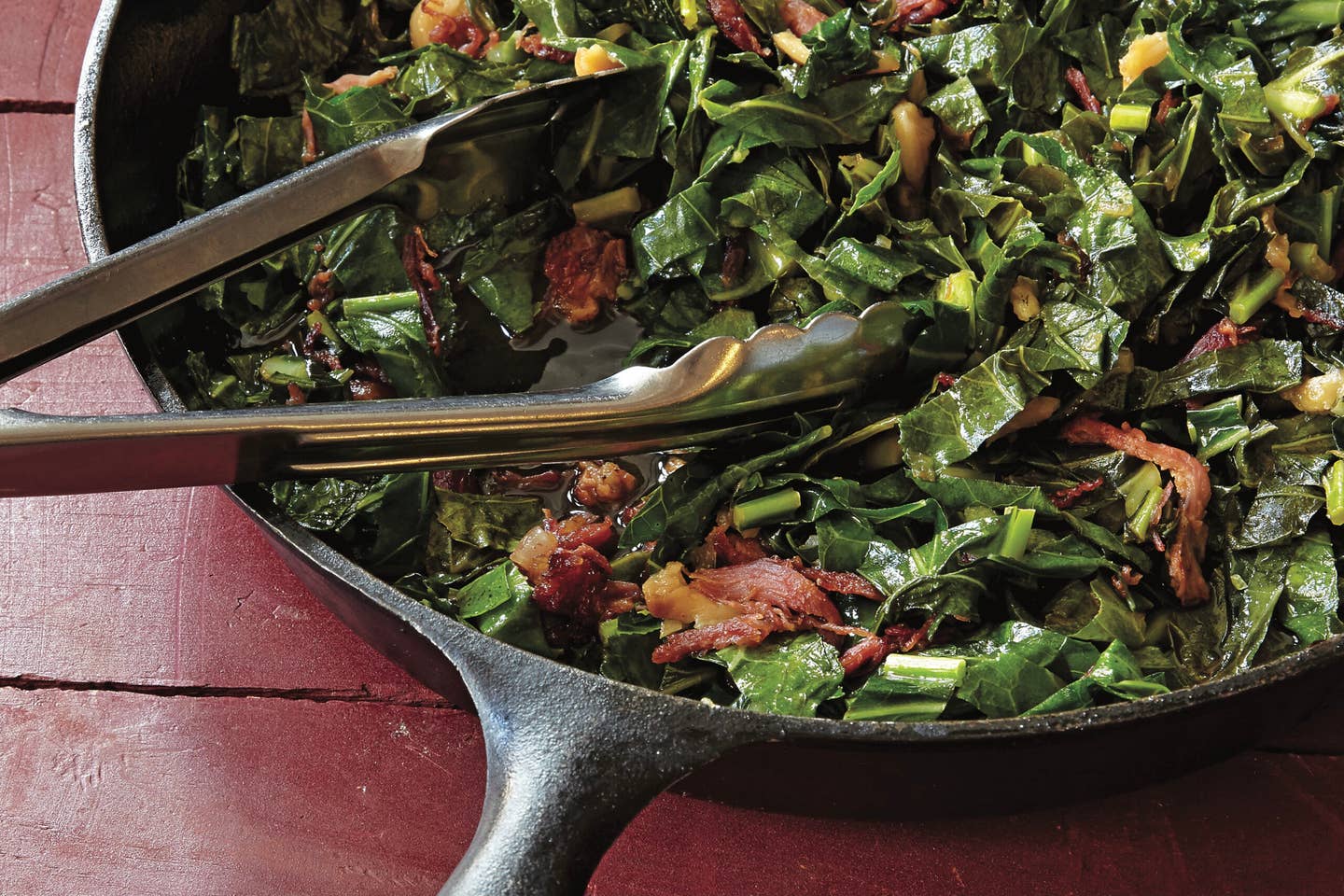 These skillet-cooked bitter greens, from Atlanta-based chef and restaurateur Linton Hopkins, get a flavor boost from garlic confit and sorghum gastrique. Lighter in flavor than molasses, sorghum syrup is frequently used as a sweetener for Southern dishes ranging from cornmeal mush to candied yams. Combined with vinegar and Sriracha, it becomes a regionally-inflected sweet-and-sour sauce.
Ingredients
1⁄4 cup apple cider vinegar
1⁄4 cup sorghum syrup
2 tbsp. Sriracha hot sauce
1 smoked ham hock
1 small yellow onion, finely chopped, divided
1 cup bacon fat
1 1⁄2 lb. collard greens, stems discarded and leaves thinly sliced
turnip greens, stems discarded and leaves thinly sliced
cloves Kosher salt
12 cloves garlic confit, coarsely chopped, plus 2 tbsp. garlic oil
Instructions
Step 1
In a microwave-safe bowl, whisk together the vinegar, sorghum syrup, and Sriracha. Cover and microwave on high for 2 minutes and set aside.
Step 2
In a medium Dutch oven, place the ham hock and half of the onion, cover with water, and turn the heat to high. When the liquid boils, turn the heat to medium-low and cook until the ham hock is very tender, 1½–2 hours. Set the pot aside until the ham hock is cool enough to handle, then remove it from the liquid and use your hands to shred the meat into a small bowl. Discard the liquid, cooked onion, and bone. Clean the Dutch oven and return it to the stove.
Step 3
In the empty Dutch oven set over medium-high heat, melt the bacon fat, then add the shredded meat and cook until browned and slightly crisp, 3–4 minutes. Stir in the remaining onion and cook until soft, about 8 minutes. Turn the heat to high, add the collard and turnip greens (in batches if necessary), and season with salt to taste. Cook, stirring continuously, until the greens are wilted, 1–2 minutes. Stir in the reserved vinegar-sorghum liquid, garlic confit, and garlic oil, and serve immediately.