Pappardelle with Mixed Mushrooms, Ricotta, and Walnuts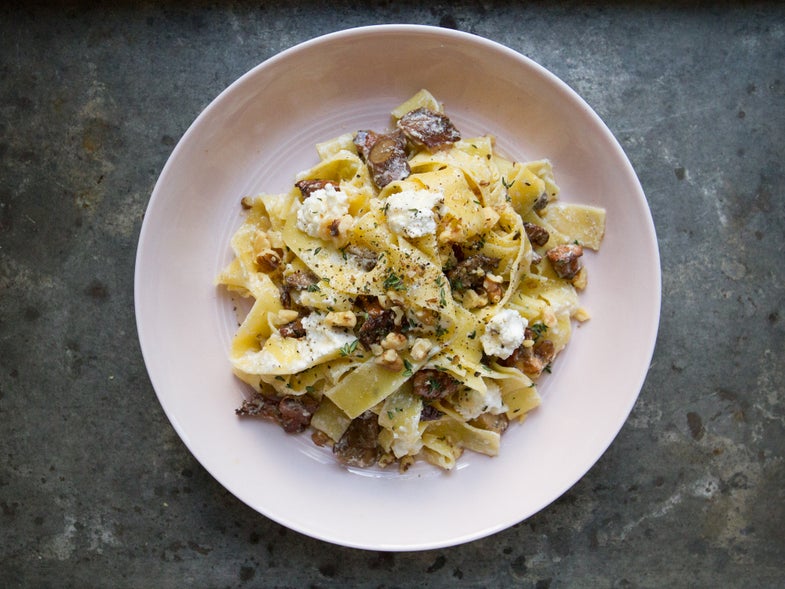 Inspired by the ricotta and honey toasts I often make myself for breakfast, this pasta dish is one of those one-bowl dinners that's simple to put together but tastes wonderfully layered and complex. A mix of sautéed mushrooms, toasted walnuts, ricotta, thyme, honey, and pappardelle, it needs only a green salad on the side. I love tossing the entire dish with honey, but if you don't like sweet with your savory, just give it a little drizzle when serving or skip it entirely. —Farideh Sadeghin, test kitchen director
Pappardelle with Mixed Mushrooms, Ricotta, and Walnuts
Sautéed mushrooms, toasted walnuts, ricotta, thyme, and honey combine over pappardelle for an easy pasta dish with a touch of sweetness.
Ingredients
6 tbsp. unsalted butter
2 lb. mixed mushrooms, such as chanterelles, cremini, hen of the woods, oyster, and porcini, cut or torn into bite-size pieces
1 tbsp. roughly chopped thyme, plus more for garnish
6 cloves garlic, peeled and smashed
Kosher salt and freshly ground black pepper, to taste
1 lb. pappardelle
1 cup ricotta
1⁄2 cup toasted walnut pieces
Honey, for drizzling (optional)
Instructions
Melt butter in a 12" skillet over medium-high; working in batches, cook mushrooms, 1 tbsp. thyme, garlic, salt, and pepper until mushrooms are golden, 15 minutes. Meanwhile, bring a large saucepan of salted water to a boil. Cook pasta until al dente, about 7 minutes. Drain pasta, reserving 1⁄2 cup water; add pasta, water, half the ricotta, the walnuts, salt, and pepper to skillet and toss to combine. Transfer to a serving platter and garnish with remaining ricotta and thyme. Drizzle with honey, if you like.