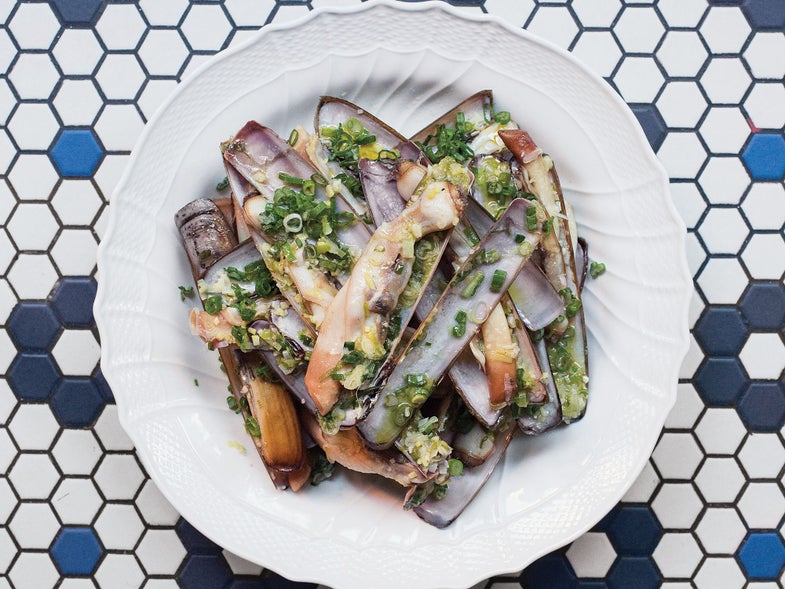 Colatura, an Italian fish sauce, brings an umami note to this simple appetizer of meaty razor clams. Featured in: Hong Kong, Italian-Style
Razor Clams Fantasia
Meaty razor clams are topped with a wine, colatura, scallion, and garlic sauce.
Ingredients
3 lb. razor clams
Kosher salt, to taste
1 cup plus 3 tbsp. olive oil
2 tbsp. fresh lemon juice, plus halves
1⁄2 tsp. Colatura
12 scallions, thinly sliced, 1/4 cup sliced greens reserved
8 cloves garlic, grated
1 (6″) piece ginger, peeled and grated
3⁄4 cup dry white wine
Instructions
Submerge clams in a large bowl of heavily salted cold water and let sit for 15 minutes to purge them of sand; drain and set aside. Stir 1 cup oil, the lemon juice, colatura, half each the scallions, garlic, and ginger, and salt in a bowl; set sauce aside. Heat remaining oil in an 8-qt. saucepan over medium. Cook remaining scallions, garlic, and ginger until fragrant, 1–2 minutes. Stir in clams and wine; cook, covered, until shells have opened, 4–5 minutes. Stir half the reserved sauce into clams. Transfer clams to a platter; spoon remaining sauce over top and garnish with reserved 1⁄4 cup sliced green scallions. Serve with lemon halves.