Recipes
Seafood Casserole: Bubbly Bake
Creamy, crispy, and hearty, this seafood casserole is a big catch for your dinner table.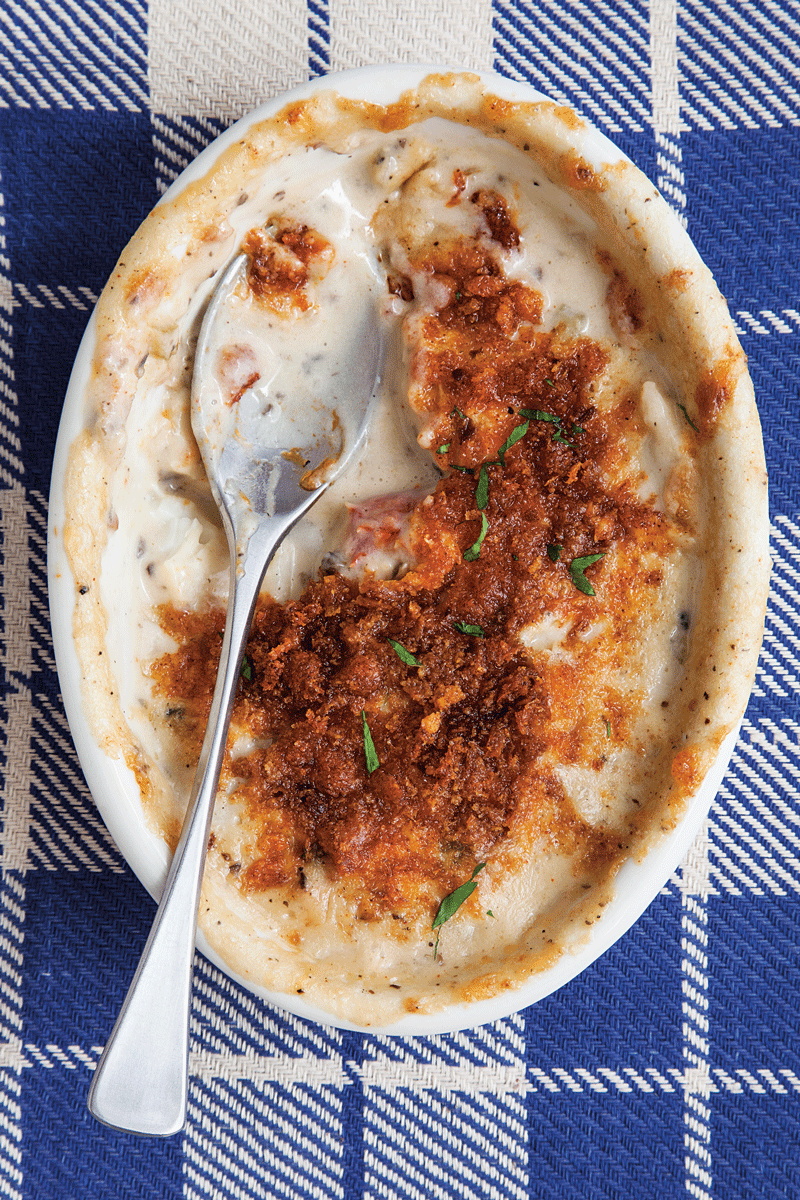 Haddock, lobster, and scallops combine in a creamy baked seafood casserole from North Rustico Harbour's Blue Mussel Cafe; any combination of seafood—cod, clams, mussels, shrimp—will work just as well. This seafood casserole recipe first appeared in our October 2013 issue with the article Where the Farm Meets the Sea.
Ingredients
6 tbsp. unsalted butter
2 oz. white mushrooms, finely chopped
2 cloves garlic, finely chopped
1 stalk celery, finely chopped
1⁄2 small green bell pepper, stemmed, seeded, and finely chopped
1⁄2 small yellow onion, finely chopped
1⁄2 cup dry white wine
4 tbsp. flour
1 1⁄2 cups milk
1⁄2 cup heavy cream
4 oz. cooked lobster meat, cut into 1" pieces
4 oz. skinless haddock, pin bones removed, cut into 1" pieces
4 large sea scallops, thinly sliced crosswise
1 tbsp. fresh lemon juice
1⁄2 tsp. dry mustard
Kosher salt and freshly ground black pepper, to taste
1⁄3 cup fine bread crumbs
3 tbsp. grated cheddar cheese
1 tsp. paprika
Roughly chopped parsley, for garnish (optional)
Instructions
Step 1
Heat oven to 400°. Melt 4 tbsp. butter in a 4-qt. saucepan over medium-high heat. Add mushrooms, garlic, celery, bell pepper, and onion; cook, stirring occasionally, until soft, about 8 minutes. Add wine; cook until liquid is reduced by half, about 3 minutes. Add flour; cook, stirring until smooth, for 2 minutes. Whisk in milk and cream; bring to a boil. Reduce heat to medium; cook until slightly thickened, 3–4 minutes. Stir in lobster, haddock, scallops, lemon juice, mustard, salt, and pepper. Divide mixture evenly among six 6-oz. ramekins; place ramekins on a baking sheet and set aside.
Step 2
Mix bread crumbs, cheese, and paprika in a bowl; sprinkle mixture evenly over each ramekin and dot with remaining butter. Bake until lightly browned and bubbling in the center, about 20 minutes. Sprinkle with parsley, if you like.