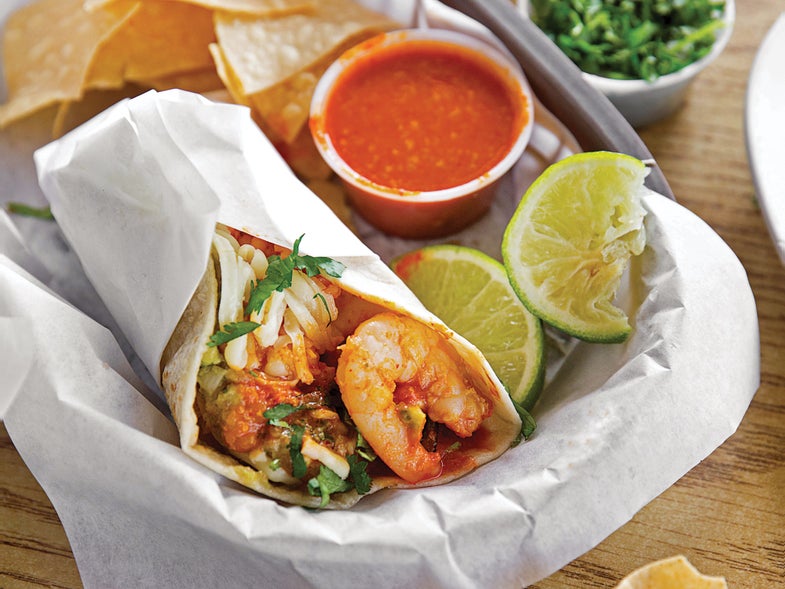 Every element of this taco—inspired by those at Don Pepe Taqueria in Fresno—is amped up, from the red rice simmered in a blend of chicken stock and puréed tomatoes to the quick-marinated shrimp. Use large flour tortillas as tacos or wrap them into a burrito. Featured in: On the California Taco Trail
Shrimp Tacos
Shrimp tacos get a boost of heartiness from red rice simmered with chicken stock and tomato puree. Serve with spicy salsa and cooling guacamole.
Time: 1 hour, 30 minutes
For the Rice
1 1⁄2 cups chicken stock
2 plum tomatoes, cored and roughly chopped
2 tbsp. canola oil
2 cloves garlic, minced
1 small white onion, minced
1 cup long-grain white rice
Kosher salt and freshly ground black pepper, to taste
For the Shrimp and Serving
1 1⁄2 lb. medium shrimp, peeled and deveined, tails removed
1 tsp. Worcestershire sauce
2 cloves garlic, minced
1 lime, juiced
Kosher salt and freshly ground black pepper, to taste
2 tbsp. canola oil
Flour tortillas, warmed, for serving
Chiles de Árbol Salsa and Guacamole, for serving
Shredded jack cheese, for serving
Roughly chopped cilantro and white onion, for garnish
Lime wedges, for serving
Instructions
Make the rice: Purée stock and tomatoes in a blender until smooth; set aside. Heat oil in a 4-qt. saucepan over medium-high. Cook garlic and onion until soft, about 5 minutes. Add rice; cook until golden, about 6 minutes. Stir in reserved tomato mixture, salt, and pepper; boil. Reduce heat to low; cook, covered, until rice is tender, 25–30 minutes. Remove from heat and let sit, covered, for 10 minutes.
Make the shrimp: Stir shrimp, Worcestershire, garlic, lime juice, salt, and pepper in a bowl; let sit 10 minutes. Wipe skillet clean; heat oil over medium-high. Working in batches, cook shrimp until pink and cooked through, 2–3 minutes. To serve, divide rice and shrimp between tortillas; top with reserved salsa and guacamole, the cheese, cilantro, and onion. Serve with lime wedges.