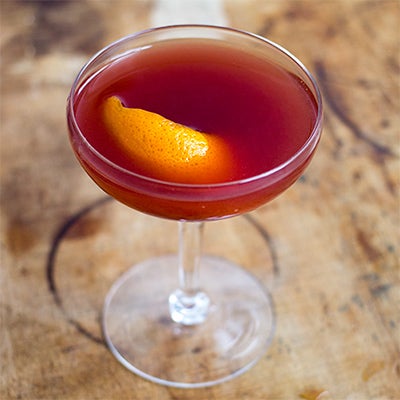 Credited to Harry McElhone, the famed proprietor of Harry's New York Bar in Paris where the Bloody Mary originated, the Monkey Gland is a classic 1920s cocktail that balances gin and fresh orange juice with a splash of absinthe and a little pomegranate grenadine.
The Monkey Gland
Unfortunate moniker aside, the Monkey Gland is a classic absinthe-tinged gin cocktail. It's ruby glow—perfect for Christmas—adds festivity to a holiday party.
Ingredients
3 oz. gin
1 1⁄2 oz. fresh orange juice
1⁄4 oz. grenadine
1 dash absinthe
Orange peel, for garnish
Instructions
Combine gin, orange juice, grenadine, and absinthe in a cocktail shaker filled with ice; shake vigorously and strain into a coupe glass. Garnish with an orange twist.