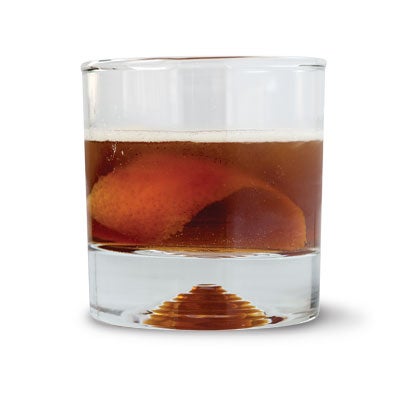 Nocino, the sweet Italian-style spirit infused with green walnuts and spices, is traditionally sipped as a digestif on its own after a meal. But with the rise in popularity of Italian liqueurs, more bartenders are mixing it into modern concoctions. Orange bitters balance out the sweet sherry, which, in turn, complements the nuttiness of the walnut-based nocino in this souped-up variation on a Manhattan from Lincoln Restaurant in Portland, Oregon. This recipe first appeared in our June/July 2014 issue with the story "Summer Nectar."
The Riccioni
Orange bitters balance out the sweet sherry, which, in turn, complements the nuttiness of the walnut-based nocino in this souped-up variation on a Manhattan from Lincoln Restaurant in Portland, Oregon.
Ingredients
1 1⁄2 oz. bourbon, preferably Eagle Rare
1⁄4 oz. Carpano Antica Formula Vermouth
1⁄4 oz. fino sherry
1⁄4 oz. nocino
2 dashes orange bitters
Orange peel, for garnish
Instructions
Combine bourbon, vermouth, sherry, nocino, and bitters in a cocktail shaker filled with ice; shake vigorously and strain into a cocktail glass. Garnish with orange peel.