Recipes
Vadai Pachadi (Pigeon Pea Fritters with Yogurt-Tomato Sauce)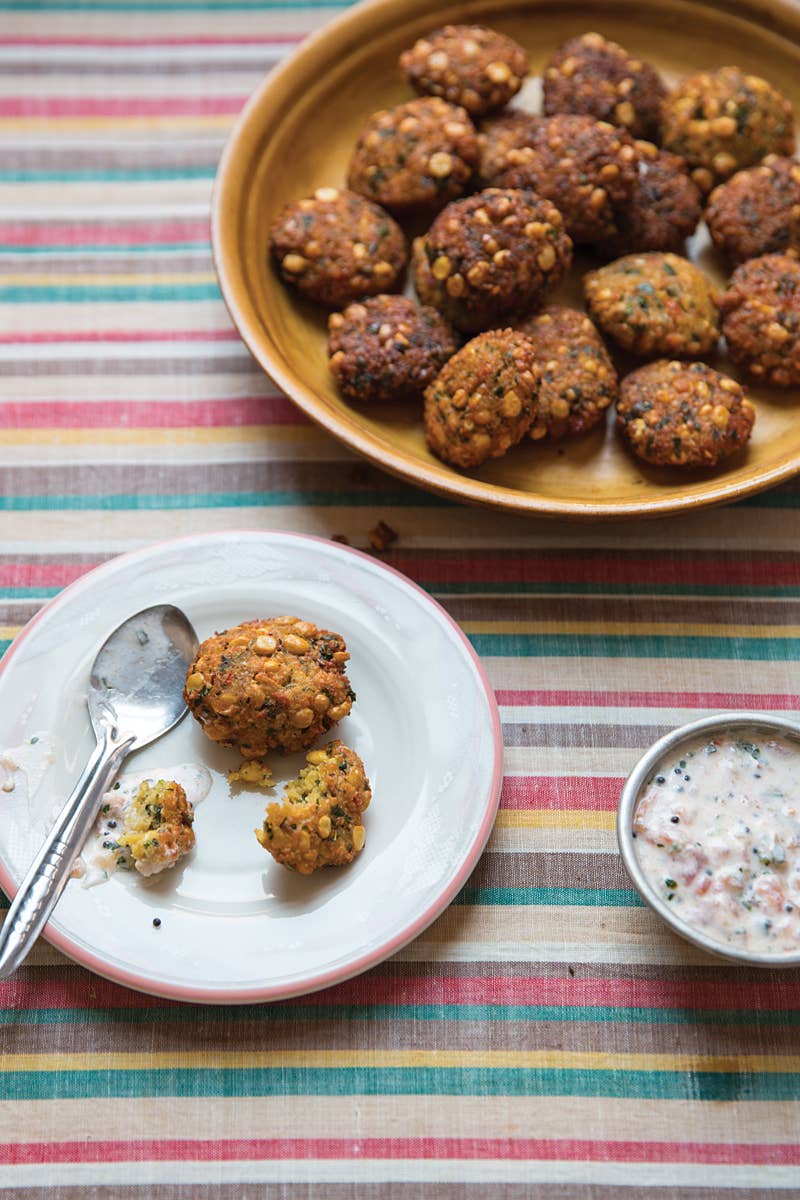 In Tamil-speaking households, a combination of fritters with sauce is referred to as vadai pachadi. Served for weddings and religious holidays, these spicy fritters get their signature crunch from yellow split peas and are topped with a creamy, tangy yogurt-tomato sauce. This recipe first appeared as part of the digital edition of our August/September 2014 special India issue.
Ingredients
For the Fritters
1 cup toovar dal (yellow pigeon peas), rinsed
4 chiles de árbol, stemmed
1⁄4 cup chana dal (yellow split peas), rinsed
1 (1") piece ginger, peeled and thinly sliced
1⁄4 cup minced cilantro leaves and tender stems
1⁄4 cup minced fresh or frozen curry leaves, defrosted if frozen
1⁄2 tsp. asafoetida
1 large plum tomato, minced
Kosher salt, to taste
Canola oil, for frying and greasing
For the Sauce
1 cup plain full-fat yogurt
1⁄2 tsp. kosher salt
1 tbsp. canola oil
1 tsp. black mustard seeds
1 tbsp. minced cilantro leaves and tender stems
2 small green Thai chiles or 1 serrano chile, minced
1 large plum tomato, minced
Kosher salt, to taste
Instructions
Step 1
Make the fritters: Combine pigeon peas and chiles de árbol in a bowl and cover with warm water; let sit 2 hours. In a separate bowl, soak split peas in warm water 30 minutes, then drain and set aside. Drain pigeon peas and chiles and transfer to a food processor. Add ginger; purée into a grainy paste and transfer to a large bowl. Stir in split peas, cilantro, curry leaves, asafoetida, tomato, and salt. Using greased hands, divide mixture into twenty-five 1-oz. patties about ½"-thick; transfer to a parchment paper–lined baking sheet and chill 10 minutes.
Step 2
Heat 2" oil in a 6-qt. saucepan until a deep-fry thermometer reads 350°. Working in batches, fry patties, flipping once, until browned and crisp, 2–3 minutes. Using a slotted spoon, transfer fritters to paper towels to drain; season with salt.
Step 3
Make the sauce: Whisk yogurt, salt, and ¼ cup water in a bowl; set aside. Heat oil in an 8" skillet over medium-high. Cook mustard seeds until they pop, about 30 seconds. Add cilantro, chiles, tomato, and salt; cook until tomatoes break down, 2–3 minutes, and stir into yogurt mixture. Serve with fritters.