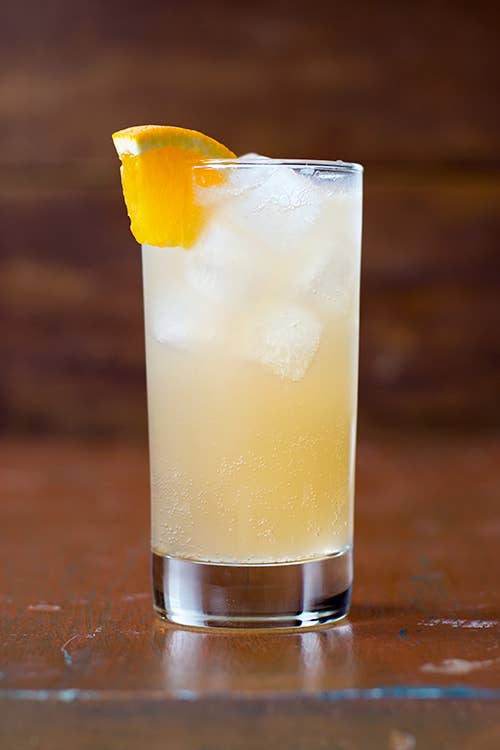 Drinks
Friday Cocktails: Nuestra Casa
If you're hungry and it's after seven o'clock in the evening, San Sebastián's picturesque, labyrinthine Old Town can be an intimidating place to navigate. In this tiny neighborhood on the waterfront in Spain's Basque region, dozens of identical-looking pintxo bars (the region's answer to what the rest of Spain calls tapas) crowd the streets, each one packed to overflowing with txakoli-swilling locals and in-the-know gastro-tourists, everyone shouting food and drink orders and greeting friends and, overall, creating an atmosphere of a fairly riotous, city-wide street-festival-meets-happy-hour, punctuated with basically the best bar snacks you've ever had. Even with my meticulously plotted map of where to eat and drink, my husband and I were feeling a little adrift in the face of our first San Sebastián pintxo crawl.
Maybe it was good luck conferred by the fact that we were there on our honeymoon, or maybe it was just that San Sebastian is the kind of town that attracts professional eaters like a lightning rod in a thunderstorm, but right when we were starting to worry that we were going to miss all the good stuff, we ran into chefs Ken Oringer and Jamie Bissonette, and everything was saved.
The duo were in the midst of eating their way through eastern Spain in preparation for the fall opening of a New York outpost of Toro, their perpetually-packed Boston tapas restaurant, and to our great pleasure they took us under their wing for the evening. Old pros at finding their way to the very best pintxos on offer at the very best pintxo bars—both chefs have visited the city multiple times—we followed them around for the night, eventually parting ways in the early hours of the morning with promises—tipsy yet sincere—to drop by Toro as soon as it opened, to see what sort of influence our evening of delicious research had managed to have on the menu.
Toro opened in New York this week, and among other things, it's got a excellent menu of gin-and-tonic variations—in Spain, the gintonic, as it's called, is virtually the national drink—each made with a gin carefully paired with a tonic that complements its particular flavors. I'm particularly smitten with the Nuestra Casa, developed (as all the drinks are) by beverage director Caitlin Doonan to be the perfect G&T for right now: The dry, highly botanical Oxley gin is paired with Fever Tree's Indian Tonic, with a seasonal twist from a splash of pear and allspice liqueurs. It may not quite the same as a valedictory 2 a.m. gintonic in a nameless San Sebastián bar—nothing is, really—but in some ways, like its autumnal flavor profile and the fact that I can drink one right now without hopping a flight to Spain, it's even better.