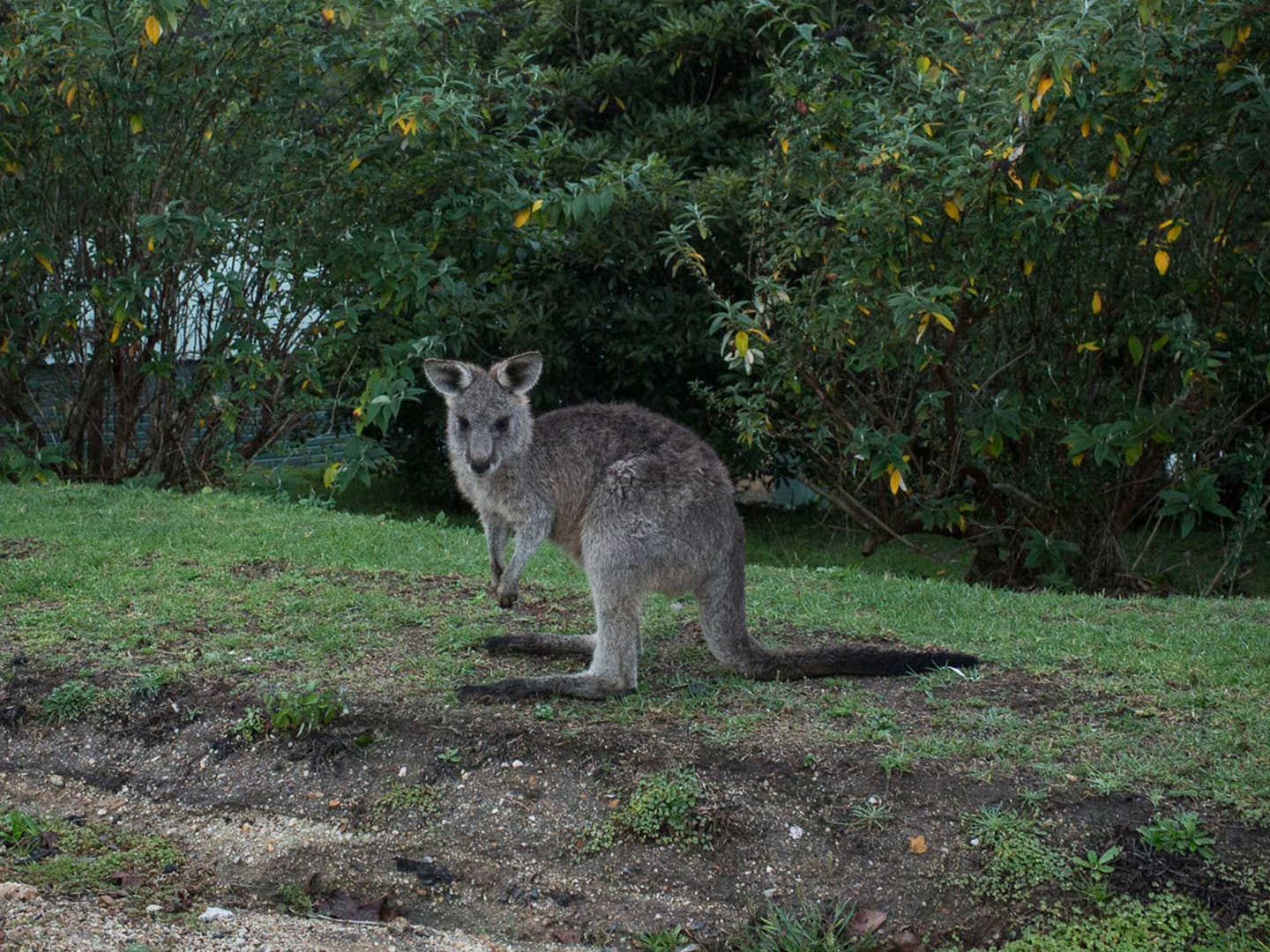 Travel
An Introduction to Australia's Indigenous Ingredients
There's a lot more to the food Down Under than avocado toast and flat whites
"We call this warrigal, but it's also known as Cook's cabbage," says Bruce Pascoe. He was harvesting an emerald-green plant with spade-shaped leaves growing under a stand of paperbark trees in Far East Gippsland, a remote coastal region eight hours' drive north of Melbourne. "When James Cook landed here in Australia, he fed this plant to his crew on the Endeavour. Without it, they would have died of scurvy."
Pascoe explains that his wife Lyn makes pesto by pairing warrigal, which tastes like spinach brightened with lemon, and macadamia nuts from her orchard. Pascoe, an aboriginal linguist, author, and food advocate, recently launched a crowd-funded initiative called Gurandgi Munjie to encourage the rediscovery of the country's indigenous food plants and propagating methods. It's a big challenge, but one Australia is finally embracing.
Given its relative isolation in the southern hemisphere, with climate zones ranging from arid desert to tropical rainforest, Australia has a cornucopia that exists nowhere else in the world; the Slow Food Foundation's Ark of Taste lists 60 rare and protected entries, some harvested for millennia, others only now gaining attention as more of the continent's chefs connect with botanists and foragers who source ingredients typical of the First Peoples diet. (Aborigines arrived here approximately 50,000 years before European explorers in the 17th century.)
By challenging myths about indigenous foodways, Bruce Pascoe helps Australians rediscover their true culinary heritage
Bush tucker, or wild food, has evolved beyond survivalist rations, serving as the inspiration for Australia's next-generation cuisine. Aaron Turner of Igni serves deeply rich wallaby broth made from tails roasted over a blazing red gum wood fire—it's wilder in character than stocks made from lamb or beef. Jock Zonfrillo, whose Orana Foundation is organizing a continent-wide wild foods database, pairs warrigal with octopus and finger lime at his restaurant in Adelaide. Wattleseed, edible pods harvested from desert-loving acacia species, appears with queen garnet plums at Fleet in Byron Bay. Sour quandong, the native stone fruit harvested from a sandalwood cultivar, brightens aged Pekin duck baked in the brick oven at Brae in rural Birregara.
After meeting Pascoe, Ben Shewry of Attica in Melbourne started raising yam daisy in his restaurant's suburban kitchen garden. "Bruce Pascoe's legacy will be that he has helped educate Australians about their true ingredients," said Shewry. "Not the ones that the first settlers brought, but rather the species that have always belonged here."
Here are 12 essential flavors from the Land Down Under.
This bush fruit is native to the rainforests of Queensland and northern New South Wales. While it has a superficial resemblance to a European plum, the tropical variety is unrelated to stone fruit from the northern hemisphere; the two-inch fruits grow in grape-like clusters.
The flesh is deep burgundy, the taste is highly acidic and sour, similar to rhubarb, which makes it an ideal sauce base to accompany indigenous game like magpie goose or kangaroo. Botanical soda makers Bickford and Sons add tiny Davidson plum to its sparkling apple cordial.
It doesn't taste like chicken. Australia's largest bird, a leggy sprinter with grey-brown plumage closely related to the ostrich, forages mostly on insects and acacia scrub, favors woodland savannah habitats, and migrates over great distances. Their massive eggs are dark green, like something Game of Thrones' Mother of Dragons might nurture.
At Attica in Melbourne, chef Ben Shewry laser-cuts each thick shell on the diagonal, and then fills it with whipped egg and sugarbag (honey) floss. Aborigines historically prized the wild bird for its meat, but emu also has an important place in their Dreamtime stories, or creation theology, which explains the singular worldview of Australia's First Peoples.
Cracking open a tangy, acidic finger lime reveals caviar-shaped pulp that bursts in your mouth like citrusy pop rocks. Not a true lime, citrus Australasica may date back 18 million years; the three-inch-long, cylindrical-shaped fruit ranges in color from blood orange to Day-Glo green.
Finger limes are prized as a garnish for oysters as well as cocktails. At Lee Ho Fook in Melbourne, Asian new wave chef Victor Liong pairs them with charred Spanish mackerel and a "Chinese tapenade" of preserved olive vegetable, burnt garlic oil, nori, and Fujian shacha paste.
Marron is as close to lobster as Australia gets. Originally found wild in the streams and rivers of Western Australia, the hairy variety of this freshwater crayfish species was an important food of the Noongar people for thousands of years, but is now endangered thanks to its invasive, smooth-carapaced cousin, Cherax cainli, also known as yabbies, which are milder and sweeter in flavor than most saltwater shellfish, including those ubiquitous jumbo shrimp that dwell on backyard "barbies." Grilled marron is paired with young coconut and koji butter at Momofuku Seibo in Sydney.
Considered a living fossil, this black-and-white plumed waterfowl dwells in the floodplains of the Mary River near Kakadu in northernmost Australia. The Yolngu people traditionally cook magpie goose (gurrumattji) in a pit oven, smothered in wet leaves, a technique similar to the Maori hangi or Hawaiian imu.
The breast meat is darker and gamier than duck; Adelaide purveyor Something Wild collaborates with indigenous communities to source "open range" meats like magpie, so eventually this rarer bird may edge more domesticated geese as the centerpiece for Christmas dinner.
One of the oldest bush foods, muntries is a key component in the traditional diet of the Narrindjeri people of the Coorong in South Australia. The pea-sized, purple berries have a flavor evocative of spiced apples, and were typically pounded into a paste, then baked into cakes or dried for longer storage.
Also known as emu apples or native cranberries, they are often used in pies, chutneys, jams and sauces. At Brae, chef Dan Hunter pairs ripe muntries with calamari, wild cabbage and fermented daikon during the short season.
High in vitamin C, quandong (Santalum acuminatum) is a stone fruit that flourishes in Central Australia's semi-arid desert. The astringent flesh clings to a large kernel, and tastes like a cross between apricot and peach. This climbing shrub clings to a host, or as Aborigines say, a "brother" tree, when young.
Foote Side Farm produces tart preserves that will boost a pavlova topping or soy-chili dipping sauce. At Charcoal Lane, a "social enterprise" restaurant in Melbourne that offers kitchen internships to at-risk aboriginal youth, quandong is a bitters ingredient used in the bar's whiskey cocktail.
Drought-tolerant Old Man saltbush (Atriplex nummularia) thrives throughout arid inland Australia. The grayish-blue shrub produces flowering seeds that Aborigines used to grind and roast for "damper," a rustic soda bread baked in the ashes of a cook fire. The leaves are highly salty, rich with minerals and proteins, and are most often used as a seasoning. At Igni restaurant in Geelong, chef Aaron Turner turns the dried leaves into a tasty riff on salt-and-vinegar chips.
Australians nicknamed them "Skippy" for a reason. Smaller than a kangaroo, but a close cousin, these marsupials are herbivores, and have been part of the indigenous Australian diet for millennia. Although they've only been sold commercially in the last 20 years; before that the meat typically wound up in pet food. The taste is gamey and slightly grassy; tender filets take only minutes to sear on a grill. At Igni, Aaron Turner turns wallaby rump into tartare.
Warrigal is also known as Cook's cabbage or Botany Bay greens, which grows wild in sandy coastal regions. It was one of the first native Australian plants to be adapted by European settlers. After blanching, the taste is similar to spinach. Chef Kylie Kwong serves steamed vegetable and warrigal dumplings at her Australian-Chinese restaurant Billy Kwong in Sydney.
Wattleseed belongs to the acacia family. This hardy shrub's seed husk is extremely dense, and only tends to germinate after a bushfire—early aboriginal "fire stick farming" was the most common means of propagation. Roasted and ground, the seeds have an aroma similar to coffee. Saltbush Kitchen makes a versatile spice blend with silver wattle (Acacia Victoriae), Tasmanian pepperberry, and lemon myrtle.
Pulled straight from the ground, murnong, also known as the yam daisy, has a tuft of stalks topped with a buttery yellow bloom and a tuberous root system that resembles a baby parsnip. Aborigines first domesticated this perennial herb in southern Australia; however, the introduction of livestock by European settlers led to its near extinction as pastures became over-grazed.
Traditionally, the yam daisy was either roasted or pit-baked. At Attica in Melbourne, the tubers are first simmered in salt water, then fried until caramelized. The flavor is mildly sweet, almost like a white yam.