9 Deep Fryers You Can Count On
If you're a frequent fryer, these standalone machines are worth the counter space.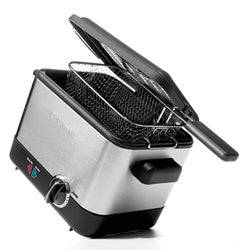 Whether you're making French fries or onion rings to accompany a burger at home, or battering up fried chicken or donuts for a crowd, a convenient and contained way to do it is with a dedicated deep fryer. Inspired by their much larger restaurant counterparts, these at-home versions boast all kinds of handy features: large oil capacities, temperature-steadying heating units, and deep-handled fryer baskets to help you reach deep-fried nirvana. Many of them also have tight-fitting lids to prevent spattering and keep cleanup to a minimum. Like many kitchen gadgets, the choices can be overwhelming, so we've rounded up the best deep fryers for every kind of cook.