11 Exceptional Gins to Drink Right Now
Fresh and floral but always complex, gin is the king of cocktail spirits. Here are the bottles we're stocking in our bar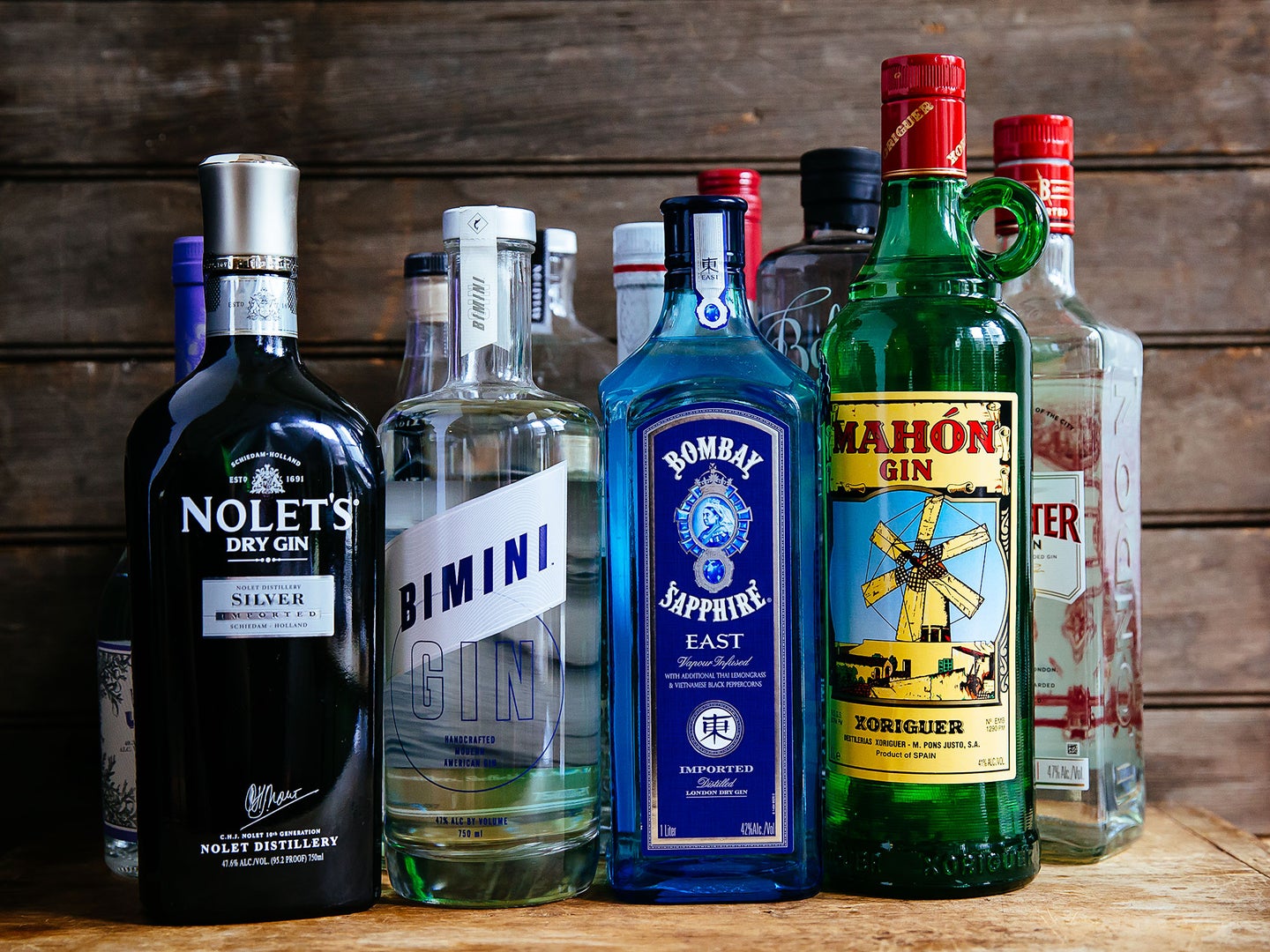 For a clear spirit, gin has a murky past. As the world's first "flavored vodka"—that is to say, a neutral grain spirit redistilled with juniper berries—it traces its origins back to the genever of the Netherlands, which was developed in the 16th century as a medicine. (It's important to note that genever still exists, as a different, maltier category of spirit).
Within the next century, gin swept through England, aided by the ascension of Dutch ruler William of Orange to the British throne, eventually leading to the notorious 18th century British Gin Craze. It was during this time that the spirit became known as "mother's ruin" for its adverse effects on the British family structure.
Thankfully, the Brits eventually learned to control their thirst for gin, and these days, England continues its proud tradition of gin production. Perhaps the most well-known style of gin is still the London Dry, a light-bodied variety that's seemingly made for martinis. The older, sweeter Old Tom is more reminiscent of gin's Dutch ancestor, which is distilled with a malted grain base.
In the context of the craft spirits revolution of the 21st century, the gin "renaissance" has been a relatively quiet one: The older, traditional brands still dominate the market, but there has been in recent years a huge push towards "American" and "Western" products, many of which allow the juniper to take a backseat to new and unconventional botanicals. And there are of course a number of total outliers, such as Mahon, a standout Spanish bottling.
Floral, fruity, herbaceous, even spicy—there are so many profiles and flavors that gin can take on. Whether you're shaking and stirring your own gin cocktails or just sipping it on ice with a citrus wedge, here are the gins that we're loving right now.
Okay, maybe we're not exactly "excited" for Beefeater, but it's a workhorse of a gin that will satisfy most of your mixing needs. Named after the titular ceremonial guards of the Tower of London, it's notable as a staple in bar wells all over the world, and for being the only London Dry gin still produced in London (Tanqueray 10, another excellent, albeit slightly pricey London Dry, is produced in Scotland). A gin that relies heavily on its juniper base, it simply can't be beat when it comes to the classic gin and tonic.
Producers of whiskey and brandy have long experimented with gin as a side project—after all, it's cost-friendly and doesn't require any aging time. Take the apple-brandy–based gin distilled by American brandy pioneers Copper & Kings, or this super-flowery version produced by Islay Scotch producer Bruichladdich.
The small-batch bottling taps into the Hebridean Islands' rich green offerings, fusing nine classic gin botanicals with a hand-picked harvest of 22 local ingredients—mugwort, creeping thistle, and bob myrtle, to name a few—in a slow, 17-hour distillation process. The resulting product, the first and only "Islay Dry gin," is one of the most interesting we've tried.
"The Botanist has a tremendous depth and versatility that I've found to be ideally suited for gin cocktails with a lot of really loud flavors," says Justin Elliott of Southern Glazer's Wine & Spirits, who likes to use it in his bold version of a Negroni, which swaps sweet vermouth for Cocchi Barolo Chinato. "The gentle green, zesty tones of the gin provide an inviting canvas for the loud flavors in the other ingredients to play upon."
As we mentioned, Dutch genever, sometimes called Holland gin, is distinguished from other gins by its malt base, which gives it "a much rounder mouthfeel with a lighter herbal touch," according to Crystal Chasse of Bar 54 in New York City. Booze history geeks will get a kick out of mixing with the stuff, which uses the original recipe of Lucas Bols—a 17th century distiller and shareholder in the Dutch East India Company—and was re-released in 2008.
The sweeter malt base is layered with notes of citrus and a floral honey, while its lighter body makes it perfect for classic cocktails (and it's authentic!). "I love using Bols Genever in a Martinez if I'm feeling a stirred cocktail or in a classic smash if I'm wanting a brighter citrus-based cocktail," says Chasse. "Classically, a Martinez is made with Old Tom gin; Bols still has the body without the extra sweetness. The mint and fresh muddled lemon of the smash paired with Bols Genever make for a delightfully refreshing and layered cocktail perfect for warm summer days."
Another Dutch import, this gin comes from the Nolet family of Ketel One vodka fame. Based in Schiedam, the Netherlands, the Nolets have been distilling genever-style gins since the 17th century. The juniper is more subdued in this lighter bottling, with berries and floral notes taking center stage. Steve Mazzuca, beverage director of Bathtub Gin in New York City, uses Nolet's in the bar's top-selling cocktail, which combines the gin with sage, lavender, fresh ginger, and lemon.
You may be surprised, as we were, to discover that there exists a fine gin-producing operation on the tiny Spanish island of Menorca in the Mediterranean Sea. Indeed, the British brought gin to their erstwhile military outpost during the 1708 War of Spanish Succession, due to the demand for gin by naval officers.
Laura Carlson, bartender at Contra and buyer at Discovery Wines, explains that unlike most British gins, those from Menorca aren't derived from grain at all, but rather from grapes, making them more similar to brandy or eau de vie that is infused, during a direct-fire copper pot distillation, with juniper and botanicals gathered from nearby mountains. The result is piney, weighty, and an incredible representation of the range of the gin category. Carlson's recommendation? Xoriguer, lime, simple syrup, and a pinch of salt for "simply the best gimlet you will ever have."
Named after the iconic New York poet who once sat at the Algonquin Round Table, this New York-born gin honors her legacy (and well-documented love of gin) with a feisty, forward-thinking fusion of traditional and new ingredients. Here, juniper meets elderberries, citrus, cinnamon, and hibiscus in a fun-loving, easy-to-mix gin that highlights floral components without losing the juniper foundation.
"Dorothy Parker stands out, as it is a lighter-style gin, with a slightly spicy, exotic, tropical flavor profile, lent by hibiscus, cinnamon, and elderberry," says Jim Kearns of New York's Slowly Shirley. "It lends itself well to shaken, fruity drinks. Because of the hibiscus and elderberry, I tend to like it in drinks with "red" ingredients and flavors, like a Pink Lady or a Singapore Sling."
Gin gets an interesting Asian riff with Bombay Sapphire's iconic East bottling, which uses an array of ingredients native to East and Southeast Asia, including lemongrass from Thailand and peppercorn from Vietnam—both pair excellently with traditional juniper.
"The addition of Thai lemongrass and Vietnamese black peppercorn botanicals pairs perfectly with our spicy style of Sichuan cuisine," says Ran Duan, bartender at The Baldwin Bar, which he opened inside of his parents' Chinese restaurant, Sichuan Garden, in Woburn, Massachusetts. He shakes the gin with the French apéritif Maurin Quina, lime juice, aquafaba (chickpea water, in place of egg white), and simple syrup for a refreshing, herbal, perfect-for-spring sipper.
Biddeford, Maine's Bimini crafts a citrus-forward gin that makes it ideal for mixing in a tall cocktail with, you guessed it, refreshing, citrusy drinks. Here, juniper takes a backseat, allowing grapefruit zest and hops to dominate the palate.
"The spirit is not chilled before filtration, leaving many of the oils in the distillate behind, explains The Up & Up barman Chaim Dauermann. "The result is a full-bodied and bold gin that not only stands up in citrusy drinks, but shines." He splashes the gin with lime cordial and doubles up on the grapefruit with a bit of grapefruit liqueur.
The first thing you'll notice about Anchor Distilling's Junipero is the proof point, which, at 98.6 percent, is way higher than the usual 42-46 range. Suffice to say: it makes a stiff martini. The next thing that hits you is the juniper. While many modern American gins shy away from the berry, Junipero, which is distilled in San Francisco, brings it back to the forefront. We loved this gin for its ability to be smooth, cool, and balanced despite packing the heat proof-wise.
"We tend to use it mostly with citrus cocktails because the higher proof really helps bring the botanicals and spices forward and cut through other ingredients that could bury a more retiring gin," says Del Pedro of Tooker Alley, in Brooklyn, New York. "For instance, it works well in the Last Word cocktail where it has to compete with high-proof, big-flavored ingredients like green Chartreuse."
Another non-juniper–forward gin, Portland, Oregon's Aviation is one of the most influential American gins to date, helping to define the American dry category when it launched in 2006. The Art Deco-style bottle holds a dry-style gin infused with a few freewheeling botanicals, including lavender, sarsaparilla, and orange peel.
Bartender Brett Esler of Whisler's in Austin, Texas says it was one of the first gins to make him more open-minded about the category as a whole. He uses it in a Negroni variation that replaces the Campari with ginger liqueur and a splash of Combier.
One of the newer gins on this list, Coastal Spirits' Gin Farallon has received positive attention in the West Coast bartending community (and a gold medal from the American Distilling Institute). Founder Brad Plummer uses a multi-stage process that brightens heavier botanicals with floral and citrus ingredients: the gin is blended with a cucumber infusion, then rested for six weeks. The resulting product layers notes of grapefruit and lavender onto the traditional juniper and coriander.