Everything You Need to Throw the Best Outdoor Party This Summer
From charcoal and gas grills to fancy coolers to Bluetooth speakers, we've rounded up our top backyard entertaining and cooking essentials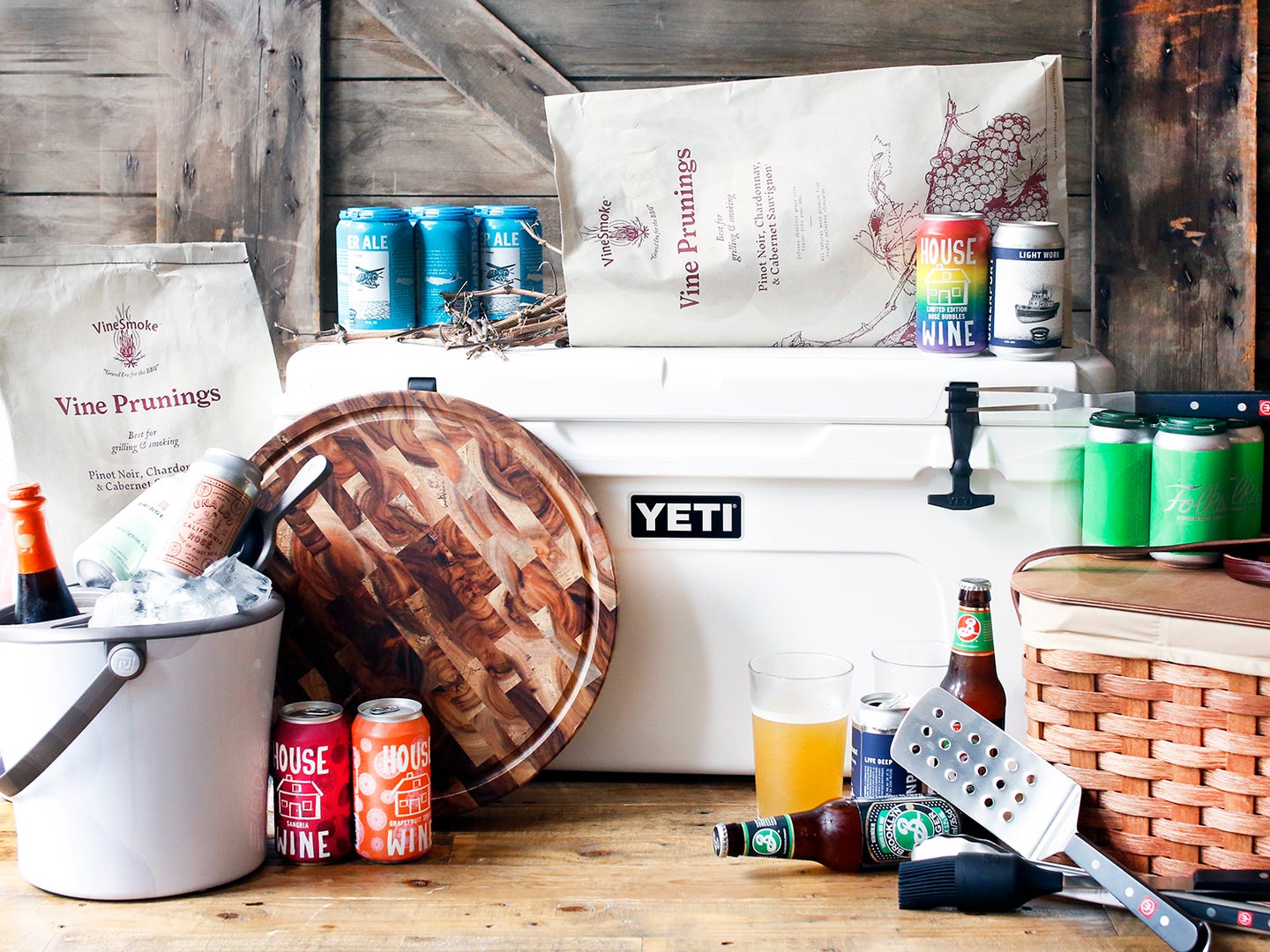 Summer is all about outdoor entertaining, so don't let the season go by without throwing a truly memorable barbecue or cookout. The first step is outfitting your backyard with the proper (and okay, some indulgent) gear. We're talking a sleek gas or charcoal grill for all that delicious flame-kissed food you'll be serving, outdoor speakers to get the tunes going, a stylish cooler to keep the drinks cold, and maybe even a beautiful serving board to show off that perfectly charred steak. Here's everything you need to upgrade your outdoor party arsenal this summer—and perhaps make all your friends and neighbors jealous in the process.
What's a party without a great sound system? These discreet outdoor Bluetooth speakers from Bose will blend seamlessly into your elegant patio dining setup and won't fall flat when it's time to mix up another batch of margaritas and turn on your favorite dance playlist. Wire them into the included amp and mount them permanently outdoors; the speakers are weather-resistant and won't be harmed by moisture or normal temperature fluctuations.
Why welcome your guests to the same old sweaty, lukewarm beer? Texas outdoorsmen and brothers Ryan and Roy Seiders launched Yeti in 2006 in response to a lack of high-end coolers on the market. The brand has since become a status symbol with elite boating, fishing, and hunting types who value the coolers for their long-lasting chill and "bear-resistant" (we kid you not) locking mechanisms. They also just keep cold things cold longer than other coolers out there, and they look sweet doing it.
While the Yeti Tundra line is available in a range of sizes all the way up to a whopping 82-gallon party boat, the 65-gallon is our cookout favorite because it is the largest size available in colors like Seafoam and Tan to match the ocean or your khakis. (The larger sizes still only come in classic white.)
Charcoal and hardwood snobbery notwithstanding, there's something to be said for a fancy gas grill. The speedboat of outdoor cookery, gas is beloved by home cooks who prefer to skip the Boy Scout rituals and jump right into firing off dinner.
Hestan's elite grills are American-made, thoughtfully designed, and just plain pretty. This mid-sized model is available in a range of vibrantly colored consoles with names like "Sol," "Prince," and "Bora Bora." It includes a built-in rotisserie and an option to customize burners with infrared technology, propane, or a built-in natural gas source.
While open-fire grilling gets top billing during cookout season, breakfast demands a different kind of cooktop. This propane-fired griddle is perfect for whipping up family-sized batches of pancakes, bacon, and French toast without overheating or making a mess of your kitchen; a removable rear grease reservoir keeps cleanup quick and easy. It's just the thing for serious car camping or for instantly upgrading any outdoor cooking setup.
Now you can keep a razor-sharp eye on your slow-smoked brisket and ribs while entertaining your guests like the snazzy and multi-talented host you are. This set of tech-y grilling thermometers will connect to your smartphone and notify you when grilled foods are at their desired doneness, leaving you more time to sip Negronis by the pool.
When it comes to versatility and efficiency, open-fire grilling purists love kamado-style grills. The charcoal-fired ceramic cookers are inspired by a style of freestanding Japanese ovens that date back millennia. The Kamado Joe is a particularly popular version because it comes in a wide range of sizes and features a number of clever, modern upgrades. An "Air-Lift" hinge makes the heavy, earthenware lid easy to open and close, a rust-resistant aluminum air vent allows the cook to adjust temperature and airflow easily, and a removable lower receptacle catches soot and drips for easy cleanup. It's only available in fire engine red, but with a grill this cool, why would you want anything understated?
Many grill masters swear by this deft tool instead of tongs for moving steaks, chops, and sausages around the grill. Little more than a razor-sharp barb at the tip of a long, thin bar of surgical-grade stainless steel, it is easy to clean, keeps distracted knuckles and wrists clear of flare-ups and sparks, and has all the finesse and precision of a conductor's baton.
Vine clippings have long been a no-brainer grilling and smoking fuel in wine-producing parts of the world, but until recently, hickory, mesquite, and other fruit woods like apple and cherry have dominated the market as sources of flavorful smoke. This year, California's VineSmoke is trying to change that by introducing the state's grapevine trimmings to the national grilling market. Harvested from California's chardonnay, pinot noir, and cabernet sauvignon vineyards, VineSmoke is now available online and by the meat counter of select Whole Foods. Yes, it's a bag full of sticks, but they're fancy sticks.
This gorgeous chopping block from Wüsthof is made from end-cut acacia wood, which is known for its extreme hardness, durability, and beauty. Bring it outside for a centerpiece cheese board, or use it to slice your grilled, dry-aged rib eyes into bite-sized morsels.
As with all wooden kitchen tools, this chopping block should be treated with a mineral oil to extend its life even further.
Sure, you could just use the tongs and spatula that came from the hardware store where you bought your grill. But if you're going to splurge on a nice piece of meat, why not also invest in some proper grilling tools? The Iconic German knifemaker Wüsthof sells a full set of heavy-duty grilling tools, including a wide, offset spatula, silicone basting brush, spring-loaded tongs, and sturdy meat fork. They all boast Wüstof's sleek, heat-resistant black handles and will look right at home inside your kitchen, too.
This clever, insulated wine bucket makes for seamless outdoor bar service. The cooling sleeve fits a range of shapes and sizes while keeping the bottles separate from drippy ice water, and a silicone lid squeegees condensation right back into the bucket. The main compartment also comes with a lid to keep ice clean and frozen longer, plus a convenient ice scoop for the cocktail crowd.