Recipes
Char-Smoked Baby Back Ribs
Deep smoky flavor, without all the extra gear.
Serves

serves 6

Cook

2 hours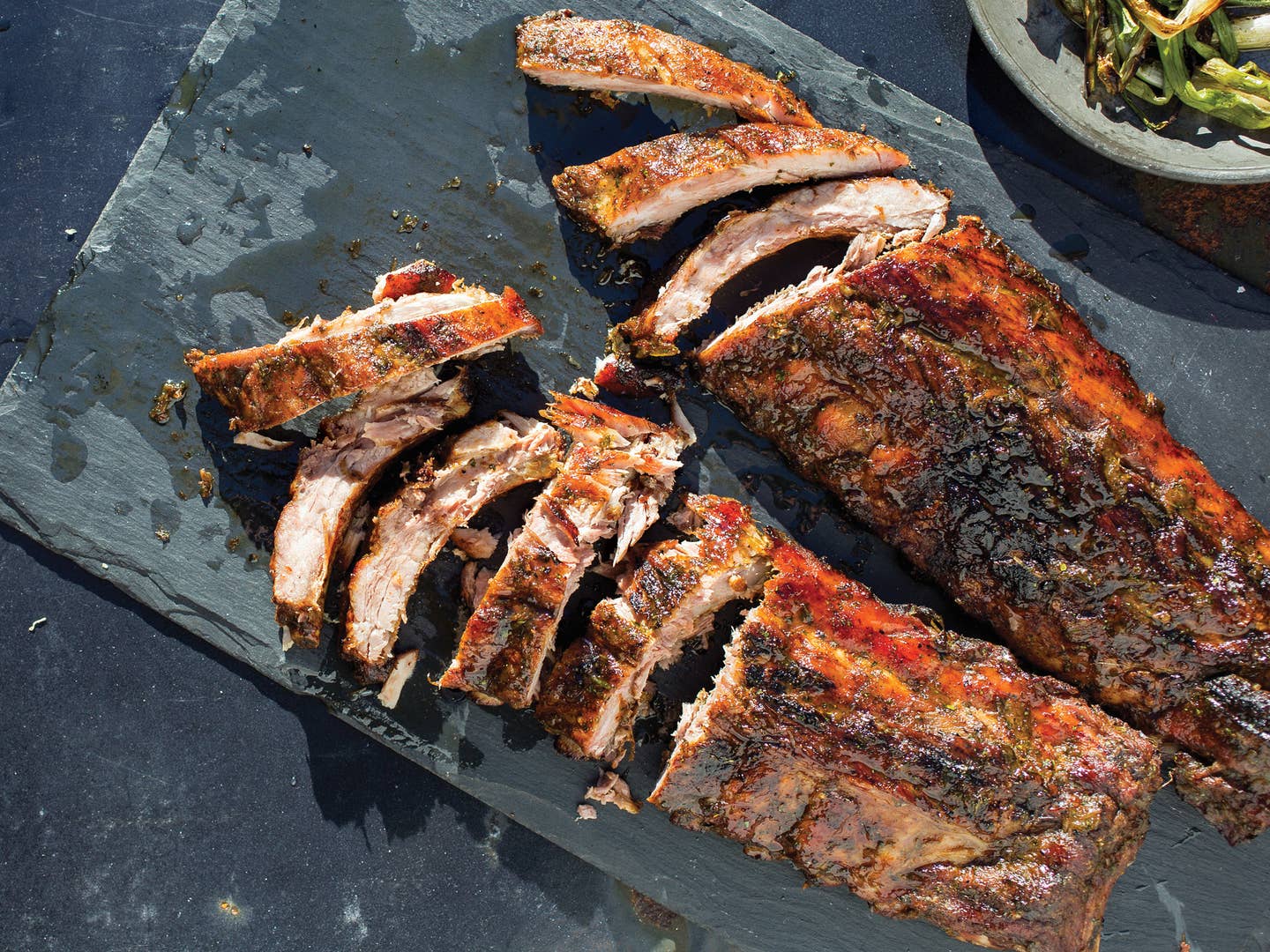 These soulful pork ribs come from Charleston chef Sean Brock of Husk and McCrady's, Joyland, The Continental, and the forthcoming Audrey. After first getting a nice crust on the meat, Brock converts his grill into a smoker, and finishes cooking the ribs in a low-and-slow cocoon of smoke. "Using a chargrill and smoke combo, you can create this really soulful, comforting flavor pretty easily," says chef Brock. To read how he does it, check out how to transform your grill into a smoker.
Ingredients
1⁄4 cup kosher salt
1 tbsp. sorghum syrup
Two 3-lb. racks baby back pork ribs
Freshly ground black pepper, to taste
10 tbsp. medium scallions, trimmed
1 peanut oil
1 cup store-bought barbecue sauce
1 cup coarsely chopped cilantro
1 tbsp. soy sauce
Instructions
Step 1
In a medium pot over high heat, stir together ¼ cup salt and 8 cups water and cook, stirring until salt has dissolved, 2–3 minutes. Remove from heat, stir in the sorghum syrup, and set the brine aside to cool to room temperature.
Step 2
Place the ribs in a 9-by-13-inch baking dish, pour the cooled brine over the meat, cover with plastic wrap, and refrigerate at least 6 hours or up to overnight.
Step 3
Build a medium-heat fire in a charcoal grill. Drain the ribs, discarding the brine, and pat dry with paper towels. Season with salt and pepper. Grill the ribs, turning as needed, until charred on both sides and just tender, about 1 hour. Transfer to a platter or cutting board and set aside.
Step 4
Meanwhile, make the sauce: In a medium bowl, toss the scallions in the peanut oil to coat, then season lightly with salt. Transfer the scallions to the grill and cook, turning once, until heavily charred on both sides, about 5 minutes. Transfer to a blender with the barbecue sauce, cilantro, and soy sauce; puree until smooth and set aside.
Step 5
Prepare grill and smoke ribs according to directions in How to Transform your Grill into a Smoker. Transfer to a cutting board and set aside to rest for 10 minutes. Just before serving, slather the ribs with the reserved sauce. Cut into individual ribs, transfer to a large platter, and serve.