José Andrés on His Trick for Cooking Flavorful Steak—And 21 More Recipes
Hint: It's what you do after the meat comes off the grill.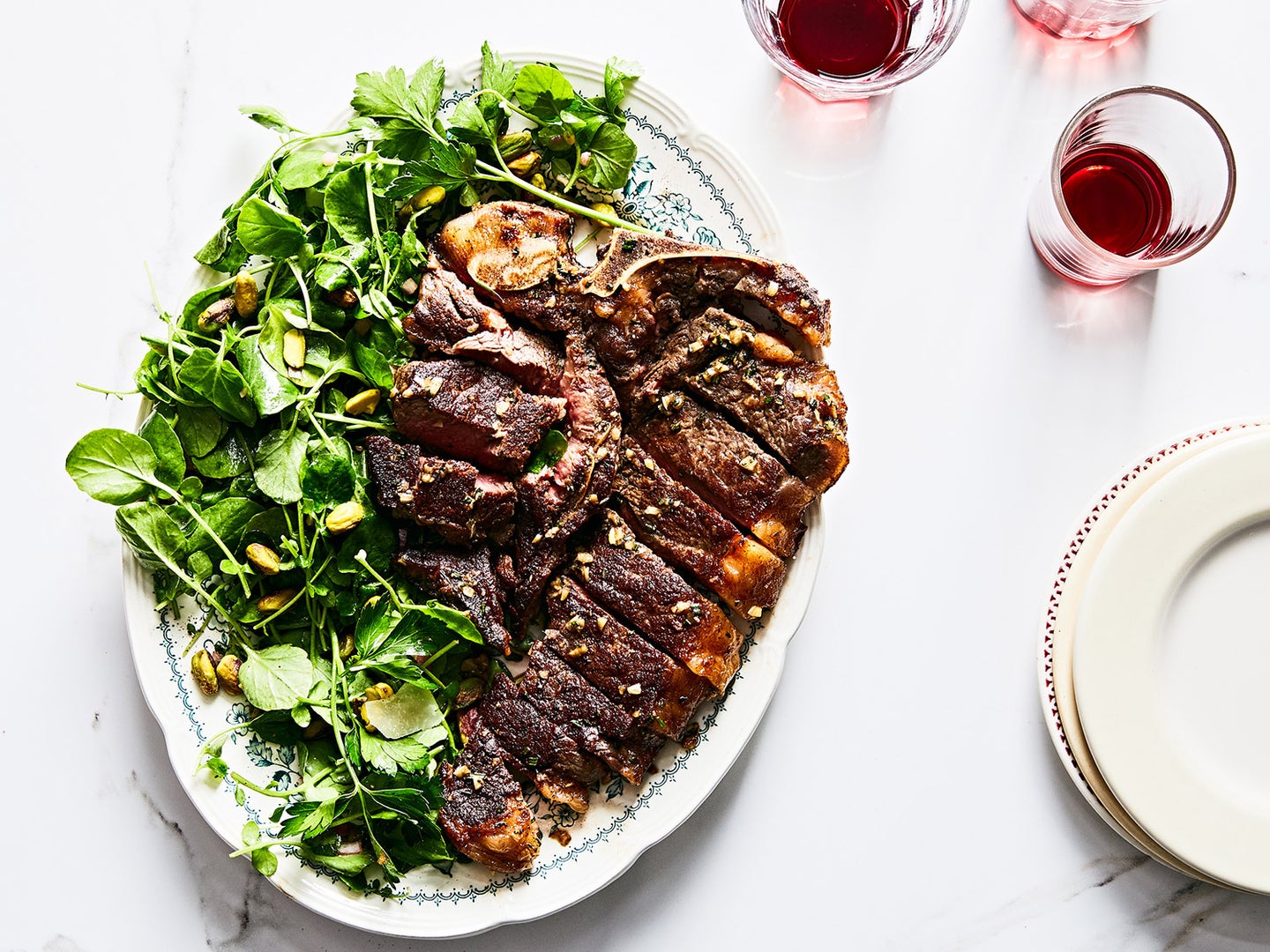 Whether grilled, pan-seared, or roasted, few things are as primally satisfying as perfectly cooked beef. And while of course it's healthier and more sustainable to consume meat in moderation, every once in a while we still want to go all-out with a big, juicy steak.
When it comes to how best to cook a steak—or what to do after (see José Andrés's trick below)—it's hard to beat the grill. The high heat creates a wonderful crust, and an open charcoal flame imbues the meat with delicious smoky flavor. Throw a thick, preferably dry-aged bone-in rib eye, or a spice-rubbed T-bone, over medium-hot coals and let the fire work its magic. Or try searing off a marinated hanger or flank steak over ripping high heat; these thinner, leaner cuts need little time to reach a perfectly tender medium-rare.
Of course, you don't have to break out the grill to cook a great steak: cast-iron on the stovetop works great too, and it's even simpler than you think.
When cooking steak for a crowd, you're sure to impress with an old fashioned rib roast. This party-sized cut is traditionally slow-roasted whole before being sliced into individual steaks. Its size requires a careful two-stage cooking process to achieve that coveted browned exterior without overcooking the meat—but it's well worth the effort for the payoff of this festive centerpiece. 
Whichever cut you choose—and however you choose to cook it—the perfect steak awaits.
Modeled after the famed Tuscan porterhouse, which in Italy is most often served in hefty cuts for sharing, this slightly more petite version comes together quickly, easily, and affordably for dinner at home. The simple seasonings of fresh garlic, salt, olive oil, and some hidden anchovies for umami are slicked on using a pastry brush at the end of cooking. Ideally, use a quality steak with some age on it—the meat will be deeply flavorful on its own even without the seasoning. Get the recipe for Bistecca alla Fiorentina with Watercress and Pistachio Salad »
A four-ingredient marinade transforms juicy steak and griddled onions into a vibrant weeknight supper. Get the recipe for Quick Filipino-Style Rib-Eye Steaks (Bistek Taglog) »
Chef José Andrés likes to season his steak after it cooks, claiming that this helps to accentuate the flavor of meat, and particularly this slow-grilled, smoky rib eye. Get the recipe for Grilled Bone-In Rib Eye »
Brother Sebastian's in Omaha serves up a decadent crab-and-hollandaise-draped riff on surf and turf. Get the recipe for Filet Oskar (Steak with Crab and Hollandaise) »
Chimichurri, a kind of spicy, vinegar-laced pesto, is the condiment of choice for steak in Argentina. Get the recipe for Rib-Eye Steak with Chimichurri »
"Beef is excellently suited to Express-cookery, since it is delicious when it is served underdone," de Pomiane advises. Use a steak sliced no thicker than 1 inch to achieve a crispy crust and warm, pink center in a short cooking time. Get the recipe for Super-Quick Minute Steak »
Meaty, smoky steakhouse steaks over charcoals. Get the recipe for Big, Thick Steakhouse Steaks »
This is chef Ignacio Mattos' version of a hearty cheesesteak sandwich that is served in restaurants and cafés throughout Uruguay. Get the recipe for Chivito (Uruguayan Cheesesteak) Sandwich »
In Korea, lettuce is often used as a crisp wrapper for bulgogi (marinated beef). In this recipe, sweeter pickled onions take the place of spicy kimchi. Get the recipe for Grilled Flank Steak with Coca-Cola-Pickled Onions »
Paired with crisp curtido, sweet plantains, and gallo pinto, Nicaraguan-style carne asada is part of a hearty, much-loved fritanga meal. Get the recipe for Nicaraguan-Style Carne Asada »
Sweet papaya and tart ruby red grapefruit juice tame the heat of the Scotch bonnet pepper in the marinade for the steak, while the vegetables for the accompanying jalapeño-laced salsa get charred on the fire along with the meat. Get the recipe for Grapefruit & Habanero Skirt Steak with Grilled Tomato Salsa »
Flank steak, also known as London broil, isn't the most tender cut of beef, but it is one of the most flavorful. The key to getting a tender flank steak is to let the meat marinate for a good, long time—in this case, in a mixture of red wine, Worcestershire sauce, garlic, various spices, and fresh rosemary—and then carve it across the grain into thin slices before serving. Get the recipe for Marinated Flank Steak »
This T-bone steak is grilled with a simple rub of ground fennel seeds, black peppercorns, and red chile flakes. Get the recipe for Giant Fennel-Chile-Rubbed Steak »
This steak is seasoned simply with salt and pepper and served with a light herb salad with a whole grain mustard and honey dressing. Get the recipe for Grilled Skirt Steak with Herb Salad »
The recipe for this dish is based on one in Glorious French Food by our friend James Peterson. "Strictly speaking," writes Peterson, "an entrecote is a boneless rib steak … but nowadays, in good places at least, [it's] a contre-filet (what in New York is called a strip steak)." Get the recipe for Strip Steaks with Green Peppercorn Sauce »
A giant slab of perfectly roasted beef looks incredibly appetizing on its own, so don't worry about cleaning and exposing (known as frenching) the bones. The fat that remains will help keep the meat moist. Get the recipe for Standing Rib Roast with Black Currant Port Glaze »
Prime rib is a beloved Omaha steakhouse specialty. One of our favorite versions comes from Piccolo Pete's, where the meat is rubbed with Italian spices and blasted with high heat to form a flavorful crust. Get the recipe for Piccolo Pete's Prime Rib »
A lean cut like filet mignon takes well to sautéeing in a little fat, as in this classic preparation with a simple pan sauce that's laced with brandy and set aflame—a spectacular feat that cooks off the alcohol and contributes rich caramel notes to the dish. Get the recipe Steak Diane »
A marinade of red miso, ginger, and garlic gives this steak a crisp, flavorful crust and a juicy interior. Get the recipe for Garlic and Red-Miso Porterhouse »
Honey adds a contrasting sweetness to this savory grilled steak suffused with ginger, lime, and garlic. Get the recipe for Grilled Ginger-Marinated Flank Steak »
This dry-aged rib eye is made extra luxurious by basting it in rendered beef fat. Get the recipe for Grilled Rib Eye with Sweet-Hot Pepper Sauce »
Strong coffee pairs with soy sauce and lightly caramelized garlic and onions in a marinade that leads to ultra-juicy flank steak. Get the recipe for Coffee-and Soy-Marinated Flank Steak »