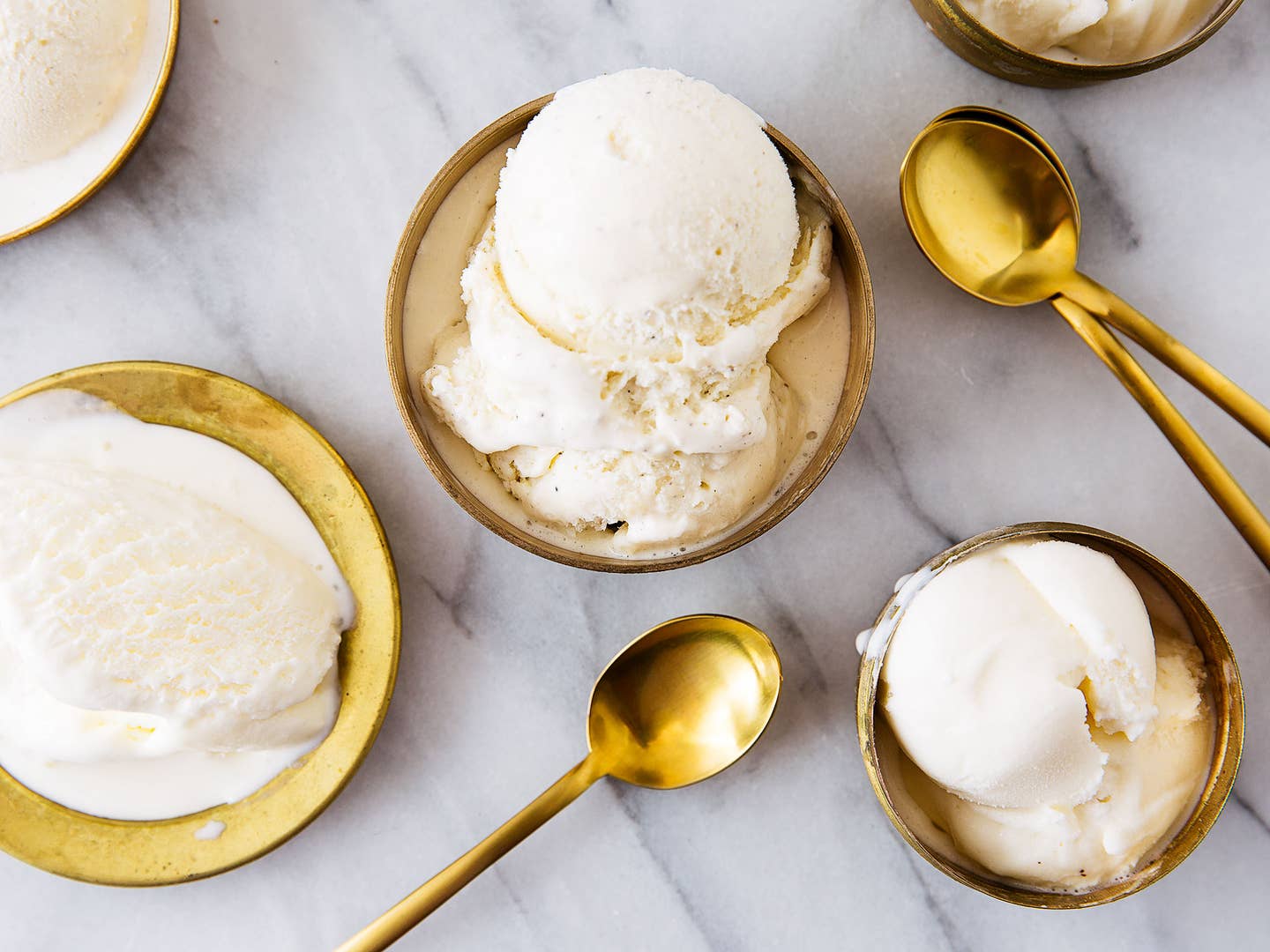 Shopping & Reviews
We Blind Taste-Tested 15 Vanilla Ice Creams
Not all vanilla ice creams are created equal. SAVEUR's editors licked their way through 15 to discover the top scoops
Poor vanilla. Somewhere along the way, this incredibly exotic, wildly expensive, difficult-to-cultivate plant became America's analogy for boring. Which is strange, because historically vanilla has been revered as exceedingly rare and highly covetable. Did you know that vanilla blossoms can only be pollinated for a few hours a season? (In most places, they're now hand-pollinated.) And that real, true vanilla—not the derivative called vanillin—costs $115 a pound? (It's the second most expensive spice in the world, behind saffron.) The stuff is unusual and beautiful and delicate—the inverse of boring.
In the spirit of the most un-basic flavor and ice cream season, we selected a smattering of vanilla ice creams—15 to be exact—ranging from fancy to store-brand, single-origin to generic. Then we lined them up next to one another, covered up their labels, and tasted our way through (in individually randomized order, to keep palate fatigue at bay.
We based our blind tasting on three major criteria on a scale of 1 to 7: flavor (natural or faux, intense or weak); texture (creamy or icy, rich or thin); and melt (clean or gummy, silky or sticky). And while we saw some general trends from the scores, we also quickly realized just how personal our vanilla preferences are. One person's beloved vanilla is another's last favorite. And, in some cases, ardent fans were surprised to learn how their supposed picks ranked against the competition when tasting blind.
The widest range in ratings was in the flavor category; people know what they like and don't like on the spectrum of vanilla. Conversely, texture and melt ratings were much more consistent. In tasting through the very beige rainbow of vanilla, we discovered a lot about ourselves (e.g. one should not be ashamed to love Häagen-Dazs) and even more about vanilla (intensity is good, too much sugar is not). Find the full ranking below.