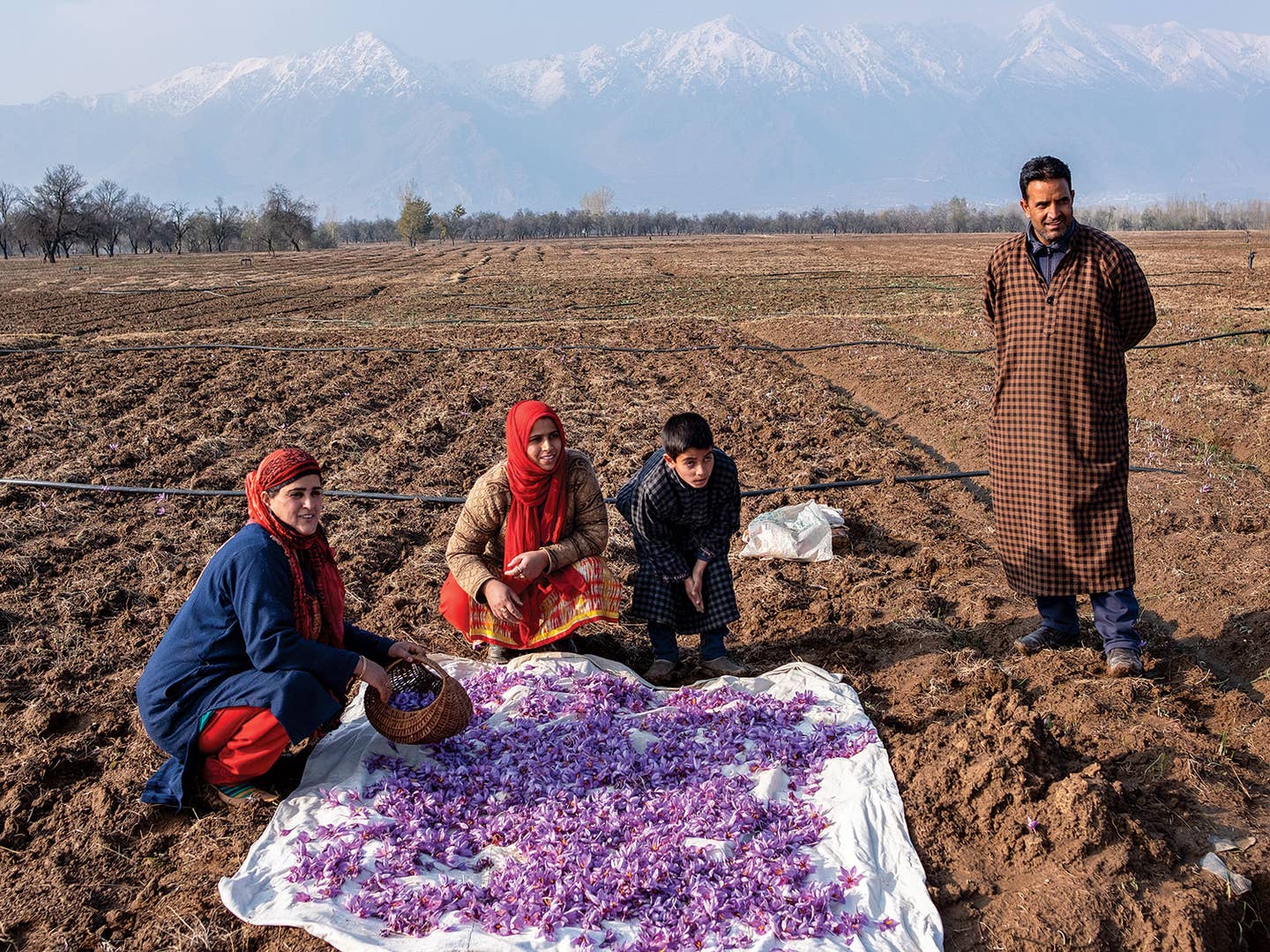 Culture
The World's Finest Saffron Is in Danger of Disappearing
Drought and climate change are threatening the livelihood and traditions of Kashmir's saffron-farming families
On a cool morning in Pampore, India, the fields have become a purple-dotted canvas. Haji Ghulam Hassan Bhat, 65, walks toward his farm carrying a small willow basket, called a zaen, that his grandfather had gifted him when he plucked his first saffron flower at the age of 6. His callused hands are soiled, and the cracks in them are a testament to his deep attachment to his trade.
Bhat has farmed here for nearly 50 years. He has a great deal of saffron land compared with his neighbors, and, until recently, it has provided him with a good living. Popularly known as the "saffron town," where the world's best saffron grows, Pampore sits 10 miles southeast of Srinagar, Kashmir's capital city. Like many, Bhat believes the land of Pampore has been blessed with "saffron gold" because of the benediction of two famous Sufi saints. Cultivating the spice is not merely his livelihood, but also a meditation.
Around 19,000 families in Pampore are dependent on saffron farming. Traditionally used in medicines and perfumes, at around $2,000 per pound, it is the world's most expensive spice. Kashmir's terrain, soil quality, and weather have long been conducive to the growth of a robust crop, and farmers have, at times, harvested three rounds of saffron crocus flowers from the same bulb in a single season, which is usually shorter than one month long. Though the fields are plowed in the low-moisture months of March and April, and are turned regularly through the summer to help them access moisture, the bulbs don't flower until cooler days near late October and early November. Once the flowers are picked by hand, collected, and wrapped in white cotton sheets, the farmers pull out the delicate, deep-orange stigmas, the area where the plant is fertilized. These stigmas are dried and sold as saffron, and stored in an airy box in a separate room to keep away dirt and dust.
According to farmers, for the past 10 years, declining rainfall and a lack of adequate irrigation facilities have dramatically lowered the yield and consistency of Kashmiri crocuses. This has become a deterrent for farmers in Pampore, many of whom have already switched to farming high-density crops such as apples, walnuts, or garlic. A sizable number are selling their land due to high value and growing demand in the backdrop of urbanization in Pampore.
Bhat's entire family—a wife, six sons, one daughter, and multiple grandchildren and in-laws—have relied on saffron as a livelihood for their collective. They all live together in a joint household, a family configuration that is still common among families in rural areas as part of a value system that is connected to the joint agrarian economic structure.
Bhat remembers his start as a child, when women sang traditional songs while working in the fields, each wearing a pheran, or long cloak, which are still worn today. Then as now, they used a kangri, or clay firepot, to keep themselves warm on cool days like today. Much of this is still an important part of the Kashmiri culture and identity among Bhat's children.
None of Bhat's family members holds a job outside of farming, a convention that is changing among his peers. For him, looking after the land and trying to adapt to new means of cultivation is the only path he's willing to consider. Farida Jan, 40, another saffron grower in Pampore, feels the same. She has farmed saffron since childhood, first at her own home and then at her husband's. "If you soak a few strands of the spice in lukewarm water, you will see its natural color and [bring out its] taste," Jan says with a smile as she separates tiny rust-red stigmas from petals, stamens, and the rest of the flower on a large cotton sheet in her kitchen. The family's day is punctuated with hot cups of homemade saffron kehwa, the traditional sweetened green tea made from saffron, cardamom, and cinnamon, and prepared in oversize copper kettles called samawar, which are in almost constant use for brewing and boiling. The saffron is also essential in a broad range of dishes prepared commercially and at home, including beverages, rice, and main meals. There is pulao, a rice dish with dried fruit and saffron; al rogan josh, a Kashmiri pumpkin in red gravy; and kong firin, a saffron-flavored sweet prepared with rice flour and milk. Jan, sharing the knowledge passed down from her elders, also says that the spice helps with the complexion and to soften skin.
Though the government has started to step in by pledging to build irrigation systems, change is excruciatingly slow. An ongoing conflict between the government and insurgents means it is difficult and sometimes dangerous to voice complaint. In his childhood, Bhat was accustomed to collecting between 90 and 110 pounds of the spice from each kanal—around one-tenth of an acre. In the past four years, barely any rain has fallen during the bulbs' critical October and November blossoming period. At present, Bhat's entire family manages to collect just around 13 to 15 pounds of the spice, which has a total market value of about 10 lakhs, or a little over $14,000 U.S.
"We can't do anything about rainfall," Bhat says. "The farming is not just a business for us. It is like worship. And as long as we live, our family will cling to this legacy."