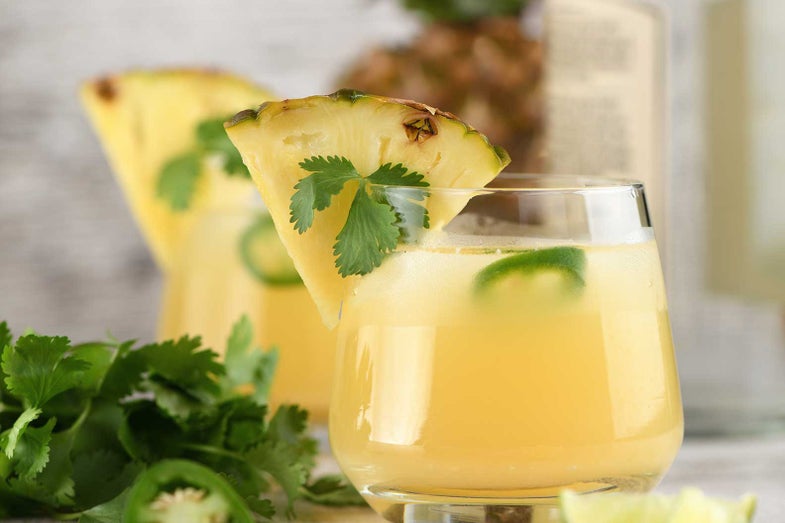 Tequila may still be recovering from its reputation as a party shot, but these days, the agave spirit is recognized both as an endlessly versatile cocktail ingredient and premium sipping spirit that holds its own against pricy cognacs and fine whiskeys. 
In its native Mexico, tequila is a 500-year-old tradition whose history is interwoven with that of the Mexican identity. The Aztecs believed the agave plant to be a gift from the gods, drank a prototypical agave spirit called pulque, and worshipped an agave deity named Mayahuel. But America's love affair with tequila only started within the last century. Following World War II, the margarita became a fashionable drink in American bars, and in the 1970s, the Mexican government created the Appellation of Origin Tequila (AOT), standardizing production and allowing international exports to boom. In 2019, tequila consumption in the U.S. surpassed that of Mexico. 
It has been a movement that hasn't really ever slowed, even amidst a global pandemic. In 2020, sales across the tequila category grew a whopping 46 percent. Bobby Heugel, the owner-bartender at Anvil Bar & Refuge and The Pastry War in Houston, believes the surge in popularity is also in part due to new attitudes toward Mexico and Mexican foods. "People are starting to recognize that Mexico produces great spirits," says Heugel. "We're really getting over this ethnocentric mindset where tequila is only intended to be shot or put into frozen drinks." 
As a testament to tequila's staying power, margaritas have never been more popular than they are today. "In 2015, Americans ordered 185,000 margaritas per hour in the United States," says Brian Van Flandern, a bartender and the co-author of Tequila Cocktails. And that's of course not counting those of us who are about to make a margarita at home right now. 
Ready to get started? Whether you're prepping for margarita night, hosting a festive Cinco de Mayo party with the best tequila recipes, or just having some fun with infusions (try this steeped cocoa-nib-infused tequila cocktail recipe), we've rounded up the 10 best tequilas to try right now. 
Features to Keep in Mind
Types of Tequilas
Tequila is a subcategory of mezcal, which refers to spirits made with any of the 50-some species of agave. To qualify as tequila, mezcal must be made specifically with 100% blue Weber agave. Meanwhile, the various designations of tequila—Blanco, reposado, añejo, and extra añejo—refer to the duration of its aging process. Blanco or silver, for example, refers to the clear tequilas which spend between zero and 59 days in oak barrels. These are considered to be unaged. Reposado, or rested, tequilas must be stored for a minimum of 60 days, while añejo spends at least a year, and extra añejo spends at least three years. 
If tequila's age statements seem rather low in comparison to those of their grain-spirit counterparts, it's because of agave's longer growth period and the impact that has on flavor. "Agaves are cultivated at seven to 10 years," says Van Flandern. "Mother Nature is doing all the flavoring in the ground, and then after distillation, it's aged in barrels for a shorter period of time." After factoring in this growth time, a quality aged tequila might be comparable in complexity to a 12-year-old Scotch whiskey.
Region/Origins
Ninety-seven percent of tequilas are produced in the Mexican state of Jalisco, notably in the highlands of the region due to good soil and climate, where they have been made using traditional methods for hundreds of years. 
Ingredients
All tequilas are made with 100% blue Weber agave. 
Our Top Picks
While many tequila brands tout their highlands origin for its terroir, Fortaleza is actually a lowland tequila that uses agave from the Tequila Valley, which is often sweeter and also takes longer to grow. As such, its spice is offset by a subtle sweetness that can alter the nature of a cocktail. This accessible smooth-sipping reposado is barrel-aged for six to nine months. While Fortaleza was officially founded in 2005, owner Guillermo Sauza comes from a long line of tequila-makers. In 1873, his great-great-grandfather Don Cenobio founded the Jalisco distillery that would later become the famed Sauza Tequila Import Co. To Sauza's dismay, his grandfather sold the family business in the 1970s. Now, with Fortaleza, Sauza returns to his roots making authentic tequila. Traditional methods include using a tahona stone mill to crush agave and small copper-pot stills to distill the agave.
"There's not a better tequila for $20 on the planet," says Heugel, who uses Pueblo Viejo as the good tequila at Anvil. Arguably one of the best value Blanco tequilas on the market, it delivers a smooth, herbal flavor accented with notes of caramel and fruit, rounded out by a long-lasting finish. Pueblo Viejo's creator, Carmen Alicia Villarreal Treviño, is a true tequila pioneer in a field dominated by men.
Using agave farmed primarily in Tamaulipas, Mexico, Chinaco is one of the few producers outside of Jalisco. Throughout the 1970s, it fought larger Jalisco-based distillers and successfully lobbied the government to award it Tamaulipas Denomination of Origin status. In 1983, Chinaco also became the first premium tequila to enter the U.S. market. "Chinaco is the tequila that brought scotch and cognac drinkers to the tequila category—that's a fact," says Julio Bermejo, the creator of the world-famous Tommy's Margarita recipe at Tommy's Mexican Restaurant in San Francisco's Richmond District. Tamaulipas, which is close to the ocean and whose soil boasts a higher mineral concentration, yields a rich and intensely flavored agave. This tequila is aged for nearly three years in oak barrels and bourbon casks, offering floral and baked-fruit notes that end in a spicy-smoky finish. 
Best Entry-Level Blanco: Ocho Plata
If you really want to get a sense of how terroir can affect agave, look to Ocho, an estate-grown offering that's notable for being the first to carry a "tequila vintage" designation signifying the year, harvest, and location of its agave. Showcasing the unique agaves of the Arandas and Camarena Ranchos near the Lerma River, Ocho emphasizes the personality of that soil by focusing on the nuanced differences, rather than the consistency, from batch to batch, bottle to bottle. "For an entry-level tequila, I love Ocho Blanco," says Ivy Mix, the owner-bartender at Leyenda in Brooklyn, New York. "It comes out annually with different vintages and is always spectacular—a great one to collect and learn about terroir in agave."
Don Julio's namesake founder was a revolutionary force in tequila, introducing previously unheard practices like agaves reaching maturity before harvesting and increasing space between each plant. The resulting spirits would help pave the way for the premiumization of the entire category. Aged for just under a year in repurposed bourbon barrels, the Don Julio reposado remains a workhorse for sipping neat or stirring in complex spirit-forward cocktails with notes of dark chocolate, vanilla, and cinnamon. Try it in a tequila old-fashioned. 
Based in Guanajuato, Mexico, Corralejo is another distiller granted the right to produce outside of Jalisco. Corralejo is also notable for using the 400-year-old Charentais method, best known in the cognac world, which calls for a second distillation to take place in an alembic copper pot still. Easily spotted by its distinctively tall and skinny bottling, Corralejo's añejo comes in a red-hued bottle, which signifies prosperity in Mexican culture. Aged for 12 months in American oak barrels charred on the inside, the finished product is full-bodied with lovely notes of smoke and pepper, though noticeably subtler than others.
Lunazul is one of the most fruity-tasting Blanco tequilas. You'll get a nice whiff of fresh agave layered with tropical fruit and apple. "What really makes Lunazul stand out, though, is that it makes for a great cocktail tequila," says Nick Bennett, beverage director at Porchlight in Manhattan. "I love using it in margaritas and Palomas—cocktails with a lot of citruses and little sugar so the fruitiness of the agave can really shine." 
We'd grab this tequila off the shelf for its elegant handmade decanter alone, but luckily it's more than just pretty packaging. Clase Azul's reposado is a silky, sweet caramel-accented tequila made with Jalisco blue agave in the traditional fashion: slow-cooked for 72 hours in stone ovens, fermented using a proprietary yeast strain, and double-distilled in a copper still. It's then aged for a minimum of eight months in second-use oak barrels.
At first glance, this crystal-clear tequila resembles another Blanco, albeit in a gorgeous handblown glass bottle. Dubbed "the first ultra-premium silver tequila," the spirit inside is fittingly luxurious, blending the pleasantly fruity and floral qualities of silver tequila with a subtle hint of extra añejo for the complex spiced undertones of a more aged spirit. While most tequila brands use hyper traditional production methods, Casa Dragones does just the opposite, employing a multi-distillation process. And the distillery is revolutionary in more ways than one: It's helmed by CEO Bertha González Nieves, the first woman to be granted the title of Maestra Tequilera. 
From George Clooney's Casamigos to Kendall Jenner's 818, the celebrity-owned tequila brand is practically a genre of its own. Our pick of this star-studded field is this bright-pink-tinted stunner from country legend George Strait. The tequila's color comes from a month in uncharred Napa Valley red wine barrels. Unlike scotch, tequila can be aged in any type of oak barrel, and the cabernet white oak that's used imparts gentle touches of berry to accent a big, bold earthy base. 
Ask the Experts
Q: What is a good tequila for beginners?
Who says you have to start with a blanco? If you're a beginner who plans to sip your tequila neat or on the rocks, treat yourself to the Siembra Azul Añejo, a fantastic spirit that starts with organically farmed agave roasted in clay ovens. Interestingly, the nectar is slow-fermented to the tunes of Mozart and Vivaldi in an effort to reduce "environmental stress." If classical music is the secret to this añejo, then it surely works. Enjoy warm spice aromas that unroll into a palate of butterscotch and caramelized fruit. 
Q: What should I eat with tequila?
You can always keep it traditional with your favorite taco recipe, but also consider how aged and unaged tequilas pair with different types of foods. Blanco tequila acts like white wine here, pairing nicely with fresh, citrusy dishes and seafood; double up by dashing some into a ceviche. Meanwhile, añejo tequilas, often dark and smoky, are perfect with red meat and heartier, saucier dishes like enchiladas.
Our Take
Skip the mixed tequilas: If you're evaluating a tequila that isn't on this list, make sure it's 100 percent agave rather than 51 percent agave; check the label on the bottle before you buy it to verify that it says "100% de agave" or "100% puro de agave." The 51 percent varieties are tequila mixtos, or tequilas where the blue agave has been cut with corn or sugar cane. "It's cheap tequila," says Van Flandern. "It's going to give you a headache."
Shop responsibly: So-called boom-and-bust cycles in the agave industry have caused a number of problems, from agave shortages to disruptions of bat populations, which are crucial pollinators. Beyond just tequila, demand for rare mezcals has led to overharvesting of wild agave varieties. When shopping for any agave spirit, seek out bottles bearing a "Bat Friendly" label certifying their producers' commitment to letting five percent of their agaves flower, thus allowing bats to work their seed-spreading magic. 
Every product is independently selected and vetted by editors. Things you buy through our links may earn us a commission.