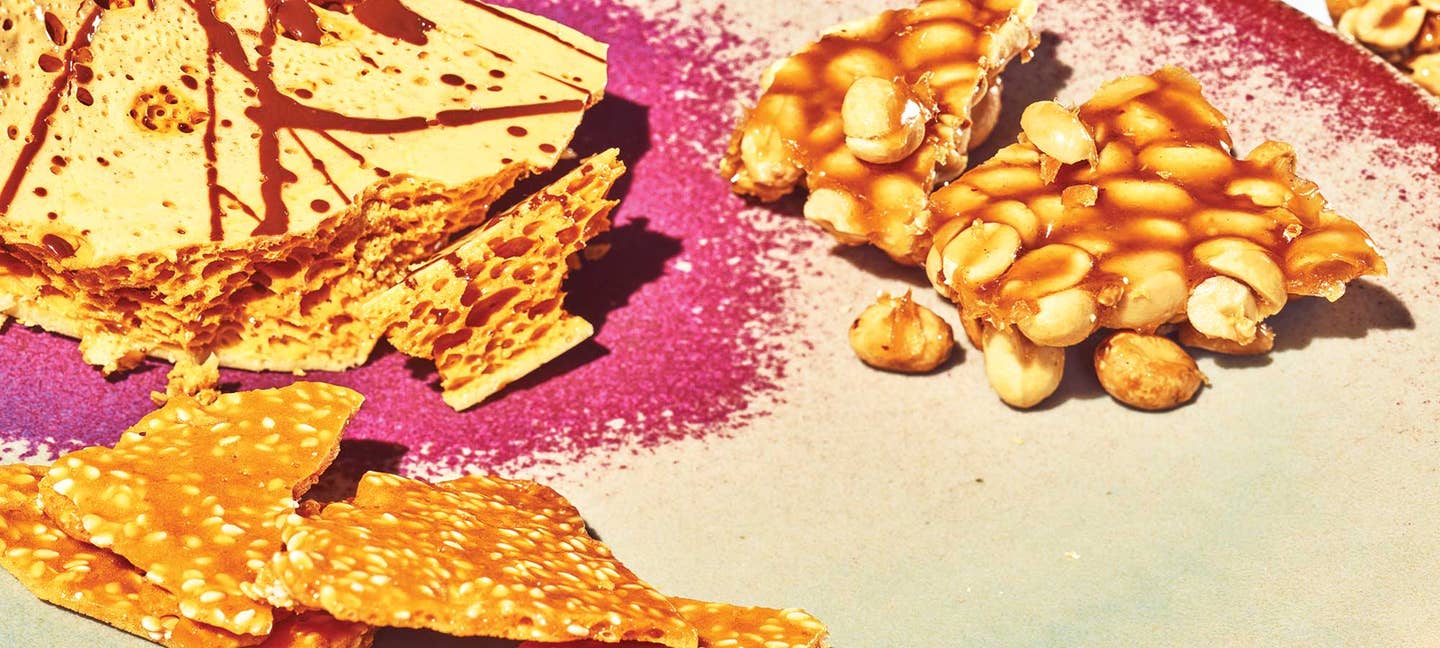 Recipes
Try These Brittle Recipes from Three Countries
Plus learn how to adapt this beloved candy from Mexican-style to Australian-style, and beyond
Nearly every cuisine has at least one brittle to boast about. Crunchy, sweet, and quick to throw together, the candy comes in an endless array of textures and flavors. In Mexico, bricks of unrefined sugarcane give palanquetas a deep amber color and a chewy consistency. In India, peanut-studded chikkis are made with rich, caramel-colored jaggery. And in Peru, chancaca, a cane syrup often scented with citrus and cinnamon, brings that aroma to turrón packed with nuts or quinoa.
At its simplest, a batch of brittle requires little more than melting sugar to a specified temperature and letting it set. The result is a glossy treat that shatters between your teeth before melting in your mouth. In China, cooks swirl the plain golden candy into intricate designs, like dragons and phoenixes, before setting it onto sticks.
But nuts and seeds are often thrown into the mix, too. Peanuts rule throughout the Americas, Asia, West Africa, and the Caribbean. Pistachios show up in the Middle East, and craggy walnuts are the base of honeyed Georgian gozinaqi. French croquant are studded with hazelnuts or almonds, while sesame seeds are used nearly everywhere. Some cooks aerate the caramel with baking soda, giving the candy a crispness that's easier on the teeth. An extra dose goes into Australian honeycomb, which expands dramatically to display deep, airy pockets.
There are as many varieties of brittle as there are ways to serve and share them. Wrap a big batch as a hostess gift, crumble it over ice cream, sprinkle it onto frosted cakes, or bake it into cookies. If you've got a heavy-bottomed pot and a candy thermometer, you've already cracked the code.
Baker Cheryl Day, of Savannah's Back in the Day Bakery, grew up making peanut brittle with her mom every Christmas to give as gifts. "I started playing around with benne seeds," says Day, referring to the heirloom sesame seeds brought over from Africa on slave ships in the 1700s. True benne seeds have a toasty flavor, even when raw, but they can be difficult to find; Day sources hers from South Carolina–based Anson Mills, which helped revive the original heirloom benne seed stock in America. Typical sesame seeds, however, will provide the same crunch.
"Palanquetas with peanuts are very popular in Veracruz, where I grew up," says Gonzalo Guzmán, now the chef and co-owner of Nopalito in San Francisco. As a boy, Guzmán sold them at local fairs, cut into portions and wrapped in plastic. You can substitute either pumpkin or sesame seeds for some of the peanuts, if you prefer. "In Mexico, they would transfer the mixture from big pots into rectangular molds, then flatten the candy using an iron," he says, but you can use a cake pan—or even your hands—to shape them. Wait until the candy is mostly, but not fully, cooled before cutting in.
Pastry chef Reynold Poernomo moved to Sydney from Indonesia when he was just 4 years old, so he doesn't remember a time without Violet Crumble, the iconic Australian chocolate bar with crisp honeycomb candy in the center. Honeycomb is a toffee-like creation made by frothing and aerating caramelized sugar by adding baking soda at the last moment of cooking. (Some cooks will also incorporate cream of tartar for additional lift.) Today, Poernomo makes his own version at Koi Dessert Bar in Sydney. "I take my sugar to a dark caramel, so it's not too sweet," he says. But be wary of overcooking it: Not only will it taste too bitter, but it can also cause the honeycomb to collapse into a dense slab. Be sure to work quickly once the soda is added so the honeycomb doesn't deflate.