Recipes
Honeycomb Brittle with Chocolate and Sea Salt
Serves

makes About 28 Pieces

Cook

1 hour 15 minutes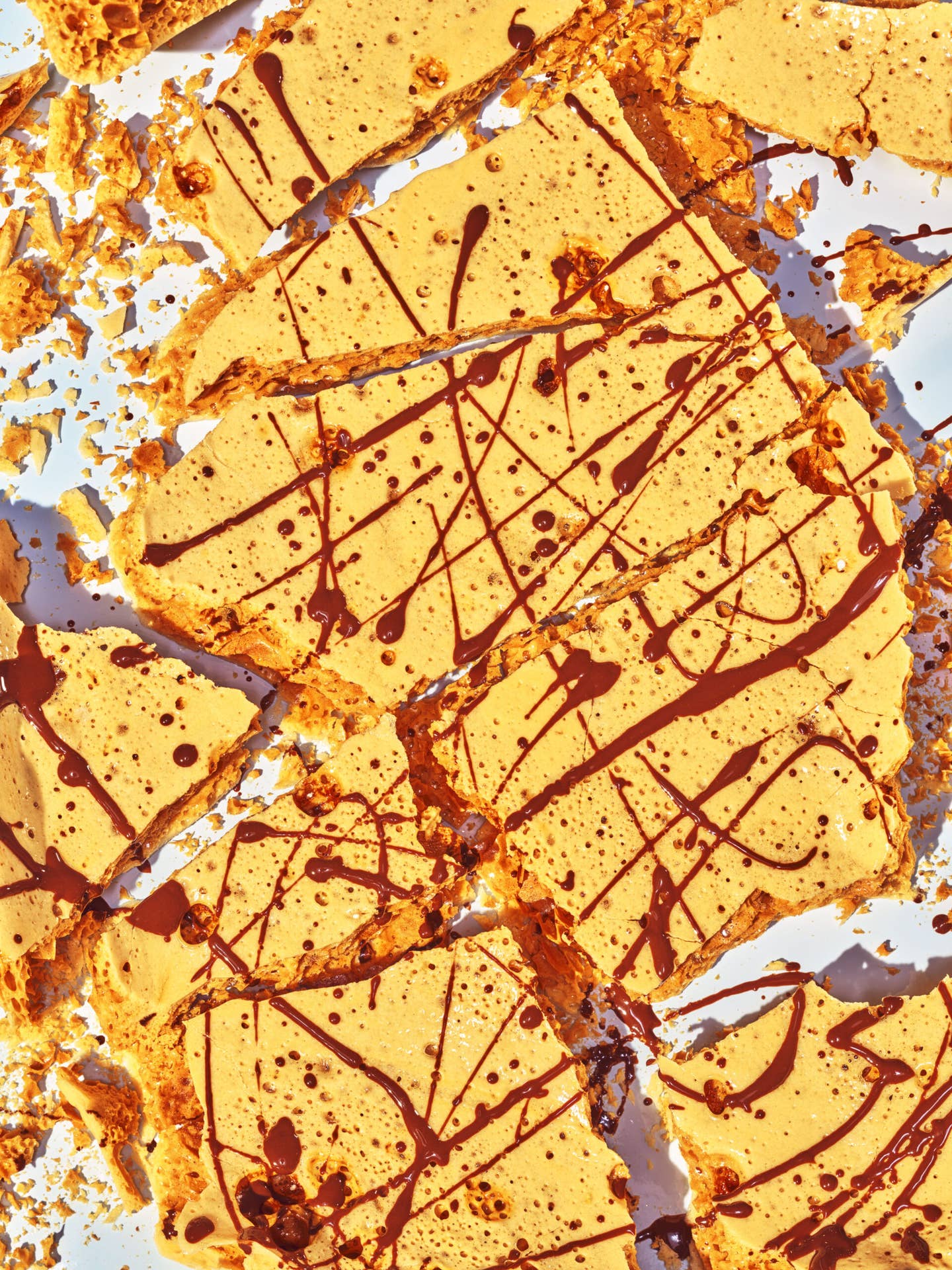 Honey isn't a core ingredient of honeycomb candy—the name refers to its airy, open texture. But Poernomo adds Manuka honey, a variety from New Zealand known for its distinct floral tang, to enrich the flavor and color of the candy. Bittersweet chocolate and sea salt help temper its sweetness.
Ingredients
Nonstick cooking spray or butter, for greasing
1 tbsp. baking soda
1⁄2 tsp. cream of tartar
1 1⁄2 cups sugar
1⁄4 cup plus 2 Tbsp. light corn syrup
2 tbsp. honey
3 oz. (1 cup) finely chopped bittersweet chocolate
1 tbsp. coconut oil
Flaky sea salt, for sprinkling
Instructions
Step 1
Lightly grease a 9x13-inch cake pan. Line the bottom and sides with parchment paper.
Step 2
In a small bowl, sift the baking soda and cream of tartar; set the mixture aside. In a medium saucepan, add the sugar, corn syrup, honey, and ¼ cup water. Swirl with your fingers to combine. Using clean, wet fingers, brush away any sugar remaining along the sides of the pan. Set over medium-high heat and bring to a boil. Cook without stirring until the syrup reaches 325°F on a candy thermometer, 18–22 minutes. Remove from the heat and wait until the bubbling has subsided, 10–15 seconds. Briskly whisk in the baking soda mixture; while the candy is still foaming, pour it into the prepared pan. Let rest at room temperature without jostling or moving the pan until fully cooled and crisp, 30–40 minutes.
Step 3
Meanwhile, make the chocolate topping: In a small heatproof bowl, add the chocolate and coconut oil. Bring a small saucepan of water to a boil, then turn off the heat and set the bowl over the pot. Stir until evenly melted and blended. Remove the bowl from the saucepan, wiping any water from the bottom. Set aside to cool slightly.
Step 4
Line a large baking sheet with parchment. Lift the honeycomb out of the pan, break into 1- to 2-inch chunks, and spread the pieces out over the baking sheet.
Step 5
Drizzle the chocolate mixture over the candy, and sprinkle with flaky sea salt. Set aside until the drizzle has set, then serve, or transfer to an airtight container and store for up to 1 week (less time in a humid environment).