How to Stick Pinstripes, Hearts, and Pandas (?) in Your Hard Candy
Watch the mesmerizing magic of these molten sugar masters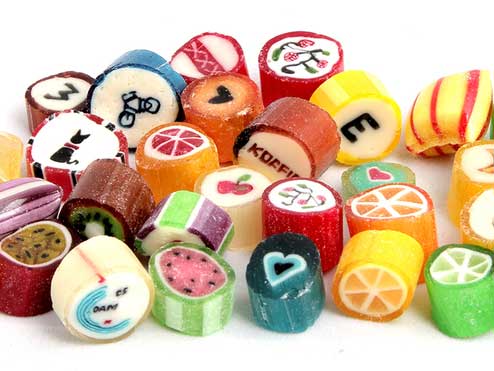 As The Sugar Files winds down to a close, we're reliving a few Great Moments in Candy. That includes watching wobbly waves of spun sugar for our live croquembouche construction demo, the world's greatest candy store, and the brilliant people doing novel work with sugar. But when it comes down to sheer jaw-dropping how the hell did they do that moments of amazement, nothing in the sweets world comes close to the craft of molding hard candy into Things That Look Like Other Things. Like pandas, as you see in the video above.
Those little nuggets are the creation of Candy Labs, a Canadian candy company that also makes wee candy piggies and watermelons. But you can find similar sweets at Papabubble, a candy company with outlets in France, Korea, California, and beyond. Like Candy Labs, Papabubble's candymakers work molten sugar on slabs of marble, granite, or steel to maintain the right temperature—warm enough to mold, cool enough to not burn your limbs to hell—folding them into sheets, then careful layers, then stubby rolls, and eventually thin ropes of candy that, when snipped, reveal artful designs. Also like Candy Labs, Papabubble takes custom orders, which means you can get your very own…
Candy Hearts
Watermelons and Korean Characters
And Lots of Little Piggies
We're in love.