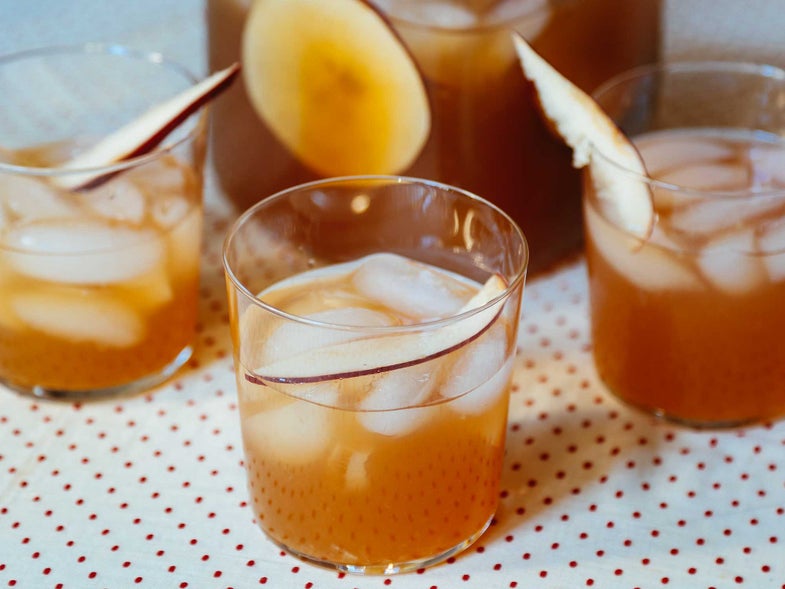 Chicago's Punch House manager Aaron "The Doctor" Minnes says, "This punch has fall written all over it. The spice combination of the rye, caraway and the chai masala are a match made in heaven for a punch, and the pear softens the whole experience. Caraway can be overpowering in a lot of drinks, however, in this punch, it's subtle,like a good bass line to sip along to."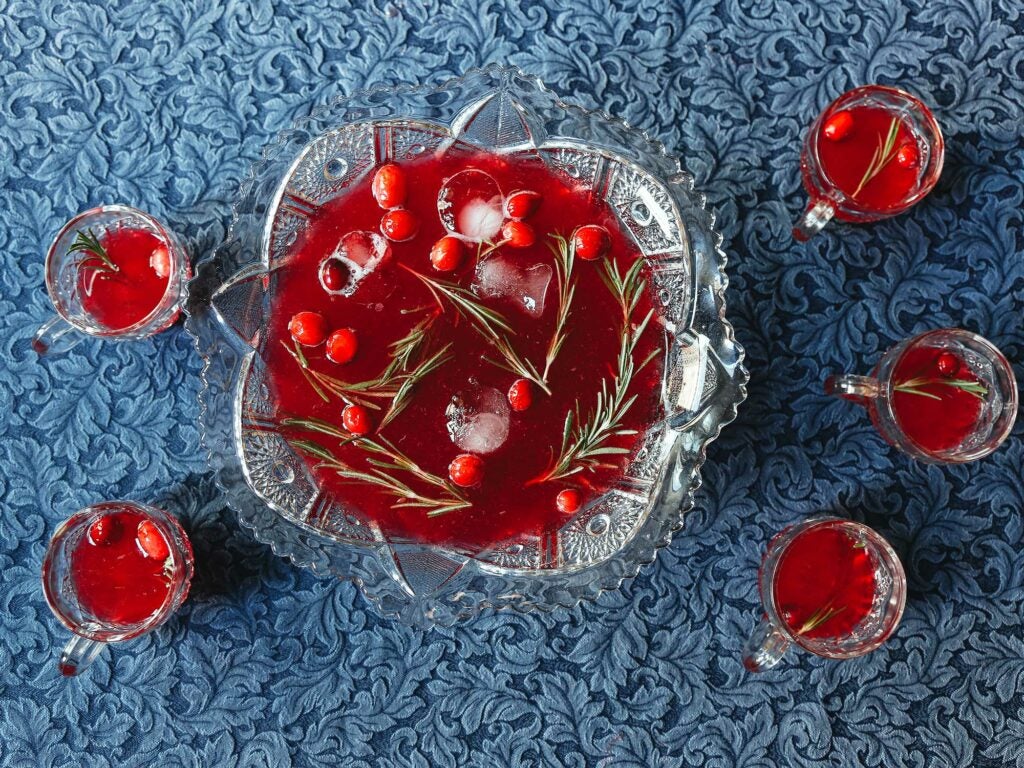 Carawayed
This rye whiskey punch recipe from Chicago's Punch House softens caraway-infused rye with chai tea, pear juice, and a lemon oleo saccharum.
Yield:
makes 6-8 cocktails
Time: 8 hours, 15 minutes
For the caraway-infused rye whiskey:
1⁄3 cup caraway seeds
2 2⁄3 cups rye
For the punch:
2 whole lemons (for oleo saccharum)
1⁄2 cup granulated sugar (for oleo saccharum)
5 oz. oleo saccharum
1⁄2 cup fresh lemon juice
1 1⁄2 cups Masala chai tea, brewed
2 cups pear juice
1 oz. Angostura bitters
2 2⁄3 cups caraway-infused rye whiskey
Pear slices, as garnish
Instructions
Make an oleo saccharum: Using a vegetable peeler, remove the zest from the lemons. In a medium bowl, toss the zest with the sugar, cover, and let stand for 8 hours. Pour 1⁄2 cup boiling water into the bowl and stir until the sugar dissolves. Pour the oleo saccharum through a fine sieve into a jar and discard the lemon zest. Oleo saccharum should yield about 6 ounces; if not, add water to reach that volume.
Make the caraway-infused rye whiskey: In a non-reactive container with a lid, combine the caraway seed and rye whiskey. Cover and steep at room temperature for 8 hours or overnight. Strain into a bottle.
Combine oleo saccharum, pear and lemon juices, chai tea, Angostura bitters, and caraway-infused rye whiskey in a large punch bowl. Immediately before serving, add a few generous scoops of ice and garnish with pear slices.