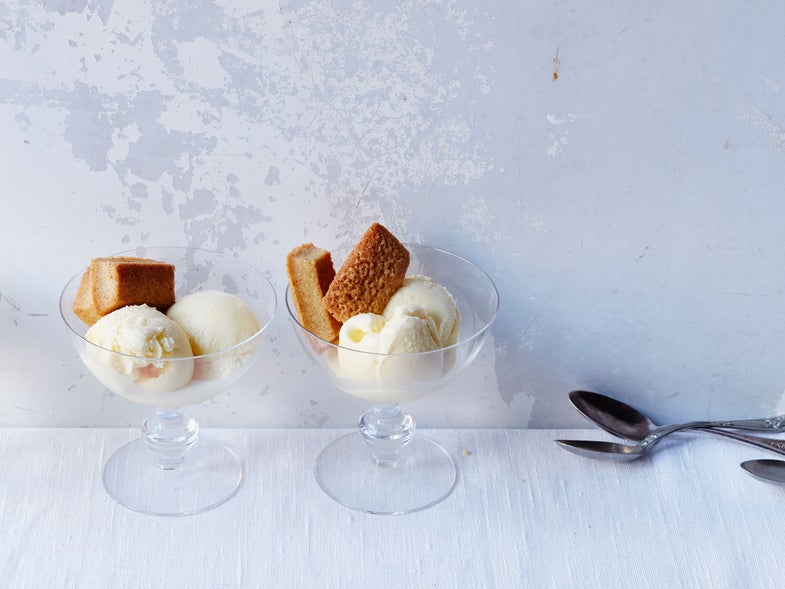 These are an elegant, restaurant-style nod to the hunks of cornbread typically found on Thanksgiving tables. La Petite Grocery chef Justin Devillier's financiers are larger than their French counterparts, making them perfect for breaking apart and dunking in Sea Salt Ice Cream
Featured in: The Hunter's Way to Cook a Louisiana Thanksgiving
Cornbread Financiers
These sweet cornmeal–almond cakes are a welcome addition to any fall meal—especially the Thanksgiving desserts table.
Time: 1 hour
Ingredients
7 tbsp. unsalted butter, plus more for greasing
1⁄2 cup plus 1 tbsp. (4 1/4 oz.) sugar
1⁄4 cup plus 3 tbsp. (2 1/4 oz.) fine cornmeal
3 tbsp. (3/4 oz.) all-purpose flour
2 tbsp. (1/4 oz.) almond meal
1 tsp. kosher salt
3 large egg whites, lightly beaten
Sea Salt Ice Cream, for serving
Instructions
Heat the oven to 425°. Lightly grease eight 6-oz. ramekins with butter. In a large bowl, whisk the sugar with the cornmeal, flour, almond meal, and salt. Slowly whisk the egg whites into the dry ingredients until just combined.
In a small skillet, heat the 7 tablespoons butter over medium and cook, stirring, until the butter begins to brown and smell nutty, 6 to 8 minutes. Remove the skillet from the heat and pour the hot butter into the batter, whisking until smooth. Spoon 3 tablespoons of batter into each ramekin. Place the ramekins in the oven, reduce the oven temperature to 350°, and bake until the financiers are golden brown, 25 to 30 minutes. Transfer the ramekins to a rack, unmold, and let the financiers cool completely before serving.