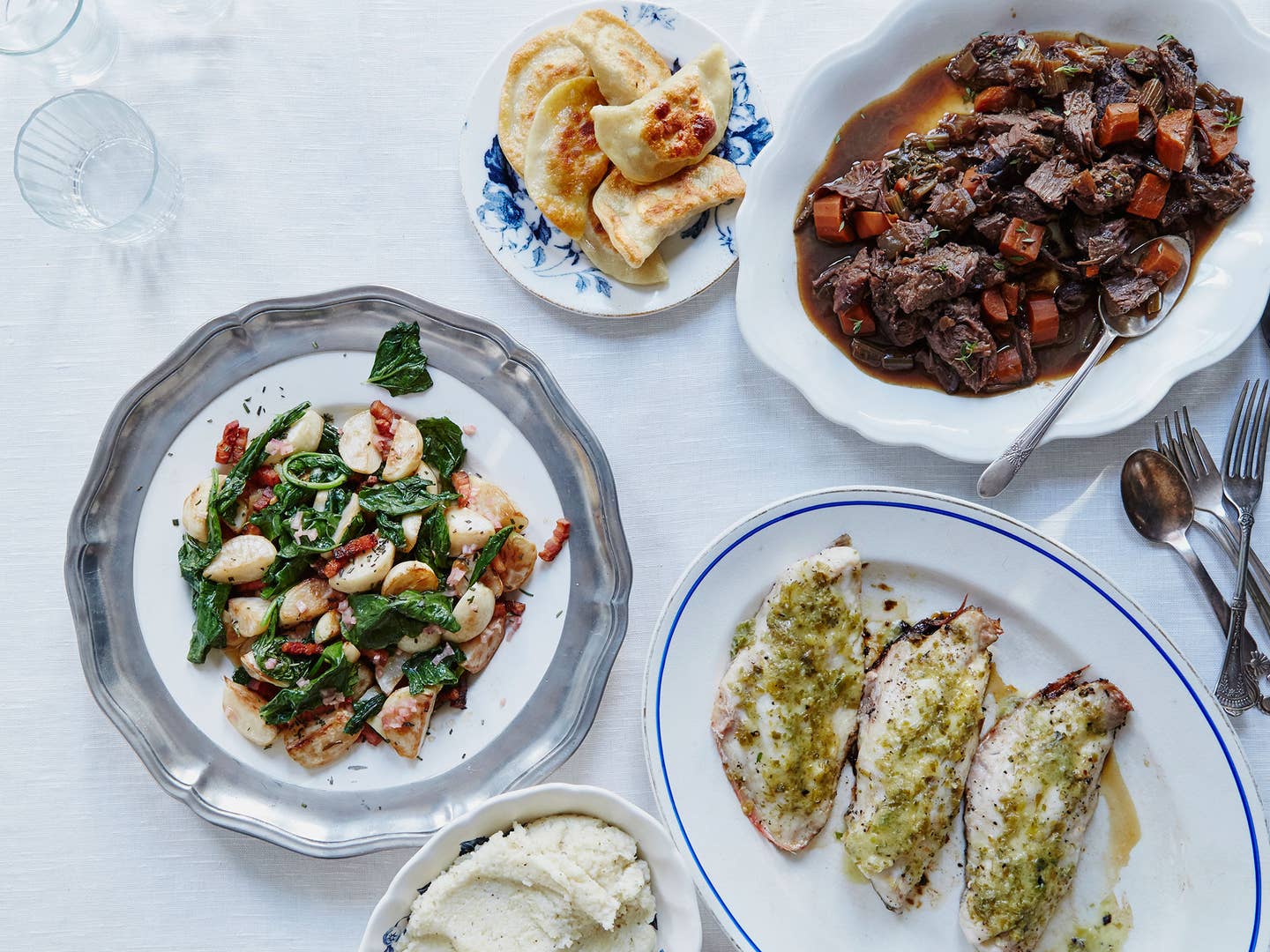 Recipes
The Hunter's Way to Cook a Louisiana Thanksgiving
Chef Justin Devillier relies on the wilds of Louisiana for a locally-inspired Thanksgiving spread
Hopping into a little boat with friends and heading out in the pitch black of an early morning to hunt in the duck blind as the sun rises—to me, that's the sign that Thanksgiving is coming.
Waterfowl hunting season in Louisiana opens the second week in November, and ever since I moved here 13 years ago, the holiday, hunting, and my duck and andouille gumbo—which takes pride of place on my Thanksgiving table—have been inextricably linked. I love hunting because it's methodical: To hit your target, you have to go through steps, making sure your stance and sight picture are both in line before you pull the trigger. And as a chef I believe each bite tastes better if you've had a hand in what you eat, from start to finish.
My little girls, Ruby and Beatrice, think so too. Last year I brought home ducks that were still feathered, still had heads and feet on. Ruby, who was three at the time, pulled up her stool so she could see over the butcher block, took one look at the birds and, without batting an eye, instructed me to cut off their heads. So I did. And then she helped me with everything—removing the feet, deboning the bodies, roasting the bones, and making a rich dark broth with them, step-by-step, methodically. It took all day. That evening, Ruby drank six cups. That's like half her weight in duck broth. She's unflappable. I have no doubt she'll be a great shot when she gets older.
At my Thanksgiving table, where every dish is going to be enjoyed by friends and family—arguably my most important customers—I do my best to gather all of the ingredients personally. That means I go fishing on Lake Borgne, near my house, for redfish, which I grill "on the half shell," a technique pulled from Louisiana fish camps that insulates the meat and keeps it super moist. And while I don't shoot my own venison, I still use fresh meat thanks to a restaurant regular, the priest at the church across the street. He hunts in his spare time and will drop off a shoulder, which I cook low and slow in wine until it's so tender you can eat it with a spoon. I guess it's our showstopping equivalent to the Norman Rockwell turkey.
But it's the duck gumbo that I associate most with the holiday. It starts with the camaraderie of camping out with a bunch of my friends the night before we hunt and ends with my kids digging into bowls filled with a rich roasted duck broth, thickened with roux and packed with andouille sausage and tender duck meat. And what can I be more thankful for than that?