Recipes
The Crispiest Pork Chops, Giardiniera Not Optional
Pan-fry your way to the perfect pork schnitzel, then top it off with a homemade version of the famed pickled vegetable relish
Serves

serves 4

Cook

13 hours 45 minutes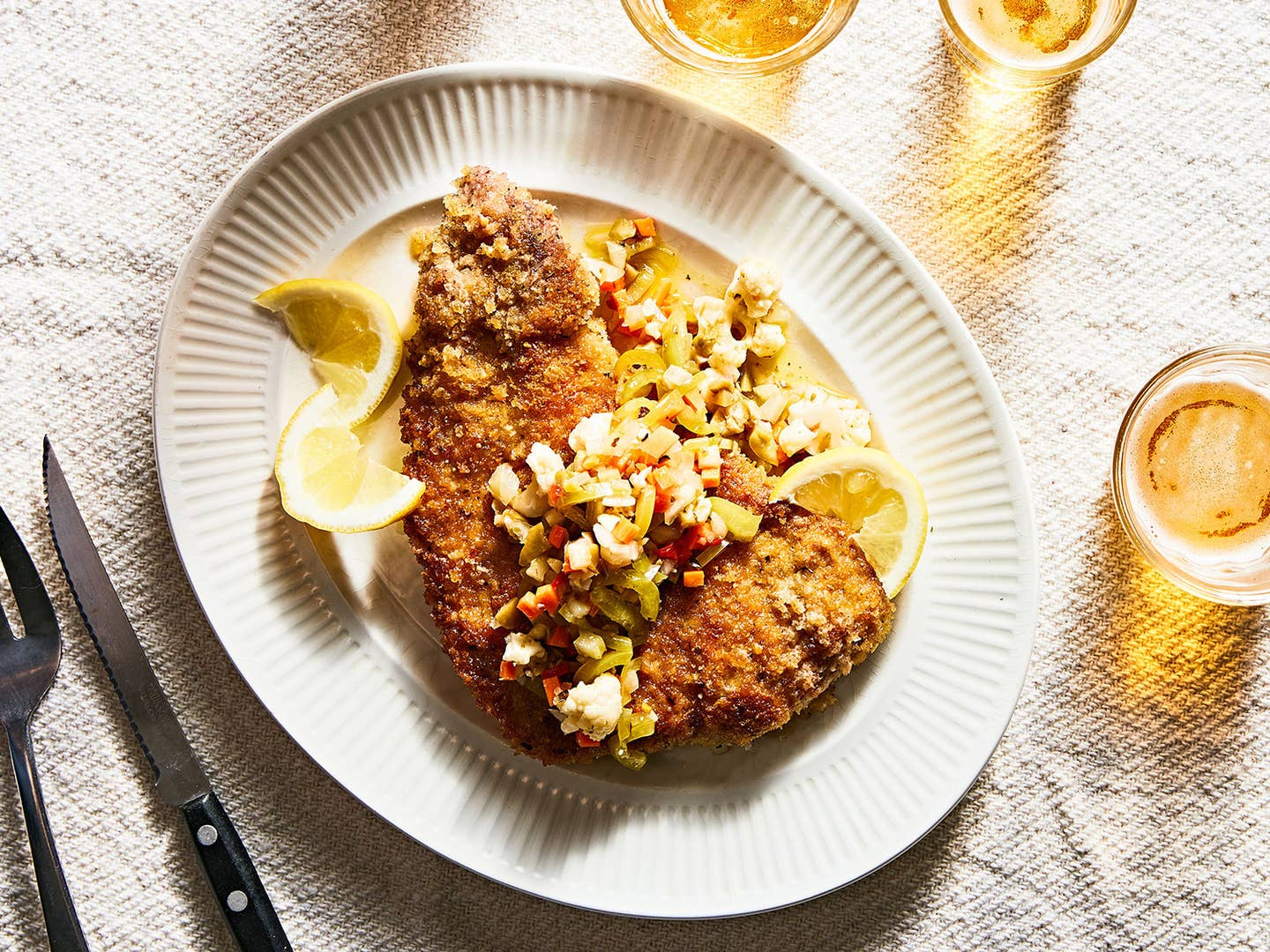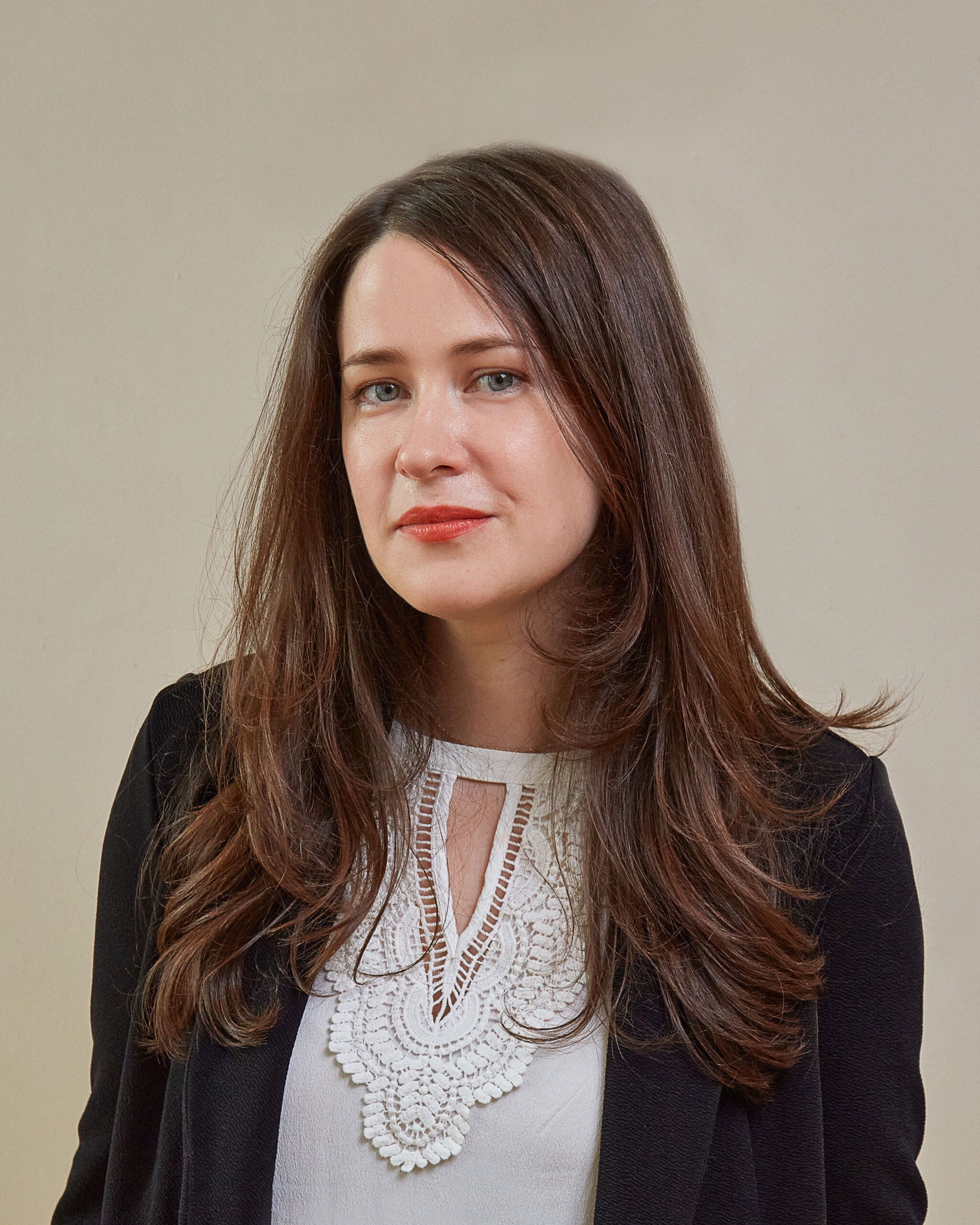 ---
Just about everybody loves a good schnitzel. In Austria, from whence the term came, veal is the schnitzel of choice. Wiener schnitzel is such an essential part of Viennese cuisine that it has a Protected Geographical Indication (PGI), which designates that the dish originated in Austria and must only be made with veal. Kosher schnitzels—made with either chicken or turkey breast and fried in oil instead of butter—owe their popularity in Israel to German and Austrian Jewish immigrants. Cooks in the American South make a beef variation known as chicken-fried steak, while the French are partial to an eggier veal version called escalope.
Czech Republic also has various meaty takes on the schnitzel, as well as a vegetarian riff made of breaded and fried cheese known as smažený sýr, while in several South and Central American countries, schnitzel is referred to as milanesa, and depending on the region, might be made with beef, chicken, veal, or pork. There are many reasons that this highly democratic category of dishes is so widely beloved: It transforms a cheap, often tough piece of meat into a tender and quick-cooking meal. The thin, evenly pounded meat retains its juiciness within a crispy batter, and even served plain, it checks all the necessary boxes for deliciousness.
Schnitzels are also the perfect vehicle for any number of regional and seasonal toppings and accompaniments. The Austrians and Germans traditionally serve their wiener schnitzel with potatoes and lemon slices; Japanese cooks typically serve tonkatsu—effectively pork schnitzel—with a sweet-tart brown sauce, spicy mustard, and shredded cabbage. In Finland, schnitzel is sometimes topped with a whole fried egg in a dish called oopperaleike, while Germany's jägerschnitzel (hunter's schnitzel) is topped with a creamy mushroom gravy.
A milanesa might be topped with ham, cheese, and tomato sauce in Argentina or Uruguay, while in Mexico, it is often served between sesame buns in a cemita poblana, a sandwich with a variety of fixings like avocado, chipotle chiles, and fresh cheese.
Internationally, schnitzel is most frequently served with lemon wedges (the acidity helps to cut the dish's characteristic fattiness), and in some Scandinavian countries, briny capers and anchovies are frequent accompaniments as well. Inspired by a recent trip to Chicago, I decided to add a similarly salty-sour component: Italian-American-style giardiniera.
In Italy, giardiniera is usually served as an antipasto. However, in the U.S. (particularly in the Chicago area), the oily, spicy pickled vegetables are used as a relish on hot dogs, subs, and the iconic Italian beef sandwich. The rich pickling liquid—a mix of oil, vinegar, garlic, and spices—soaks into whatever it touches, while the tangy vegetables—a shaggy combination of cauliflower, carrots, celery, and hot peppers—provide crunch, acidity, and an irresistible pop of peppery heat and salt.
Our recipe makes more giardiniera than you'll need for a weeknight schnitzel supper, but don't even think about scaling down. The briny preserves get even better with age, and if you're anything like us, you'll find yourself putting them on everything—scrambled eggs, bruschetta, baked potatoes, even pizza.
Here's how to pull off the crispiest, juiciest schnitzel and the best batch of giardiniera.
While you can find jars of giardiniera in the condiment aisle at the grocery store, making your own is so worth the effort. Plus, it's customizable: while not traditional, our recipe calls for green olives, for an extra hit of umami. If you prefer a milder flavor, remove the seeds from the banana peppers, or leave them out entirely. For an extra-spicy version, leave the seeds in, and add a pinch or two of crushed red chile flakes to the brine.
Salt-pickling is time-consuming, so cut down on the wait by finely dicing your vegetables before salting and resting overnight in the fridge. This draws out some of the liquid in the vegetables, making them extra crisp while also pre-seasoning them. A hot, concentrated brine will pickle vegetables quickly, so bring the liquid up to a strong simmer before adding. Also, the ingredients in the brine shouldn't be an afterthought: choose a good-quality, pungently-flavored olive oil and a white-wine or champagne vinegar—all the better for sopping up with tender fried pork and crusty bread.
For the most generous cutlets, start with thick, center-cut boneless pork chops, then pound them into thin, wide sheets. A meat tenderizer is ideal for this task, but a rolling pin or even a rubber mallet works great, too. To minimize cleanup, place the chops between two sheets of plastic wrap, or into a large, heavy-duty resealable plastic bag, before pounding.
If you are concerned about noisy hammering (I'm looking at you, apartment dwellers), some butchers will take care of this step for you. This is also an easy step to complete ahead of time—freeze pounded cutlets flat and in a single layer for easy storage and convenient last-minute thawing.
Restaurants typically set up a flour, egg, and bread-crumb battering station using rectangular hotel pans. You can adapt this trick for the home kitchen—and dirty fewer dishes—by piling your dry ingredients on either end of a large rimmed baking sheet, with a bowl or small baking dish of egg set in the center.
Japanese panko bread crumbs fry up crispier than their Italian counterpart, and the addition of grated Parmesan adds an extra layer of richness and umami. Be sure to pat the crumbs firmly onto the pork to help them adhere.
These chops cook and crisp up quickly at medium to medium-high heat, so you can get away with frying in a flavorful olive oil, though clarified butter would also be delicious.
While any large skillet will get the job done, we prefer either copper-core stainless or heavy cast iron here for its excellent heat distribution. If you have a skillet that's big enough to fry both chops, now is the time to break it out. Otherwise, fry them one at a time to avoid crowding the pan. And don't worry, the thin cutlets cook in under 10 minutes, so you won't have to keep the first one warm for long.
Present the fried pork chops whole, with scoops of giardiniera on top, and lemon wedges for squeezing. To serve, cut the meat into strips, tableside, and offer additional giardiniera on the side.
Ingredients
For the giardiniera:
2 banana peppers, thinly sliced (1½ cups)
2 medium carrots, finely diced (1½ cups)
¾ cup coarsely chopped cauliflower florets
1 large celery rib, finely diced (⅔ cup)
3 Tbsp. kosher salt
½ cup diced green olives (like Castelvetrano)
1 clove garlic, crushed and peeled
½ cup extra-virgin olive oil
½ cup white wine vinegar
1 tsp. dried oregano
½ tsp. coarsely ground black pepper
½ tsp. fennel seeds
For the pork chops:
2 boneless pork chops (9–10-oz. each)
1 cup (2¼ oz.) panko bread crumbs
⅓ cup (¾ oz.) finely grated Parmesan
¾ tsp. freshly ground black pepper
½ tsp. dried oregano
½ tsp. kosher salt, plus more as needed
¼ cup all-purpose flour
1 large egg
¼ cup extra-virgin olive oil, divided
Lemon wedges, for serving
Instructions
Step 1
Make the giardiniera: In a medium bowl, add the banana peppers, carrots, cauliflower, celery, and salt. Toss well to combine, cover tightly, and refrigerate for at least 6 hours or overnight.
Step 2
In a fine-mesh strainer set over the sink, drain the vegetable mixture. Rinse well with cold water, then add the olives and garlic; toss well. Transfer the mixture to a small bowl or 3-cup jar.
Step 3
In a small pot over medium-high heat, add the oil, vinegar, oregano, black pepper, and fennel seeds. Bring to a simmer, then remove from the heat and pour over the vegetable mixture. Cover and set aside at room temperature for at least 6 hours before serving; alternately, transfer to the refrigerator and use within 1 month. (Makes 3 cups.)
Step 4
Make the pork chops: Transfer the pork chops to a large, resealable plastic bag. Using the flat side of a meat mallet or rolling pin, pound the pork ½ inch thick.
Step 5
In a wide bowl, add the panko, Parmesan, black pepper, oregano, and salt; mix well. Sprinkle the flour over a large plate and season with salt. In a separate wide bowl, beat the egg with 1 tablespoon oil and season with salt. Working with one chop at a time, dredge the pork in the flour, followed by the egg mixture, and finally the panko mixture, packing the crumbs onto the pork to adhere; set by the stove.
Step 6
In a large cast-iron skillet over medium heat, add the remaining 3 tablespoons oil. When the oil is hot, add the pork and cook, flipping once, until crispy, golden, and cooked through, 4–5 minutes per side. Transfer to a serving platter and top each chop with ¼ cup giardiniera. Cut the pork into strips and serve hot, with lemon wedges and more giardiniera on the side.