Culture
A Journey to West Africa Traces American Food Back to Its Source
When the duo behind Houston's Bludorn restaurant took a pilgrimage to Senegal, they brought back a new definition of hospitality—and an appreciation for the flavors of home.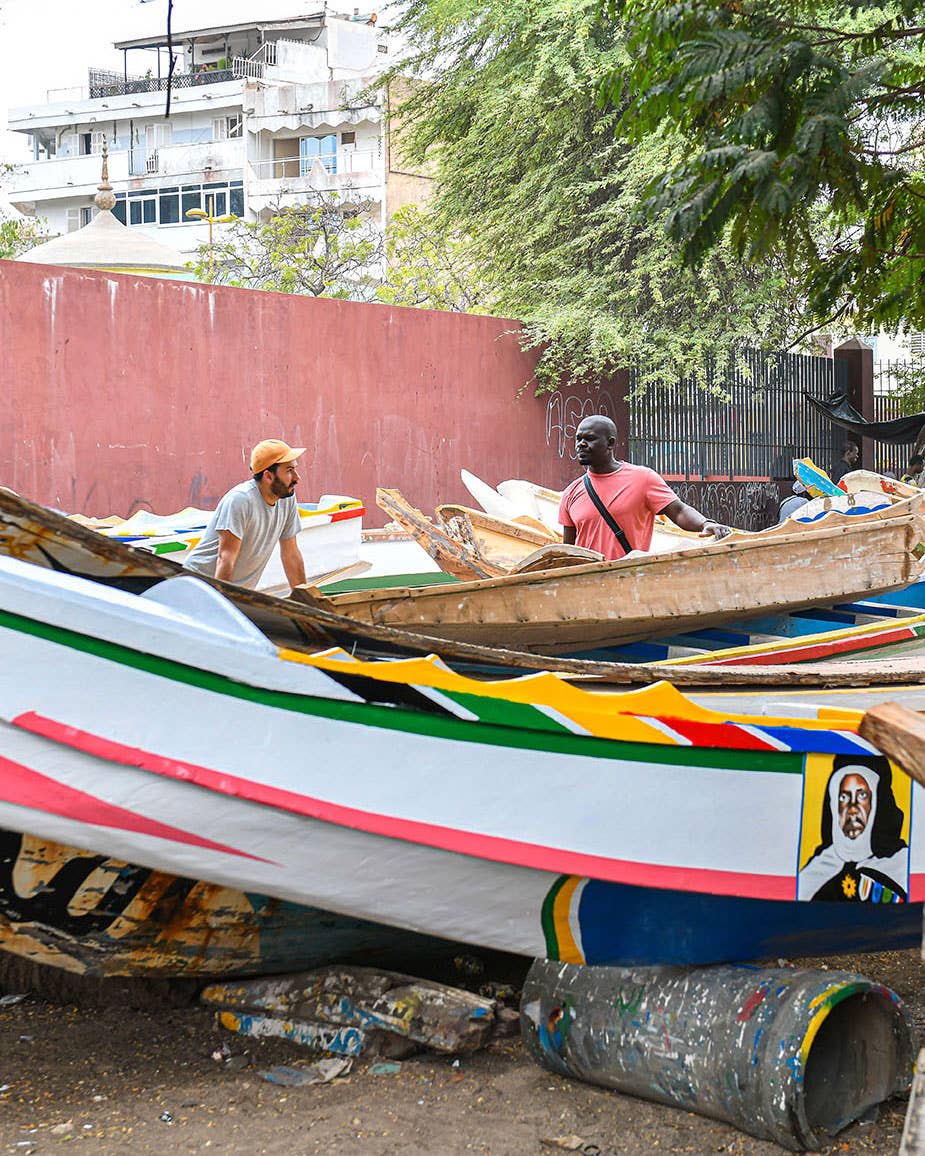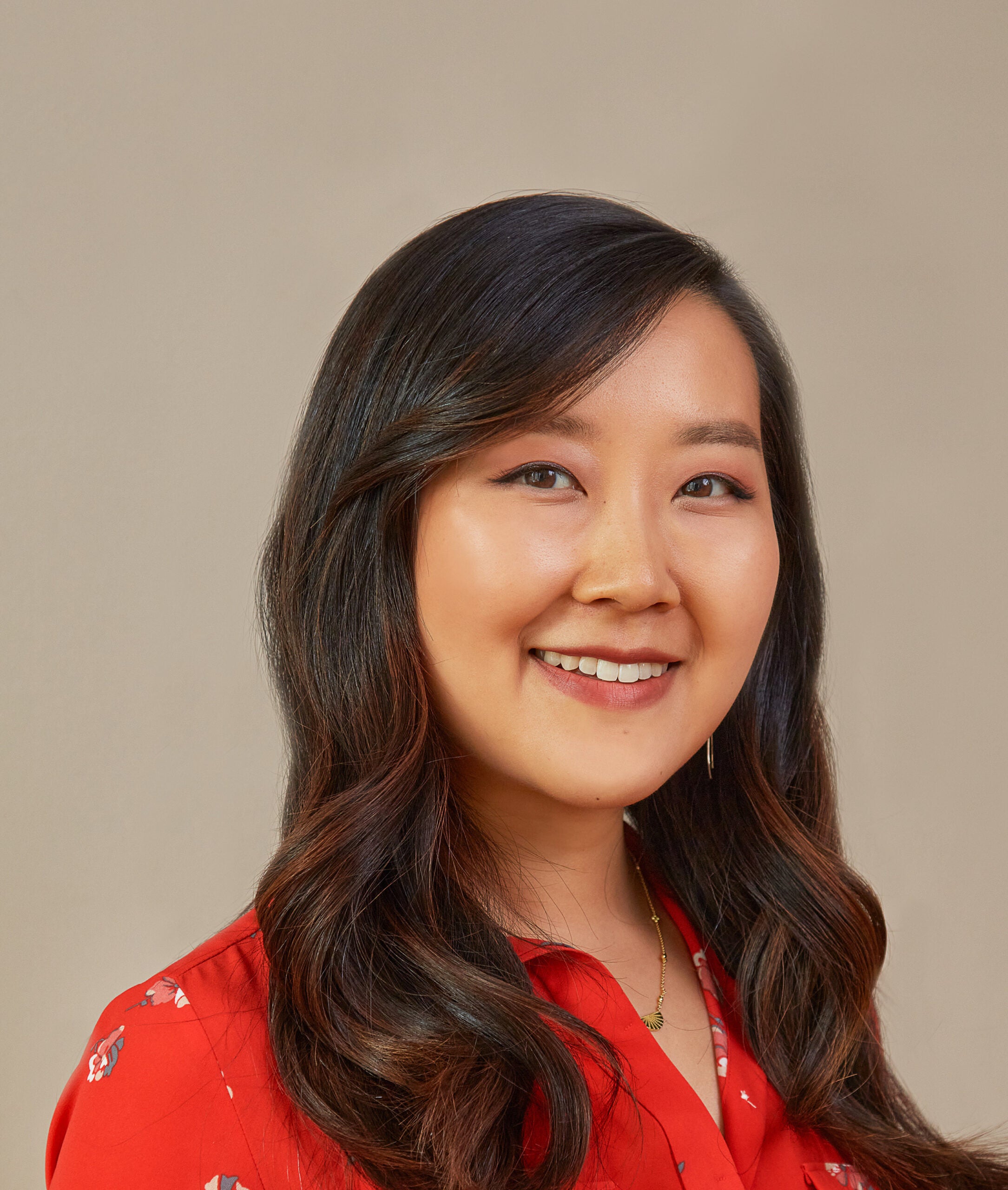 ---
The table was halfway through polishing off a platter of thieboudienne, a hearty Senegalese one-pot number with fish and rice, when our host Cherif Mbodji asked what home meant to each of us. We all munched silently, considering the question. Someone responded that home was wherever family was; another said it was a sense of security that he carried with him. Though Mbodji himself never answered, I wondered if being here, back in his home country of Senegal after three years away, had spurred this introspection.
Mbodji and his close friend and business partner, chef Aaron Bludorn, had been talking about someday traveling to Senegal since their days working together at New York City's Café Boulud, where they met in 2014. Today, the two live with their families in Houston, where they relocated in 2020 to launch Bludorn, a restaurant serving Gulf Coast-inspired fare cooked with French-influenced techniques. As joint partners, chef Bludorn helms the kitchen while Mbodji directs front-of-house and business operations. They followed that restaurant's acclaim with the seafood-driven Navy Blue in 2022, and a third restaurant is slated to open later this year. Though entrepreneurship has made their lives busier than ever, the duo's Senegal plans only seemed more paramount the more their business grew: not only was the country responsible for instilling Mbodji's early notions of hospitality, it was also the original source of countless culinary traditions beloved throughout the South, including their now-home on the Gulf Coast.
That connection became vividly clear as we helped ourselves to more thieboudienne, Senegal's national dish. Mbodji mentioned how much it reminded him of Gullah red rice, which is common in the Lowcountry and American South. Around the table, flickers of familiarity crystallized into unmistakable recognition. Of course—there were obvious shadows of each dish in the other, from the savory broth that cooks the grains to the sweet acid of the tomatoes. It began to sink in that what we were tasting was the trunk of a family tree. Thieboudienne is also an ancestor of jambalaya, another dish familiar to longtime southerners—including former NFL champions Michael and Martellus Bennett. The brothers were joining us on this trip, having become friendly with the Bludorn team after dining at the restaurant, and the two were curious to learn more about their Senegalese ancestry. "There are a lot of things that we did subliminally that we didn't understand why we did them," Michael pondered, reflecting on cooking customs that are commonplace in the Black community. Martellus nodded, adding, "There's no bridge back to Africa to tell the stories of what happened."
Though enslaved people played an outsized role in creating countless American staples—from gumbo to hoppin' John—credit for centuries of culinary innovations has long lagged behind enjoyment of the dishes themselves. After Mbodji arrived in Michigan at age 20 on an academic scholarship, it took him years to realize the undeniable shared DNA between West African and American food. One day in 2006, he was flipping through an Edna Lewis cookbook at Barnes & Noble when he stumbled on a bean fritter recipe, and dormant neurons began firing. "I know this dish," he recalled realizing: the snack was clearly a cousin of akara, black-eyed pea fritters eaten throughout West Africa. When he relocated his family to Houston to open Bludorn, American cuisine's West African roots became even more apparent. In gumbo, he tasted evidence of soupou kandja, a Senegalese stew that similarly uses okra as a thickener. "You see okra everywhere here in the summer. It's one of the ingredients that can grow locally and thrive in the Texas heat," said Mbodji. "It's the same thing in Senegal—okra is one of the most abundant ingredients."
The origin of these culinary parallels lays bare poignant truths we confronted during a visit to the island of Gorée. A short boat ride off the coastal capital of Dakar, the island was a slave-trading post from where ships carrying enslaved West Africans departed between the 15th and 19th centuries. Gorée has become a pilgrimage destination for people across the African diaspora to both confront and reconcile with the scars and devastation that dark period left on humanity. Our local guide Abdoulaye Mamadou Ba, who has been giving visitors tours of Gorée for almost 20 years, accompanied us around the island and pointed out the stark contrast between the former slaves' quarters and the opulent homes in which slave traders once lived. While we stood in the House of Slaves memorial, Mbodji told me he had been to Gorée before, and that "coming here doesn't get easier."
The transatlantic slave trade targeted West Africans in large part for their agricultural know-how, culinary historian Adrian Miller, the author of Soul Food, told me later over the phone, noting that it was enslaved people's knowledge of rice cultivation which jumpstarted the crop's production in America. In Black Rice, Judith A. Carney writes: "The only people in South Carolina possessing this familiarity were Carolina slaves who originated in the rice region of West Africa," which included Senegal, Gambia, and Sierra Leone. In addition to enslaved peoples' agrarian expertise, West African ingredients like okra, watermelon, and black-eyed peas also made their way across the Atlantic through the transatlantic slave trade—eventually becoming staple foods throughout the Southern United States.
For many enslaved people, food offered a link back to their homeland. Seeds they planted in personal garden plots allowed them to cook familiar dishes, which they often adapted with available ingredients. Today, the West African roots of staple American dishes are tangible evidence of, as Miller put it, "both the tragedy and triumph" of enslaved people. During our visit to Gorée, Ba told us that, however grim and tragic a symbol it may be, the island is also a reminder of Senegal and Africa's resilience. "Enslaved people who made it to the Americas fought for their survival—and laid the foundation for future generations of Black Americans."
In the African diaspora today, food often remains a vehicle for connecting with one's ancestry. "I feel like I've found a part of my history that was missing, with them," Mbodji told me of the Bennett brothers, as he watched them try foods like grilled thiof, a popular Senegalese grouper dish, for the first time. Introducing his friends to native flavors and seeing them find connection in it fortified their shared lineage. And though their genealogy diverged into different paths, food is a bridge which can always bond the diaspora with their ancestral homeland.
Though Mbodji has now lived in the United States longer than he did in Senegal, his demeanor unwaveringly reflects his native country's famous hospitality. When we sat down to lunch on Ngor, a small island off the coast of Dakar (and the westernmost point of Africa), Mbodji helped us order enough plates of Burbot fish skewers and grilled thiof to ensure we all got to sample generous portions of the local specialties. He and the server spent several minutes assembling the optimal order, the server's patient generosity mirroring Mbodji's.
Senegal's celebrated hospitality, a deeply rooted cultural notion known as teranga, not only echoes through Mbodji's personal interactions; it has also profoundly informed his approach to his career in the restaurant industry. "Just knowing what a phenomenal human being he is," said Bludorn, "I was curious to know more about what part of the world created that. It's obviously here. Locals welcome you not only into their homes, but also into their hearts. It opens you up, and makes you want to pay that forward."
The importance of treating people with generosity and decency was instilled in Mbodji early. "My dad used to tell us that there is nothing in our lives that will matter more than people," he told me later. "Whatever we do, we need to make sure that we are impacting people in a good way." When he looks back, it's clear his father's values planted seeds which led Mbodji to a lifetime in hospitality. While studying business management at Western Michigan University, he found work as a busboy in restaurants, where the energetic environment reminded him of the lively household he'd grown up in. "Whether it's lunch or dinner, it felt like a party all the time," he said of his family of 11. "The moment I stepped foot in a restaurant, I knew this is a place that I want to stay." After graduating, he worked his way up the front-of-house, holding positions at iconic institutions like Michael Mina, the now-closed Bouley, and eventually, Café Boulud.
In the American world of upscale restaurants, most of the food was and still is Eurocentric. That West African culinary influences are rarely displayed and celebrated overtly was a reality Mbodji accepted. One day in 2015, he and Bludorn were grabbing a bite in Harlem's Little Senegal when Bludorn suggested the two conceptualize some dishes that paid homage to Mbodji's native country for Café Boulud's Le Voyage, a rotating menu that explored global cuisines through French techniques. Mbodji couldn't imagine how the dishes he grew up with could possibly fit into white-tableclothed surroundings. "I could not see the connection of those two worlds," he recalled. Bludorn, though, was already pulling out a pen and drawing on a napkin. "I could see a light go off in his eyes," said Mbodji. "He was so excited." Bludorn quickly sketched a plate that had mafe, a peanut-based stew, on one side and dibi, or skewered grilled meat, on the other—a duo showcasing the flavors and fragrance of Senegalese cooking. Then he drew a reimagined thieboudienne, deconstructed to highlight the individual components of rice, fish, and sauce. A few months later, working alongside Senegalese American chef Pierre Thiam and chef-owner Boulud, Bludorn and Mbodji brought those hand-drawn visions to life.
The project was a gesture of friendship that not only reinforced Mbodji's pride in his cultural identity, but also opened up an avenue for him to ponder and reframe how he thinks about fine dining in the U.S. "It gave me the courage to continue to have conversations about the connections that exist with West African cuisine, how food travels across borders and connects back to our history," he reflected. Why shouldn't Senegalese cuisine be recognized in fine-dining settings more often—served proudly, with dignity and care—particularly when it is so clearly an ancestor to so many American dishes?
Though West African cuisines continue to be underrepresented in the U.S. restaurant scene, particularly in fine dining, chefs of Senegalese origin are working to change that. A national movement of what Miller calls "diasporic dining experiences" examines West Africa's past and celebrates its present. At Dakar NOLA in New Orleans, chef Serigne Mbaye serves a tasting menu that draws inspiration from Senegalese and Creole fare, producing courses like the "Last Meal," a black-eyed pea soup that echoes what enslaved Africans were fed ahead of their forced transatlantic journeys. "We have been stepped on, walked over, disrespected. It's time now to let us have our flowers," said Mbaye. "My goal is to let people know that West Africa belongs." Thiam has a similar mission at his African-inspired restaurant Teranga, where the menu teems with homestyle Senegalese fare like ndambe, a hearty and comforting black-eyed pea stew, and yassa poulet, grilled chicken in a tangy caramelized onion sauce. With his food brand Yolélé, Thiam is also connecting farmers in Africa with international markets to spotlight sustainably grown local ingredients like fonio. At Boston's new Comfort Kitchen, helmed by chef Kwasi Kwaa and managing partner Biplaw Rai, dishes trace the flavors of the African diaspora by way of the international spice trade; the menu features innovative creations like tender jerk roasted duck and smoky za'atar-spiced trout.
As more chefs raise awareness of their heritage cuisines, they are rewriting the narrative of American food—and reclaiming West Africa's role in creating it. Documentaries like High on the Hog and books like Bryant Terry's Black Food and Michael Twitty's The Cooking Gene are also educating eaters while paying long-overdue homage to the culinary innovations of enslaved people in America. "Eventually, the truth rises," said Thiam. "It was just a matter of time." For many Black Americans like the Bennett brothers, interested in researching their family trees and identifying their cultural roots, that time is now.
After we all went our separate ways and returned home to the States, Mbodji and I caught up over the phone. He mentioned that whenever he brings guests to Senegal, the days leading up to the trip are tinged with some apprehension. "It's difficult to describe what Senegal looks like to someone who's never been there. I always wonder how people will react—will they be comfortable? Will they understand? Will they connect with it?" This trip, though, reinforced to him that the country has a way of embracing outsiders and emphasizing their commonalities rather than their differences.
To this, I brought up the question he had posed to us back in Dakar: what did home mean to him? He thought for a moment before telling me that, after he and his family moved to Houston, he felt remarkably at ease. The competitiveness of New York City's high-stakes restaurant scene all but receded into the backdrop in Texas. "The amount of support that people show you, and the genuine love and care that they have for you and your business—they want your business to succeed," he said of Houstonians, whose neighborliness and community spirit reminded Mbodji of Senegal's ever-present hospitality. "I don't know that there's a better way to make somebody feel at home than that."
What's more, for Mbodji, Houston feels like a place where anyone can fit in while still staying connected to their cultural roots. Immigration has made The Bayou City not only the fourth most populated metropolitan in the U.S. but also one of the most diverse—a multiculturality that is reflected in a thriving restaurant scene which embraces global flavors. "It's a city where I feel that I have a place. I feel that I belong. I don't know how to explain it, but it's a genuine feeling."
Though the restaurant is named for its Minneapolis-born chef (which was Mbodji's suggestion), Bludorn insists that Mbodji's role in the restaurant runs just as deep. "I wouldn't have been able to do it without him," said Bludorn. "In many ways, he is almost a bigger face of the restaurant than I am today." On the menu, a crowd favorite is the crab rice that Bludorn cooks in the style of jollof rice, which he learned to make from Mbodji. The chef then smothers the rice in crab étouffée as a nod to the French flavors present in both Senegal and the Gulf Coast. While the rest of the menu changes seasonally, the crab rice always stays—a tribute to Mbodji's indispensable leadership at the restaurant, and a celebration of West African ancestry in Southern cooking.
Now, there's an equally permanent expression of Senegal at Navy Blue: during our trip, the group selected a local fishing boat—painted red, yellow, and green, the colors of the nation's flag—to ship across the Atlantic back home to Texas. The vessel, now hanging high on the wall behind the bar, is adorned with Mbodji's late father's name, Mam Mor.
For those who don't recognize the vessel's origins, it could simply be a nod to the restaurant's emphasis on seafood. To Mbodji, it's a piece of his old home, now ever-present in his new one.