Recipes
Ndambe (Senegalese Lamb and Black-Eyed Pea Stew)
This warming, rib-sticking braise satisfies from dusk to dawn in the West African country.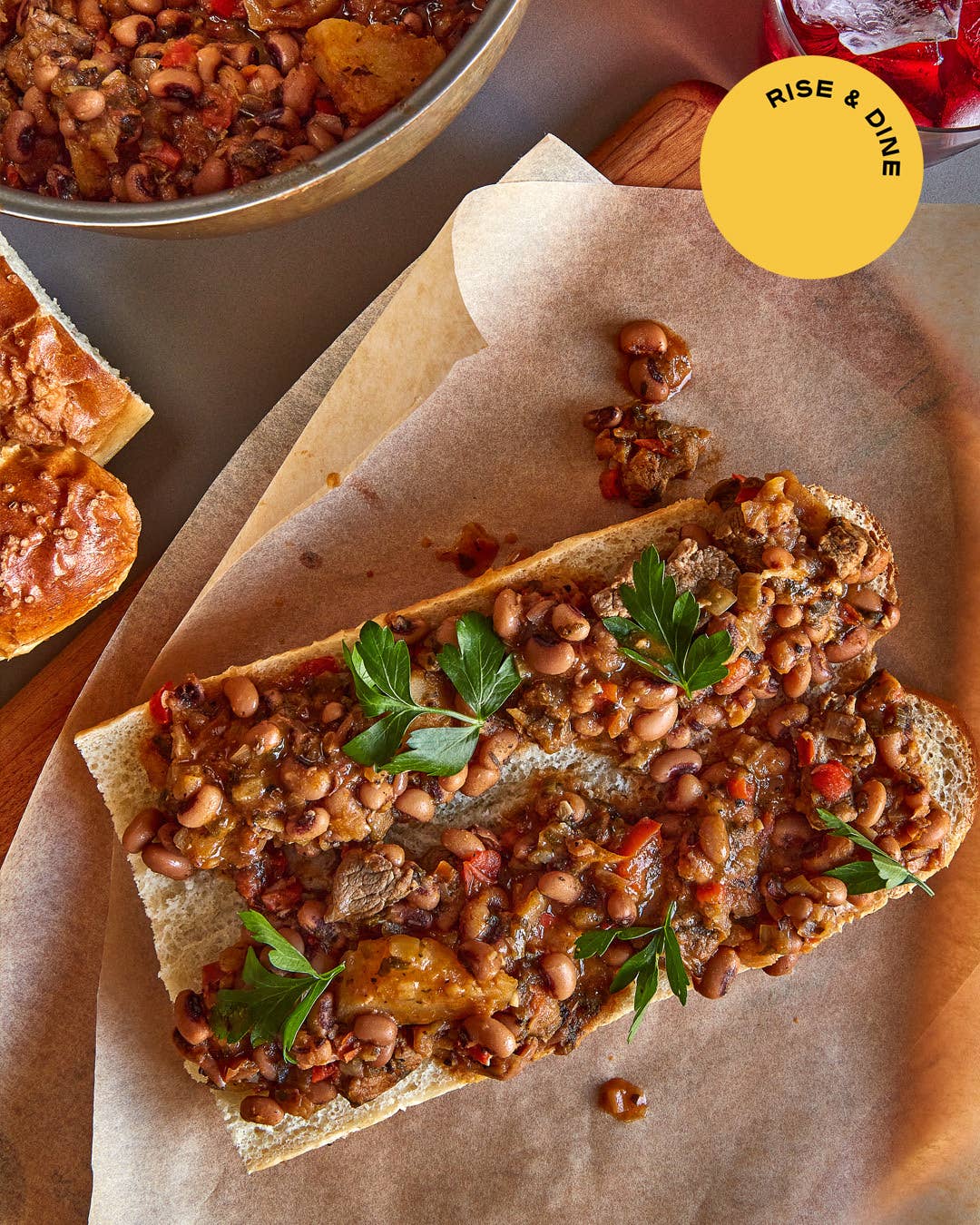 In Senegal, ndambe, a black-eyed pea stew, is a dinnertime staple—warming, hearty, and filling. Every family that cooks it makes it a little differently; some might add okra or sweet potatoes, while others like to feature meats such as lamb or beef. In their family ndambe recipe, Cherif Mbodji and his mother Binta Fall opt to include lamb. (Mbodji is director of operations and partner at Houston restaurants Bludorn and the just-opened Navy Blue, both joint ventures with chef Aaron Bludorn.)
While dried black-eyed peas are more traditional, this streamlined recipe, adapted from Mbodji and Fall's version, uses canned ones instead, cutting the cook time substantially.
Red palm oil, derived from palm fruits, is frequently used in African cooking. Because the oil's production is associated with deforestation concerns on the continent, look for sustainably and responsibly produced palm oil. If you can't find it, vegetable oil is a suitable—but less flavorful—substitute.
Because the dish tastes better with time, ndambe, traditionally served for dinner, has evolved into a popular breakfast in Senegal, where it's stuffed inside baguettes as a convenient on-the-go meal. Mbodji and Fall recommend opting for a loaf with a soft, tight crumb—or serving ndambe over rice.
Ingredients
1 Tbsp. African red palm oil
10 oz. boneless leg of lamb, cut into ½-in. cubes
2 medium yellow onions, finely chopped
1 medium red bell pepper, stemmed, seeded, and finely chopped
2 medium scallions, finely chopped
½ cup parsley leaves, finely chopped
½ tsp. freshly ground black pepper
1 tsp. kosher salt, plus more
1 Tbsp. tomato paste
2 garlic cloves, finely chopped
2 tsp. smoked paprika
1 Tbsp. distilled white vinegar
3¾ cup drained, canned black-eyed peas, rinsed well
2 bay leaves
2½ cups beef, chicken, or vegetable stock
1 medium red potato, peeled and coarsely chopped
1 baguette, cut crosswise into quarters
Instructions
Step 1
To a large Dutch oven over medium heat, add the palm oil. When the oil begins to shimmer, add the lamb and cook, stirring occasionally, until lightly browned all over, 2–4 minutes. Add the onion, bell pepper, scallion, parsley, black pepper, and 1 teaspoon salt, and cook, stirring occasionally, until the onions are translucent, 2–4 minutes. Stir in the tomato paste and continue cooking, until the vegetables soften and turn a deep reddish-brown, 10–12 minutes. Stir in the garlic, smoked paprika, and vinegar, cook for 2 minutes, then add the black-eyed peas, bay leaves, and stock. Turn the heat up to medium-high to bring to a simmer, then turn the heat to medium and cook, uncovered and stirring occasionally, until the lamb is tender, about 30–35 minutes.
Step 2
Add the potato, cover, turn the heat to medium-low, and cook until the potatoes are soft and beginning to break down, 40–45 minutes. Remove from the heat, season the stew with more salt as needed.
Step 3
To serve, split the baguette quarters and spoon the stew over the bottom halves of the bread. Add the tops to make sandwiches and serve hot.