A Filipino Steak That Checks All the Weeknight Boxes
Rib eyes on a Tuesday? With a zingy marinade and a little pounding, this steak is a fast, easy, and inspired solution to what's for dinner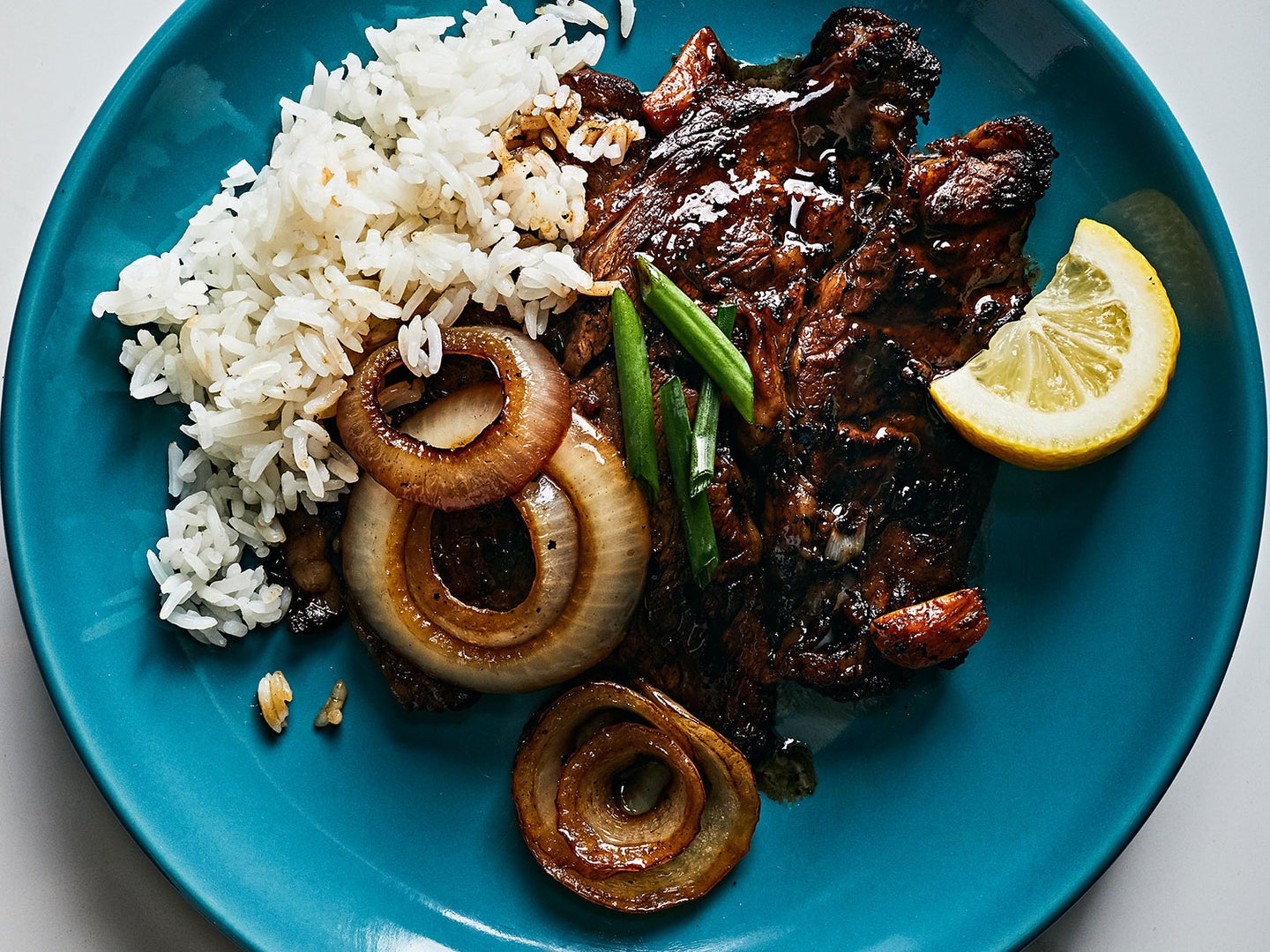 You could consider Manhattan's East Village—where I live—a growing mecca of Filipino-American cuisine. While the streets don't have the cultural saturation of Little Italy or Chinatown quite yet, as the cuisine becomes more mainstream here in the U.S., the number of great Filipino spots in this little melting pot of casual dining certainly demands attention. (Some of my favorites are Johnny Air Mart for groceries, and Ugly Kitchen, Maharlika, and Jeepney for eating out.)
But sometimes a girl just wants to fry up a steak at home.
After cooking through Maharlika and Jeepney chef-owner Nicole Ponseca's recent book I Am a Filipino and This Is How We Cook with the SAVEUR Cookbook Club, it became clear to us that Filipino cooking, while rich in variety and complexity, also has a few pretty simple entry points. Celebratory kamayan feasts, for which assorted meat and vegetable dishes are spread out across a long, banana-leaf-lined table, can take days or even weeks to source and prepare, but many of the foundational adobos and other homestyle Filipino recipes make culinary magic out of just a handful of readily available ingredients.
One such dish is my new favorite one-skillet weeknight meal, bistek tagalog, a bright, satisfying marinated steak. The dish gets the first half of its name from the Spanish word for steak, while the "tagalog" part refers to the major ethnolinguistic group in the northern Filipino island of Luzon. Depending on the cut of meat, the dish is often prepared as a braise or stew. Ponseca, however, suggests using a thin, fatty grocery-store rib eye and pan-griddling it instead. She pounds the meat into thinner, broader pieces, which not only stretches the value of this typically indulgent cut, but also significantly reduces the cook time. The end result? Everything you love about a well-made rib eye—nice marbling in the meat, a strong, crusty sear on the outside, and a juicy center—but faster and more economical, so it's something you can have on weekly rotation.
The other key here is the refreshing marinade: the steak and its accompanying griddled onions are smothered in a mouthwatering burst of tangy-salty citrus and soy sauce. After the meat is cooked, the leftover liquid is simmered down to a syrupy glaze and finished with a dollop of butter. Rich and vibrant, the sauce ties all the elements of the meal together: the steak, onions, and accompanying steamed rice and stir-fried greens.
Here's how to get this homestyle Filipino supper on the table in less than 45 minutes.
Pound the Steaks
This step helps break down the fibers of the meat and soften the fat, allowing the marinade to penetrate more quickly. Starting with thin, heavily marbled boneless rib eyes (whatever's at the grocery store will work), place one steak between 2 large sheets of plastic wrap and use the flat side of a meat tenderizer (or a rolling pin) to pound the meat gently but firmly in an outward direction toward the steak's edges. Stop when you've reached an even ½-inch thickness.
Marinate the Meat and Onions
Any kind of acid in a marinade makes quick work of breaking down meat fibers. Here, a generous dose of fresh lemon juice only needs about 20 minutes to tenderize the steaks. This is a great time to get a pot of rice on the stove, clean and cook some greens, or throw together a salad. Dip the pounded meat into the marinade and turn a few times to coat fully, then give the onion slices the same treatment.
If you want to do this step ahead, you can cover the marinating steaks and refrigerate for up to 4 hours. Just don't let them sit too long—the highly acidic, salty mixture can overpower the thin, fatty cut, obliterating the "beefy" flavor you're going for in this dish.
Sear and Rest
In a ripping hot skillet (we prefer cast iron), add a small amount of canola oil and cook the onions until slightly softened, then sear the steaks. Turn on a ventilation fan or use a splatter screen if you have one. And don't ditch the leftover marinade! As the meat rests, deglaze your pan with that flavorful liquid, let it reduce a little, and finish with butter to create a silky sauce.
Served with steamed white rice and wok-braised greens, this steak dinner deserves a spot in your weeknight rotation Get the recipe for Quick Filipino-Style Rib-Eye Steaks (Bistek Tagalog) »
The sliced onions maintain some of their crunch after cooking; for added freshness, garnish the dish with a sprinkling of scallions and a squeeze of lemon.
While a scoop of rice is all the steak and onions really need to become supper, we like to pair it with a quick stir-fried green vegetable. Kangkong (also known as water spinach or ong choy) is a traditional Filipino accompaniment. Its tender leaves and crisp, hollow stems cook in a flash and are an excellent vehicle for sauces and seasonings; if you can't find kangkong in your area, chard or baby spinach works great too.
---
Quick Filipino-Style Rib-Eye Steaks (Bistek Tagalog) Recipe
Quick Filipino-Style Rib-Eye Steaks (Bistek Tagalog)
A zingy Filipino-inspired marinade turns rib-eye steaks into a refreshing weeknight dinner. Pounding the meat first makes it quick to get on the table, too.
Time: 45 minutes
Ingredients
¼ cup fresh lemon juice, plus lemon wedges for serving
¼ cup low-sodium soy sauce
2 tsp. dark brown sugar, divided
3 medium garlic cloves, coarsely chopped
2 well-marbled, boneless rib-eye steaks, about 1-in. thick (about 1 lb. total)
1 small white onion, sliced into ½-inch-thick rounds
2 Tbsp. canola oil, divided
1 Tbsp. unsalted butter
Thinly sliced scallions, for serving (optional)
Steamed white rice, for serving
Instructions
Make the marinade: In a medium bowl, stir together the lemon juice, soy sauce, 1 teaspoon brown sugar, garlic, and ¼ cup water until the sugar has dissolved.
Place the steaks between 2 large sheets of plastic wrap and use a rolling pin or the flat side of a meat tenderizer to pound them into even ½-inch cutlets. Cut the steaks into 3-inch-wide strips and transfer to the bowl with the marinade. Add the onion, toss well to coat, and set the mixture aside to marinate at room temperature for 20 minutes. (Alternatively, cover and refrigerate for up to 4 hours.)
When you are ready to cook the steaks, set a large cast-iron skillet over medium-high heat and add the oil. Once the oil shimmers, add the onions and cook just until they begin to soften without browning or losing their shape, about 4 minutes. Transfer to a plate and set aside. Reserving the marinade in the bowl, add the strips of steak to the skillet in a single layer, working in batches if necessary to avoid crowding the skillet. Cook, turning once, until the meat is evenly browned, 3–4 minutes per side. Transfer to the plate with the onions. Add the reserved marinade to the skillet and stir well, scraping up any browned bits from the bottom of the pan. Bring to a simmer and cook until the sauce is slightly reduced, 1–2 minutes.
Remove the skillet from the heat. Whisk in the butter and remaining 1 teaspoon brown sugar. Transfer the strips of steak to a serving platter or divide between 4 individual plates. Drizzle with the sauce, and top with the onions and scallions (if using). Serve with lemon wedges and rice.