Essential Ice Cream Books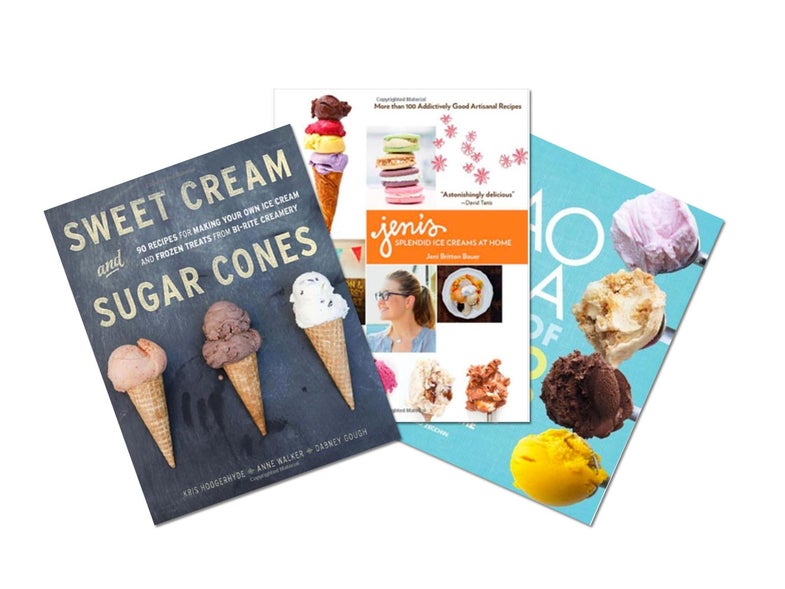 Here's a list of some of the best ice cream and frozen dessert books out there.
Back to the article »
Bi-Rite Creamery is San Francisco's ultra-popular sweet stop, known for its inventive ice cream, cakes, cookies, and other baked goods. They include recipes for all of these various treats in their book, which means the opportunity to build a staggering number of ice cream/baked good hybrid confections. If you're familiar with the shop, all the favorite flavors are here, including their famous salted caramel, plus some more unusual ones like creme fraiche.
Ciao Bella is one of my favorite ice creams to buy in the supermarket (I'm terribly addicted to the Key Lime and Graham Cracker gelato), and the book doesn't disappoint. The gelato and sorbet recipes all start from one of three bases: a plain ice cream base, from which you can make flavors like Gianduja, Pistachio, Pumpkin Spice or Rosemary and Olive Oil; a chocolate base (self-explanatory); or a simple syrup base, for any of the sorbets or granitas. Once you've mastered those, the flavor experimentation possibilities are endless.
Jeni Bauer has spent fifteen years perfecting her ice cream recipes, and her cookbook is specifically geared towards making ice creams at home. She doesn't skimp on the science, either — easy-to-understand explanations of the mechanics of ice cream-making pepper the book, along with her stories of starting and growing her ice cream business (for a quick peek at Jeni's ingenious technique, check out our story Here's the Scoop, from SAVEUR Issue 140). If you're looking for atypical flavors, try a scoop of goat cheese and roasted cherries, or the beet with mascarpone, orange zest, and poppy seeds. For a classic, the [darkest chocolate ice cream in the world should do the trick.
Born out of Brooklyn's vibrant DIY food scene, People's Pops is a crazy-popular popsicle shop offering unusual flavors like Apple & Salted Caramel and Peach & Jalapeno. The book, divided into flavors grouped by season, pulls together 55 recipes straight from their menu, plus some adults-only alcoholic pops (care for a cucumber, elderflower, and tequila popsicle?) The recipes are interspersed with tips and notes on combining flavors, which they separate into "warm" and "cool" categories, making it easy to run with their ideas and create your own.
I consider pastry chef David Lebovitz to be one of the kings of ice cream. He does classic recipes (chocolate sorbet) and unusual flavor combinations (pear-pecorino ice cream) equally well, and they're all rigorously tested — so you know good results are guaranteed. Lebovitz includes plenty of information on non-ice cream frozen treats like sorbet, sherbet and granitas, as well as technical tips like the effect alcohol has to a mix — and readers of his blog will be familiar with his witty writing style and dry anecdotes about expat life in Paris, little recipe breaks that make the book a pleasure to read.
Trained in San Francisco, Morfudd Richards ran a popular London restaurant called Lola's for several years before trading it in for an ice-cream van that she dubbed Lola's on Ice. I'm a big fan of using savory ingredients in desserts, so I love trying out the surprising flavor combinations in her recipes, like pea and wasabi sorbet or burnt orange caramel ice cream. As a bonus, the book also has tips on the mechanics of making ice cream so your treats always turn out perfectly.
For more inspiration on making delicious frozen treats at home:
See 25 Ice Cream and Gelato Recipes »
See 6 Low-Tech Ways to Make Ice Cream »