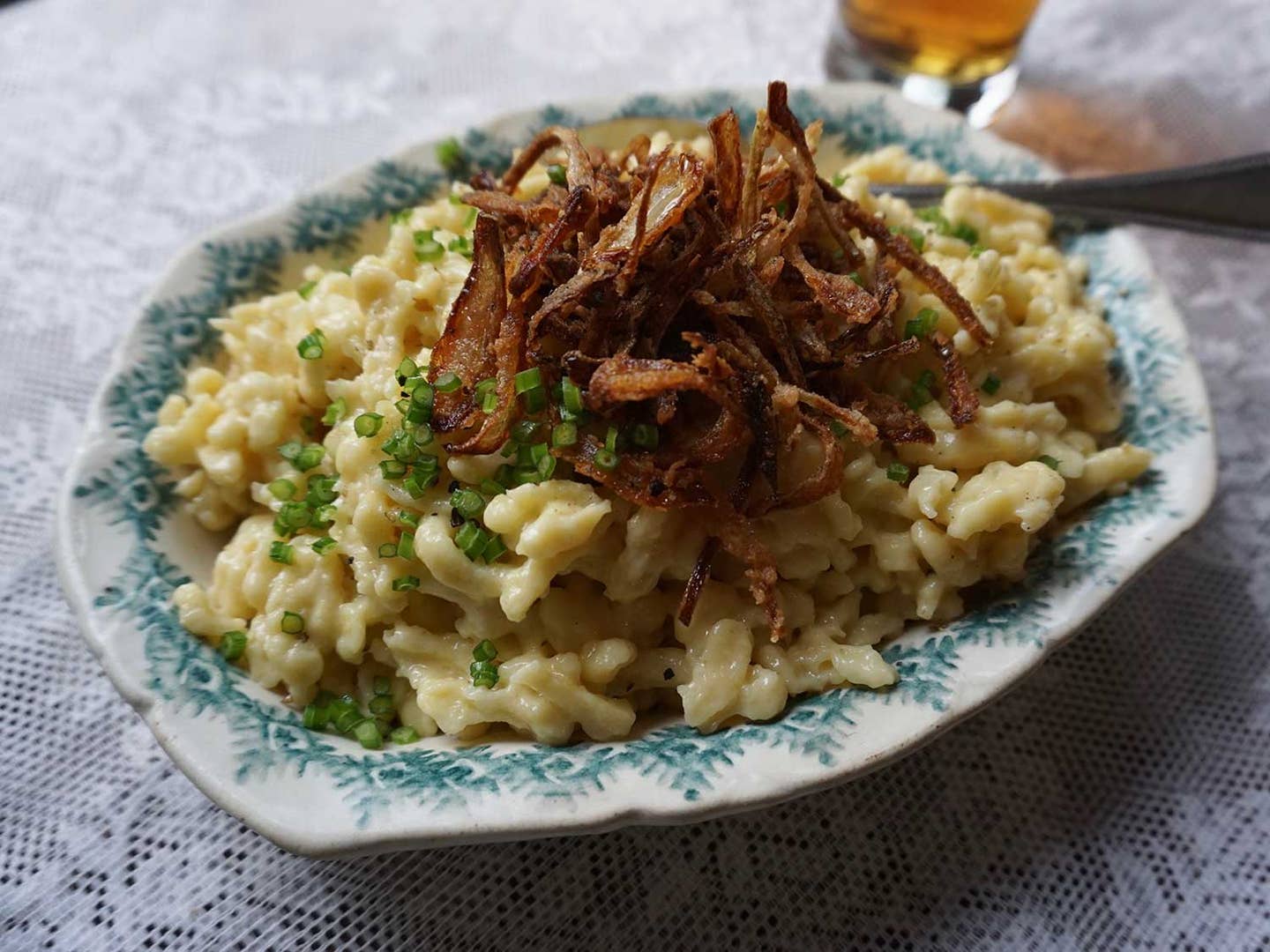 Techniques
Learn to Make Spätzle: Germany's Favorite Comfort Food
And meet its brother Käsespätzle—the beer hall mac n' cheese of your dreams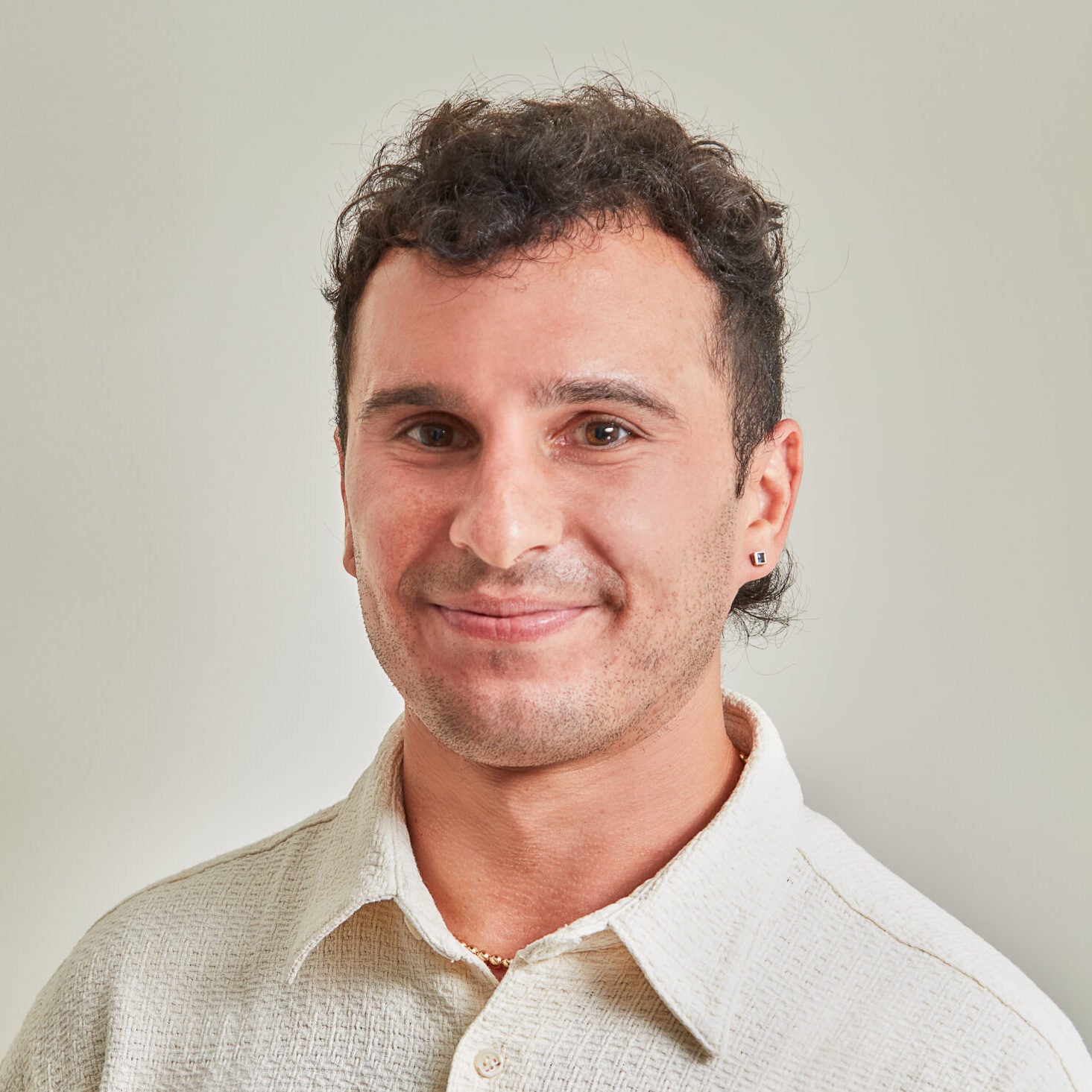 ---
You probably know about spätzle or spaetzle, the squiggly, egg-rich noodles served alongside meaty mains from Germany to Austria to Switzerland and beyond. But unless you've tried käsespätzle ("cheese spätzle"), enriched with industrial quantities of gruyère and crowned with crispy shoestring onions, you haven't had the tiny dumplings at their most decadent.
Spätzle is a catch-all term for bits of pasta boiled to bouncy firmness. They can be round, ribbony, or totally irregular in shape depending on the region and the cook, but they're almost always made from a simple batter of flour, eggs, milk, and a touch of nutmeg. Traditionally, spätzle were flicked into the pot from a wooden spätzlebrett ("spätzle board") using a lightning-fast technique that's no easy feat for beginners. Nowadays, the dough is more often smushed into the water through any range of perforated surfaces such as food mills, presses, hobels, and grater-like lids that rest on the rim of the pot.
Manfred Grossmann, chef at the perennially packed Spatenhaus an der Oper in Munich, says the trick to tender spätzle is whisking the batter vigorously until it's smooth and frothy with air bubbles. You can trust Grossmann—he hails from Swabia, Germany, the only region in Europe where spätzle bears an EU-approved Protected Geographical Indication (PGI). He also plates some 600 portions of käsespätzle a day at the multifloor institution, which caters to a raucous, beer-buzzed crowd of locals and out-of-towners.
Behind the swinging door, Grossmann works with the silent, swift assurance of a veteran restaurant chef. He scrapes the dough through the spätzle maker into a cauldron of boiling water, gives the brew a stir, and sets his mental timer for two minutes. In another pan, teenily diced onions sputter in butter; they'll be added to the hot drained pasta along with chives, deep-fried onions, and fistfuls of cheese.
Bavarian mountain cheese, also known as Allgäuer Bergkäse, is Grossmann's first choice for käsespätzle for its deep nuttiness and outstanding meltability. Ivory-colored and dense, the raw-milk cheese ages in the neighboring Allgäu Mountains. (Other traditional käsespätzle add-ins include Emmentaler, Gruyère, Vorarlberg Limburger, and Weisslacker.)
Whether you end up trying your hand at käsespätzle at home or ordering it straight from Spatenhaus's menu, you'll want to pair the dish with acidic sides that counteract the dish's over-the-top richness, like a simple green salad, assorted pickles, or German potato salad (just eighty-six the bacon). Then, make like a Münchener and crack open a few bottles of German lager such as Spaten's Oktoberfestbier to wash everything down.
And in the off chance you're blessed with leftovers, you're in luck: Heat the whole gooey mess in a buttered skillet, allowing the cheese to brown and bubble like the top of a croque monsieur. When you're nursing a morning-after, brewski-induced headache, there's nothing better.
How to Make Spatzle: A Step-By-Step Guide