Grilled Corn and Ricotta Dip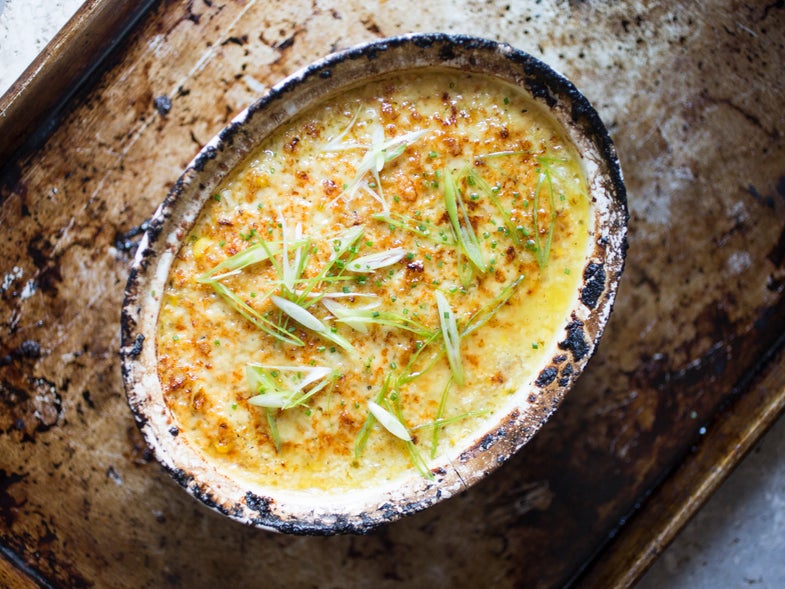 In this summery take on cheese dip, chef Sara Hauman of Huxley in San Fransisco tosses grilled sweet corn into a pool of milky ricotta, aromatics, and herbs, then bakes the mixture until it's bubbling and brown.
Featured in: Flip the Dip
Yield: makes 6 cups
Time: 2 hours 10 minutes
Ingredients
6 ears of corn, shucked
1 1⁄2 cups heavy cream
1 1⁄2 cups ricotta
2 tbsp. all-purpose flour
2 tbsp. finely chopped thyme
1⁄2 cup finely grated parmesan
2 tbsp. unsalted butter, diced
Finely chopped chives and scallions, to garnish
Kosher salt and freshly ground black pepper
Instructions
Heat the oven to 325°. Heat a grill pan over high and cook the corn until charred on all sides, 25 minutes. Cut the kernels from the cob, and purée two-thirds of the kernels in a food processor with the cream, ricotta, flour, and thyme. Season with salt and pepper and stir in remaining kernels.
Scrape the dip into an 8-inch baking dish, sprinkle with parmesan, and dot with butter; bake until bubbly, about 1 1⁄2 hours. Garnish with chives and scallions to serve.